Local
MBTA commuter rail gets unwanted distinction of having the nation's most breakdowns in 2016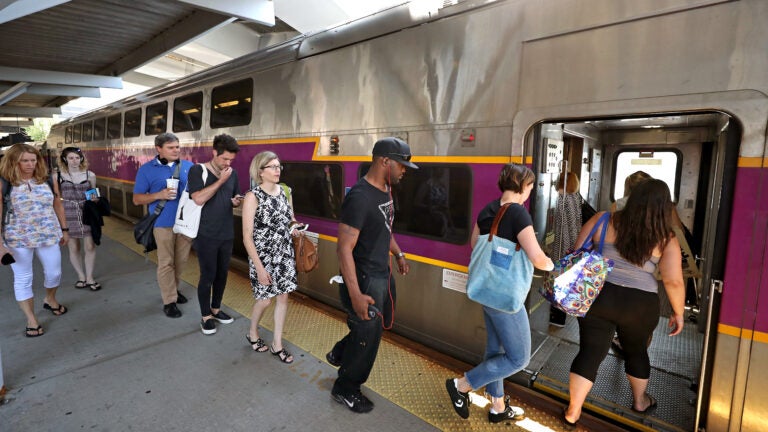 The MBTA's commuter rail trains had more breakdowns than any other transit system in the country last year, according to new federal data.
The Federal Transit Administration released data this month compiled from information supplied by transit agencies. There was a small silver lining for Boston commuters: the commuter rail logged 338 mechanical failures in 2016, down slightly from 356 in 2015.
Last year, the most breakdowns went to New Jersey Transit. The system's new second-place ranking was lauded by NJ.com, which ran a story Wednesday with the headline, "Boston's stuck! Beantown rail fleet tops NJ Transit as least reliable." The commuter rail in Jersey dropped from 540 mechanical failures in 2015 to 236 in 2016, according to federal data.
The MBTA contracts with Keolis Commuter Services to run the trains, which provide 120,000 passenger trips each weekday, said MBTA spokesman Joe Pesaturo. Keolis states on its website that a commuter rail train is deemed on time if it reaches its final destination within 4 minutes and 59 seconds of its scheduled arrival time.
Pesaturo said in an email that service on the commuter rail is improving and that the 2016 breakdown numbers no longer reflect current commuter rail performance.
"The MBTA has been working closely with Keolis to improve performance and reliability through hundreds of millions of dollars in both infrastructure and rolling stock improvements," he said.
Keolis spokesman Tory Mazzola said the mechanical challenges "reflect the realities of poor reliability with new locomotives combined with aging locomotives that require long-term overhauls that were not completed over the past decade."
Gov. Charlie Baker also responded to the MBTA's first-place ranking while visiting Chinese transportation equipment manufacturer CRRC's new Springfield factory on Thursday.
"You can't fix this overnight. I said from the very beginning that the MBTA had been horribly invested in for years, in its core system. … I believe we're doing the things that we need to do to turn it around," he said, according to the Boston Herald.
The average on-time performance on the commuter rail has increased from the 10-year average of 87 percent to 89 percent during 2016 and so far in 2017. Keolis and the MBTA plan to refurbish 10 locomotives to add to the current fleet, Mazzola added.
Despite the improvement, the Worcester line still lags behind, with on-time performance as low as 74 percent in September, according to the The Boston Globe.
The MBTA provides a dashboard where the public can see daily reliability levels for each line.