Local News
A Boston University professor has been accused of sexually harassing 2 female researchers on Antarctic expeditions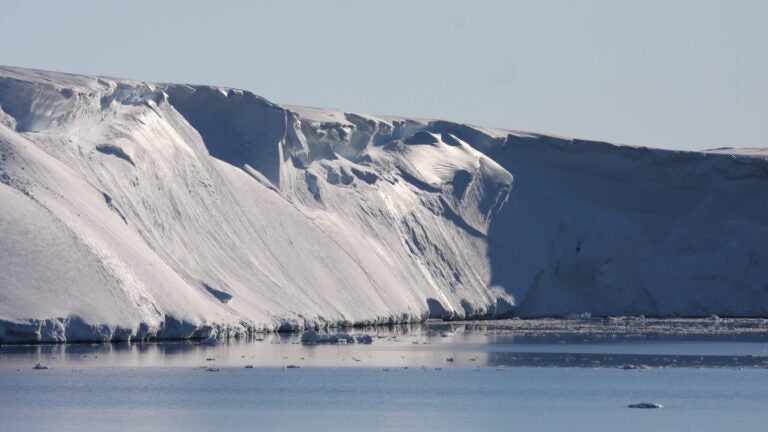 Boston University is investigating allegations that one of its professors — a prominent geologist — sexually harassed two of his graduate students on field expeditions to Antarctica almost two decades ago.
The two women who have filed Title IX complaints with the university allege that during separate research trips in the late 1990s David Marchant, who's listed as the director for the university's Antarctic Research Group, sexually harassed them and repeatedly called them misogynistic slurs. Other allegations include that he repeatedly shoved one of the women down a slope and threw rocks at her when she tried to go to the bathroom in the field.
The allegations were first reported earlier this month by Science. The publication reported that documents associated with BU's investigation indicate Marchant denies the accusations.
"Everyday, we woke up and would get ready for the day and would go into the cook tent for breakfast — and everyday, Prof. Marchant would say to me, 'Today I'm going to make you cry,'" Jane Willenbring wrote in her complaint to BU.   
Here's what we know about the allegations, the professor accused of the harassment, and what BU says it is doing to address the complaints from its former students.
The allegations
Jane Willenbring, 40, now an associate professor at the Scripps Institution of Oceanography in San Diego, filed a Title IX complaint with BU in October 2016, just a few months after she received tenure.
In her letter to the university, which she provided to Boston.com, Willenbring says she waited to come forward because she feared reprisal from Marchant, who was an assistant professor and her thesis advisor while she was a graduate student. She said while she was still a student, he "threatened to ruin" her career if she didn't give him a positive recommendation when he was being considered for a tenured position.
"I believed he meant what he said, and since then I have been reluctant to tell the truth about his conduct for fear that he might retaliate," Willenbring wrote. "As I now have an established and secure position in the field, I am now comfortable taking this step."
In her complaint, Willenbring recounts her experiences with Marchant on two months-long expeditions to Antarctica when she was in her early 20s. She said at the beginning of the first trip, from November 1999 to January 2000, her thesis advisor encouraged her to have sex with his brother, Jeff, who was on the trip and with whom she shared a tent.
But things got worse as the days went on, she wrote:
I remember a particular week when Marchant decided that he would throw rocks at me every time I urinated in the field. There are really no easy places to escape in some of the places in the sites we were in; some areas were flat for miles with no tall boulders for protection from anyone's gaze. I tried to stop urinating during the long field days and, I'm afraid to say looking back on it now, scaled back my water consumption so that I wouldn't have to urinate for the 12-hour-days in the field away from the tents. I would drink liters of water at night instead. I regretted this strategy as I got a bladder infection that I had the rest of the season. Later, I mentioned to Marchant that I had blood in my urine. He prohibited me from going back to the base to get medical treatment. Marchant said that it happened to all women in the field and that it would go away on its own. The other members of the group suggested I just drink cranberry juice. Marchant even suggested that I not put my urine into the translucent tank to be airlifted out of the camp because he didn't want people back on base to see my bloody urine and think someone in the group wasn't healthy. Following his suggestion would have been a violation of environmental procedure in the Dry Valleys of Antarctica, where all human waste in the camp has to be airlifted out. I did not have it before leaving for the field, but in January 2000 and now, I have urinary incontinence – more than 15 years after that field campaign.
Most days, Willenbring said Marchant would have "long discussions" with the other men on the trip about how she was a "slut" and "whore."
She alleges that when she ignored his attempts to make her cry or engage her it "provoked real ire in Marchant." In one instance, she said her advisor pushed her to the ground and pinned her so she couldn't move. Willenbring says following that incident, Marchant told her to take a look at volcanic ash he was holding on a sampling spoon and, when she bent over to examine the sediment that contains small pieces of glass, blew it into her eyes.
"I'd had a lot of trouble with 'ice blindness' (i.e. too much UV radiation in the eyes) and Marchant knew this," she told BU. "So he knew that glass shards hitting my already sensitive eyes would be really painful – and it was. The painful effects of this little 'prank' of his lasted about a week."
Another time, she says Marchant waited for her as she climbed a slope.
"I tried to avoid walking up where he was waiting but he noticed that and laughed," she wrote. "He was higher on the slope so he met me wherever I went. He said, 'I noticed someone hasn't cried today.' He grabbed the back of my backpack and threw me down the slope."
She alleges he pushed her back down each time she got up, until she stayed, crying, at the bottom of the slope bruised with a twisted wrist and injured knee.
The other woman who filed a complaint against Marchant with the university has chosen to remain anonymous, according to Science. She originally wrote a letter supporting Willenbring's allegations, which she later converted into a complaint of her own. She told Science that while she was a BU graduate student on trips to Antarctica with the professor during the late 1990s Marchant repeatedly verbally abused her and threatened to block her access to research funding if she sought a Ph.D. She told Science she abandoned career dreams and it took years to recover from the harassment.
"He repeatedly called me a 'c–t,' among many other insults … (bitch being the most common) that were invoked on a daily basis or more," she told the publication. "He would crow that he could say absolutely anything he wanted to because we were 'in his domain.'"
Hillary Tulley, a science teacher at an Illinois high school, also wrote a letter of support for Willenbring. She described her own experience with Marchant on a trip to Antarctica the year before Willenbring's first expedition. Tulley had applied for, and received, a grant for the trip through a National Science Foundation program called Teachers Experience Antarctica and the Arctic.
Tulley wrote in her letter to BU investigators that helicopters had just dropped them off with their supplies and equipment when Marchant "aggressively grabbed" and "wheeled" her around and called her "a 'dumbass, lazy c–t, along with other epithets," she wrote.
Tulley said Marchant's taunts and degrading comments about her body and brain "never ended" throughout the trip:
Talk during the meals we shared in the cook tent (breakfast and dinner) always included relentless, snickering mentions of my advanced age (I was 43), my small breasts, and other failings, always initiated by Marchant. All my attempts to steer the conversation to science were shut down.
Adam Lewis, who was on expeditions with both Tulley and Willenbring with Marchant as a graduate student with the University of Maine at the time, wrote a letter supporting both women's accounts.
"In the field we have wide-ranging discussions to pass time while walking to work sites," Lewis wrote. "During several of these Marchant made comments or told stories that made clear that he felt a strong animosity towards female scientists. Moreover, he clearly stated that he did not believe women should be field geologists."
Lewis said after hearing such remarks and witnessing Marchant's treatment of Tulley and Willenbring, he was "acutely aware that [Marchant] had serious problems with women" and said he felt he had to talk to him about it in 2001.
"I bluntly told him that it was only a matter of time before he lost his job," Lewis wrote to BU. "I said that it would only take one complaint and all his past behavior would come back to haunt him. I made clear that if asked, I would have to tell what I had seen truthfully and that others probably would too."
Lewis said that he participated in several more expeditions with Marchant from 2002 to 2005 and "never saw the extreme behavior" he'd witnessed before.
"This is one of the only real regrets I have in my whole life," Lewis told Science. "I had the chance to stand up for people. And I didn't."
The response to the allegations
When reached for comment, Marchant emailed Boston.com the following response:
As you know, Boston University's investigation into these allegations is ongoing. I have cooperated fully in that investigation. I do not wish to compromise the integrity of that investigation by making any comments before the investigation has been completed.
Science reported documents related to BU's investigation indicate the 55-year-old denies the allegations.
According to the curriculum vitae posted on his university page, Marchant joined BU in 1995 as a research assistant professor and he became chair of the department of Earth and Environment in 2015. He received a bachelor's degree from Tufts University and his master's from the University of Maine.
According to Science, BU has received at least four letters supporting Marchant and several of his colleagues and former students defended the geologist to the publication, describing him as "an excellent professor" and "an upstanding and professional individual."
Jacquelyn Hams, chair of the Earth science department at Los Angeles Valley College in California, told Science she went on trips with him in 2008 and 2012.
"I find the allegations against Dave of physical abuse, verbal abuse, and sexual harassment beyond comprehension given my field experiences with him in Antarctica as a female," she told Science.
Rachel Watsky, a BU law student who took classes with Marchant and worked as his lab assistant, told The Daily Free Press that she was shocked by the allegations and described her former professor as being "very proud" and respectful of all his students.
"My graduating class had more women than men in it," she told the student newspaper. "Dave was always happy to act as a work reference for his students or to give them a letter of recommendation."
The investigation
Willenbring told Boston.com that since the allegations were first published by Science, she has been contacted by two other women who planned to submit accounts of experiencing harassment at the hands of Marchant.
BU said in a statement to Boston.com it is "committed" to providing a harassment free environment for its students, faculty, and staff:
Boston University is aware of the serious allegations of harassment, including sexual harassment, which have been leveled at Professor David Marchant. We take these and any allegations of harassment very seriously, and we are aggressively investigating them.

We are a number of months into the investigation and we regret it is taking this much time. However, the accusations involve harassment that is alleged to have occurred as long as eighteen years ago in Antarctica, and it is taking time to reconstruct circumstances, identify witnesses, and verify facts. Once we complete this process, we will be able to reach conclusions based on those facts and share them with the complainants.
University spokeswoman Rachel Lapal told Boston.com Friday afternoon that Marchant is still teaching at BU but is no longer chair of the department of Earth and Environment. She did not elaborate on when or why the change occurred.