Local
Commissioner Bill Evans explains why Boston police purchased drones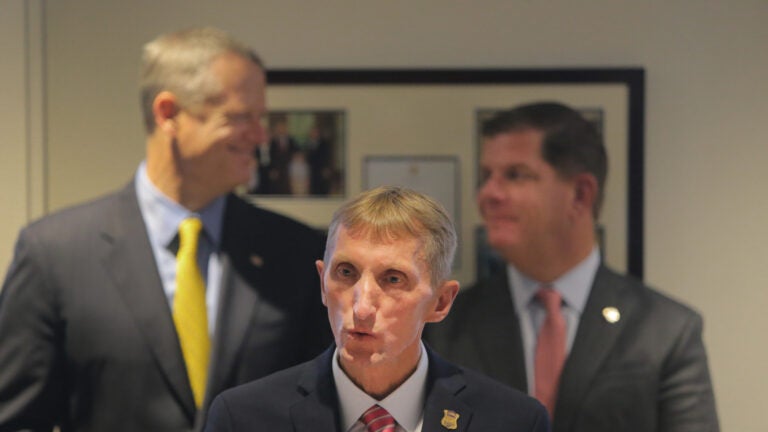 In an attempt to assuage the concerns of privacy advocates, Boston Police Commissioner Bill Evans said Tuesday that the three drones his department bought earlier this year aren't going to be used for anything "sinister."
In an interview on WGBH's Boston Public Radio, Evans made a point to note that state police already use drones at accident reconstructions and crime scenes.
"That's exactly what we want to do," he said. "A lot of times if we have a shooting on the street — no matter what community it is — it takes us over three hours to get our crime scene there, to take the photos, to take the measurements, to get the body off the street."
Evans said having the ability to fly a drone will give the department the ability to do all those things much quicker.
"It will make us a more efficient and effective department," said the commissioner, later adding that the drones could also be used for security during large events, such as the Boston Women's March last January, or to find a suspect in the wake of an attack, such as the recent mass shooting in Las Vegas.
"It's not going to be used to find out what people are doing in their private life," he said.
The Americans Civil Liberties Union criticized Boston police last month for purchasing the drones earlier this year without notifying or asking the public, amid privacy concerns about how they could be used.
Evans said the ACLU — which urged the department to implement their pilot body camera program quicker than they ultimately did — "beats us up on any technology we get."
"We're trying to get with the times and the technology, and we have every intention, before we roll out the drones, to talk to the public," he said, adding that the department will work with their Social Justice Task Force to determine how exactly the drones would — and would not — be used.
In July, residents in Jamaica Plain spotted two police officers flying a device over buildings and a park in the neighborhood. However, Evans said Tuesday that, to his knowledge, the three drones his department had bought were "still in the box." A Boston police spokesman told the Globe last month that the officers were "playing with a toy."
"Any type of technology we get to try make our community safer, we sometimes get attacked," said Evans, who also mentioned the department's scrapped plans to buy social media monitoring software.
"We're not going to be flying drones into people's bedrooms here," he said. "We're going to have it in public space where there's no expectation of privacy for anybody."
Evans confirmed that there would be a "public vetting process" before police put the drones into use, but said he didn't think it was necessary to announce they bought them in the first place.
"Anything we buy, people think we're up to no good," he said. "And that troubles me because we have an awesome responsibility in keeping Boston safer and preventing kids from getting hurt, and sometimes these tools can help. They're not all about being sinister."