Local
This wounded veteran who went viral for his Boston Marathon finish doesn't want you to share a doctored photo of him
Earl Granville wants you to know the picture of him wearing a black T-shirt with the white lettering 'I don't kneel' under an American flag isn't real.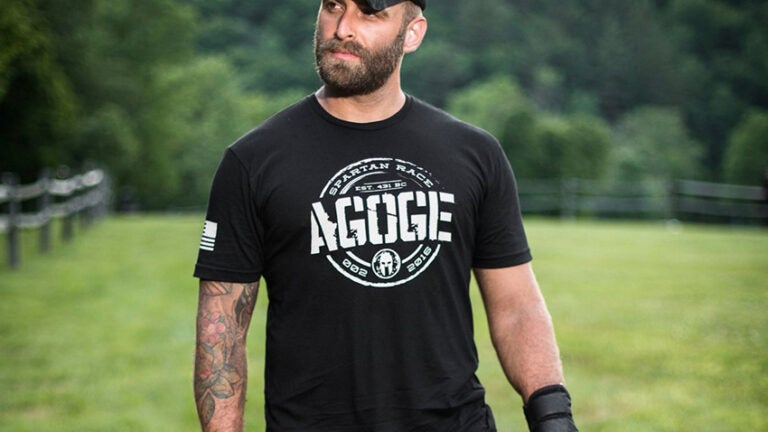 It was a Boston Marathon moment that quickly went viral.
Earl Granville, who lost his left leg to a 2008 roadside bomb in Afghanistan that killed two of his comrades, picked up a friend and carried her—while she held an American flag—across the finish line in April 2017.
But in recent weeks, the 34-year-old has been dealing with a different kind of online attention. A fake photo of Granville wearing a T-shirt emblazoned with the words "I don't kneel" was widely circulated on Facebook, Etsy, and Reddit.
The appearance of the doctored image coincided with controversy after scores of NFL players chose to kneel during the national anthem in September to protest racial inequality and police brutality. President Donald Trump has condemned the protests, saying they show "total disrespect" to the flag and country.
Granville hasn't been the only person ensnared in fake online imagery related to the national debate. A fake picture of Green Bay Packers quarterback Aaron Rodgers showing him holding up a shirt that reads  "Stand for the Flag, Kneel for the Cross" also made the rounds online in September.
The real photo of Granville was taken after he spent 60 hours outdoors in Vermont last year competing in a Spartan race. In the portrait, despite having just completed the demanding race, the veteran who served for nine years and three tours overseas appears calm and thoughtful at the finish line, his eyes resting just above the horizon with his prosthetic leg visible in the frame. His black shirt displays the name of the obstacle course he'd just completed: Agoge.
The original photo was taken by Burlington, Vermont-based photographer Monica Donovan and published in Outside magazine accompanying an article about the competition.
Granville said he was alerted to the doctored image of himself being used on Facebook in mid-September, and he reached out to one of the social media pages hawking the T-shirt with his altered photo and asking them to take it down.
"When I found out people were actually trying to make money off this photo, selling their product, that's when I had to step in," he said. "I was like, 'Guys look, get me off there. You didn't ask my permission, I would have said no. You want me part of that, but I'm sorry, no's the answer.'"
Donovan told Boston.com Granville reached out to her about the photoshopped image, too. She said in the digital age, there's an expectation among photographers that they have to be "vigilant" and keep a look out for copyright infringement.
"I think what made this particularly disturbing is the fact that people were selling these T-shirts and using this image with the claim to support veterans," she said. "But at the same time, they are doing a major disservice to veterans by photoshopping this image."
Granville said it wasn't until lawyers for Spartan Race sent cease and desist orders to remove the photo, that the image was dropped from the sites using it.
"I feel like the more we discuss this without a respectful conversation, there's no way we can help unify each other," Granville said of debate his photoshopped image was drawn into. "A shirt like this, I think is just building the divide. I would never wear a shirt like this, even if I was paid for my photo. I would never agree to it. And it's not because I'm for or against it, I just think I don't belong in these conversations, because I just feel it's going to build a divide no matter what side you're on."
Granville, who lives in Scott Township, Pennsylvania, and travels the country as a public speaker, said "the last thing" he wants to talk about in his line of work is politics. What he wants to focus on is his work helping wounded veterans live active lives and raise awareness about the importance of mental health.
Now Granville plans to focus on his mission: to share his story and the philosophy that helped him emerge from his own personal "downfall" to support his fellow veterans.
That "downfall" occurred, he said, two years after he lost his leg when his twin brother, Joe, committed suicide while he was on active duty.
"Losing my leg was easy, losing Joe was unreal to me," he said. "I couldn't wrap my head around it."
One of the things that helped Granville was finding purpose working with Oscar Mike, a foundation that helps wounded veterans participate in adaptive sports, and Operation Enduring Warrior, a volunteer organization with a similar mission that helps wounded veterans physically challenge themselves.
When Granville crossed the finish line of the Boston Marathon in April with the Achilles Freedom Team, it was  the first time he'd run the race. He'd competed on a hand cycle the three previous years, which he's also done at the Detroit, Chicago, New York, and Marine Corps marathons.
VIDEO OF THE DAY?!
Man running #BostonMarathon w/ prosthetic leg picks up his guide & carries her on his back to finish line w/Am Flag#wbz pic.twitter.com/HI8MYiIzX1

— Scott Sullivan (@SullyBunz) April 17, 2017
As for the doctored image of him that may crop up, he just asks that you don't share it.
"This isn't about politics and what my views are," Granville said. "This is me asking people not to use my image for their agenda."