Local News
Dartmouth College professors investigated for alleged sexual misconduct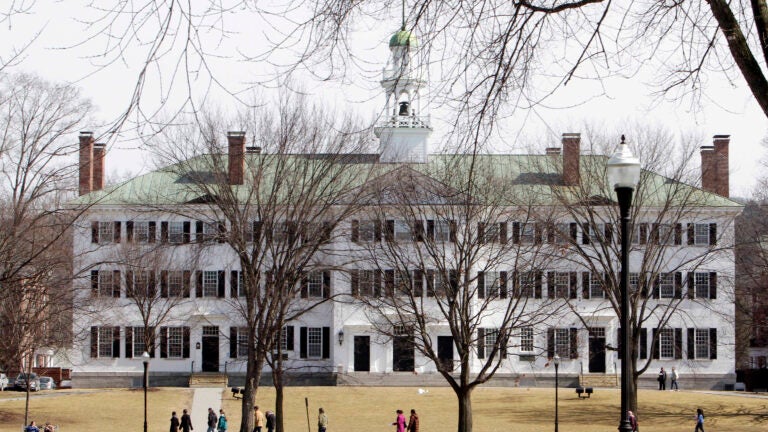 HANOVER, N.H. — Three Dartmouth College professors whose research included studies of sexual desire and attractiveness have been put on paid leave while a criminal investigation of alleged sexual misconduct is carried out, authorities said Tuesday.
Attorney General Gordon J. MacDonald of New Hampshire said his office was part of a joint criminal investigation by five law enforcement agencies into allegations of "serious misconduct" by the professors, all male tenured faculty members in the Department of Psychological and Brain Sciences. The professors' access to the Dartmouth campus has been restricted.
Details of the allegations were not released, but MacDonald's statement said the criminal investigation arose after an inquiry to college officials by the college newspaper, The Dartmouth, which reported last week that the professors had disappeared from their campus posts and flyers had been posted around campus inquiring as to their whereabouts.
At that time, the college, which has 4,300 undergraduates and 2,000 graduate students, announced that it was conducting its own official review.
At the bucolic Ivy League campus Tuesday, where leaves were blowing on a blustery fall afternoon, news of the criminal investigation left many students bewildered as few details were given of the accusations against the professors.
Several students gathered at the Collis Center for Student Involvement on Tuesday said they were surprised by the allegations.
Maggie Pizzo, a junior math major, said she was concerned that the professors had been put on paid leave during the investigation as opposed to suspended without pay.
"By paying them, it seems to be condoning the acts," whatever they were, she said, as well as being "disrespectful" toward whoever brought the allegations of misconduct.
One female student, a junior who declined to give her name, said she felt "pretty uncomfortable" that the administration had apparently known about the allegations for some time and was only now addressing them publicly.
She said that graduate students were filling in for the professors and that some students felt shortchanged by not being taught by the scholars they had signed up for.
Elizabeth Southwell, 24, a Dartmouth alumna, said she had taken courses with all three of the professors while a student at Dartmouth. News of the investigation, she said, had ricocheted among alumni over Facebook and in text messages.
"I'm very, very shocked," Southwell said. "A large group, three of them placed on leave. Three of the professors who had some of the best reputations as teachers."
In a separate statement Tuesday, the president of Dartmouth, Philip J. Hanlon, said the university was cooperating with the criminal investigation of the three professors, identified as Todd F. Heatherton, 56; William M. Kelley, 45; and Paul J. Whalen, 54.
Heatherton leads a center for social brain sciences and, according to the college's website, conducts research in social behavior focusing on self-regulation, self-esteem and self-referential processing. He had been an unpaid visiting scholar at NYU since July, with no classroom duties, but his time there ended last Thursday "by mutual agreement," according to John H. Beckman, an NYU spokesman.
"NYU was unaware of the Dartmouth investigation until quite recently," Beckman said. "The university was given no specifics about its nature or duration."
Kelley's work focuses on memory and self-regulation, according to the website.
Heatherton and Kelley were among the authors of a 2012 research study on how images of food and sex affect the brain. As part of the research, 58 female college freshmen underwent brain scans shortly after arrival on campus while viewing 80 images each of animals, environmental scenes, food items and people — some involved in sexual scenes or consuming alcohol. Six months later, they were called back to the lab, weighed and questioned on their sexual behavior.
The study, published in the Journal of Neuroscience, found that the students whose brains reacted to food and sexual stimuli gained more weight and reported greater sexual desire in the follow-up questioning. The study was supported by the National Institute on Drug Abuse. Whalen was listed as having assisted in that study.
Whalen, a popular professor who delivered a TedXDartmouth talk, runs the Whalen Lab, which conducts research on a part of the brain known as the amygdala. His published research papers include a collaboration with Kelley and Heatherton and others on the question of whether the brains of men and women react differently to attractive facial features in members of the opposite sex. That paper was published in 2008 in the Journal of Cognitive Neuroscience.
None of the professors could be reached for comment.
"I want to say in the most emphatic way possible that sexual misconduct and harassment are unacceptable and have no place at Dartmouth," Hanlon said. "Such acts harm us as individuals and as members of the community."
Hanlon's statement referred the campus community to Dartmouth's "sexual respect" website.
___
Katharine Q. Seelye reported from Hanover, N.H., and Stephanie Saul from New York. Jess Bidgood contributed reporting from Boston and Richard Pérez-Peña from New York.