Local
9-year-old with terminal cancer asks for Christmas cards so he can celebrate early
Celebrities from Anna Kendrick to Arnold Schwarzenegger are rallying to give this Maine boy his holiday wish.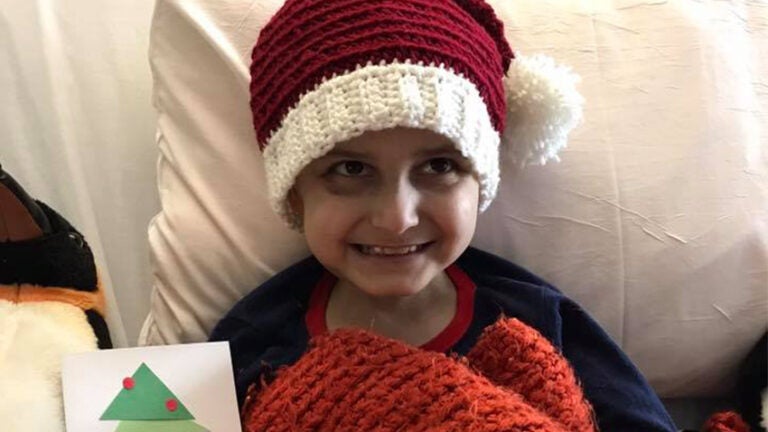 Michelle Thompson Simard says her son Jacob was admitted last month to Barbara Bush Children's Hospital in Portland, Maine, "for the last time."
Doctors said the 9-year-old's Stage 4 neuroblastoma spread throughout his head, and his hip is "peppered by tumors," according to a GoFundMe page created by Simard.
She added: "It is expected Jacob may pass away within the month."
So Simard hopes to celebrate what she expects will be Jacob's last Christmas a bit early. Jacob is asking for cards to be sent to his hospital room, which will be transformed into a "winter wonderland," she told GoodHousekeeping.com.
"Jacob loves the holiday season and we want him to know that Christmas wishes come true and that there are good people who care all around the world," Simard told the publication.
It wasn't long before the first Christmas cards arrived.
https://www.facebook.com/michellethompsonmaine/posts/10213644557003307?pnref=story
Jacob even received a shoutout from the cast of the TV medical drama Code Black, as well as numerous celebrities.
Merry Christmas, Jacob! https://t.co/uSASXEX9QW Please send cards:
Jacob Thompson
Maine Medical Center
22 Bramhall St
Portland, ME 04102 pic.twitter.com/DhLWxVup2S

— Michael Seitzman (@michaelseitzman) November 3, 2017
Jacob Thompson
C/O Maine Medical Center
22 Bramhall St
Portland, ME 04102 https://t.co/Xc4ROARruz

— Jake Tapper (@jaketapper) November 2, 2017
I was born in this hospital. I'm sending a card your way Jacob you handsome devil. https://t.co/yt9EC9WjAL

— Anna Kendrick (@AnnaKendrick47) November 3, 2017
Jacob needs a little Christmas NOW!! Who's in?! ❤️❤️ https://t.co/zwJgfZisdD

— Sarah Silverman (@SarahKSilverman) November 3, 2017
Let's make Jacob's early Christmas as big as he deserves. Here's the card I drew for him. I'm counting on you guys! https://t.co/aVNp0H7efG pic.twitter.com/4SeksvtvyM

— Arnold (@Schwarzenegger) November 3, 2017
In addition to the cards, Jacob's family is working to crowdfund money for his funeral assistance, according to the online fundraiser. Simard said that she and Jacob's father, Roger Guay, were "sticker shocked" upon making prearrangements.
"No one thinks about having to do this type of planning for their child and because of that we […] do not have life insurance on him," she wrote. "We are asking for some assistance from family and friends to help support this."
As of Saturday morning, the campaign had raised more than $80,000 of its $100,000 goal.
In an update Thursday, Simard wrote the response had been "great."
Those wishing to send Jacob cards can mail them to:
Maine Medical
22 Bramhall St.
Room 653
Portland, Maine 04102