Local
Marty Walsh and Tito Jackson grew up 2 miles — and worlds away — from each other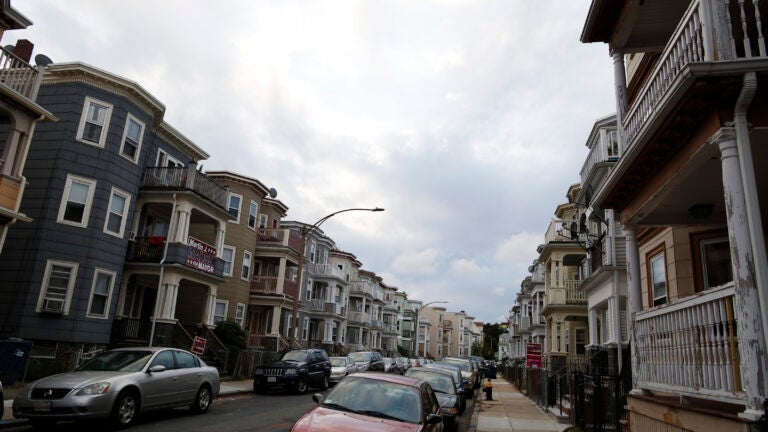 They are, first, sons of Dorchester. The candidates for mayor — incumbent Martin J. Walsh and Councilor Tito Jackson — grew up less than 2 miles from each other but seemingly in different worlds. Their respective home neighborhoods not only shaped their visions for Boston and its politics but also exemplify the city's trajectory, uneven and unfinished.

Mary Walsh raised her two boys in their triple-decker on Taft Street, where life centered around the old St. Margaret's parish.

On city maps, the parish was in the Savin Hill neighborhood of Dorchester, and the mayor is often described as a son of that section. But no one on Taft Street saw it that way. The Hill was less than a mile away, but it felt farther than that. It was "over the bridge'' — past the Red Line tracks where the cool beach breeze patted the big Victorian houses, and the trees formed a canopy over suburban-like roads. The old St. William's parish was the glue on that other side of the neighborhood.

"We didn't hang out in Savin Hill,'' said Mary Walsh, 75, standing on her back porch one recent Saturday. "We had our own neighborhood.''

Back then, in the late 1960s and early 1970s, children seldom roamed more than 10 blocks from home; triple-deckers bulged with working-class families from different generations; and families waiting for pay day bought groceries "on the cuff'' at Gene & Paul's.

"We didn't know we were poor, because we were just kids,'' said Councilor Frank Baker, who grew up near the Walsh family on Spring Garden Street, which was home to 70 children, including his 12 siblings.

Life, tough as it was, felt easy then. Walsh hit home runs from his paved alleyway and played touch football in the narrow street. As a child, he hung out at the Little House community center, where he played floor hockey and took up woodworking.

Then, in 1974, the court desegregation ruling came down with the hard force of a judge's gavel and, in the days and years that followed, Boston changed.

'Do NOT leave the yard'

Tito Jackson pedaled his bicycle around his family's concrete backyard on Schuyler Street, powering his little boy legs down the narrow Grove Hall driveway and screeching to a halt where the hedging met the fence.

If he had any thoughts of venturing further — down the driveway or down the street — his mother, Rosa Jackson, would let him have it. So he turned around on a grassy strip belonging to his neighbors, who closely monitored him.

Rosa Jackson kept a hawk-eyed view of her adopted son and his siblings in the turbulent 1980s, when violent drug-dealing destroyed families and shattered lives, especially those of young black boys. Gangs circled Grove Hall, ready to pounce. So he heeded her warning: "Do NOT leave the yard.''

"I kept them close,'' recalled Rosa Jackson. "If anything went wrong, I wanted to be able to say 'My child was here, near me, near the house.' ''

That fear became real for Tito Jackson when, after finishing a high school track meet late one evening, he took public transportation home. His mother met him at the door with tears in her eyes, terrified that something terrible had happened to him.

"When I was coming up, the narrative was that black boys didn't live until age 25,'' Jackson said. "I always had that in the back of my head.''


Neighborhoods changing

In the Savin Hill area, which now claims Walsh as its own, he found his voice as a leader. In Grove Hall, which straddles Dorchester and Roxbury, Jackson honed his passion for activism. Their world views, molded over 50 years for Walsh, 42 for Jackson, were shaped by family conversations, at civic gatherings and public events in these neighborhoods.

Both men came of age in a racially-polarized city and as Boston gradually, sometimes grudgingly, redefined itself as a multicultural metropolis. And now, as cranes fill the skylines and residents fret over soaring housing prices, the city is again looking inward, at who is benefitting and who is not in the new Boston.

Throughout the campaign, Walsh has touted the city's historic economic boom — manifest in Savin Hill — while acknowledging such growth and opportunity have been uneven across neighborhoods. Nowhere, perhaps, is that more clear than Grove Hall, the home base of Jackson, who has made income inequality a cornerstone of his underdog campaign.

Still, both neighborhoods are changing.

Baker, the city councilor, said when he was coming up, "no one wanted to live in Dorchester.''

Today, Savin Hill bustles with newcomers and old-timers, both. On any given week night, residents spill out of the restaurants. By day, work crews fix up the aging triple-deckers, refurbishing them into condos. Each floor sells for $500,000 to $800,000.

"Who can afford that?,'' said Sonia Kaszuba, who, along with other abutters, launched an unsuccessful fight against a planned 17-unit condo building on Pleasant Street. She worries that the neighborhood is becoming out of reach.

In Grove Hall, revival has been slow. New businesses are reluctant to give the neighborhood a shot, said Ed Gaskin, who recruits and promotes businesses as the head the Greater Grove Hall Main Streets program.

More than 20,000 people live in Grove Hall area, Gaskin said, but the median income is only $24,000. National chains have replaced the shuttered mom-and-pop storefronts, set amid a mass of barber shops, beauty salons, and nonprofits. And there isn't one full-service restaurant. Business owners won't even consider the new liquor licenses being offered by the city. Too costly. Raising prices to meet the expense would drive away diners.

"There just isn't a clientele for that,'' Gaskins said.

Still, home prices are soaring in Grove Hall and development has begun a slow creep there — even though mass transit is limited to the buses rumbling through its streets.

"I've seen sales on homes going for $1 million,'' said Sarah-Ann Shaw, a Grove Hall resident for over 40 years and the first black female reporter at Channel 4.

Walsh's 'DNA is Dorchester'


Life on Taft Street in the 1970s was punctuated by crime and the hijinks of wayward Dorchester boys, like Marty Walsh.

"I wasn't a saint and I wasn't a criminal,'' the mayor said.

He and his brother, Johnny, shared a bedroom on the first floor of their Irish-immigrant parents' triple-decker, where his mother continues to live. The small apartment still has the old wooden paneling on the living room wall and the same kitchen table where his father and uncle wrangled over politics.

"I loved listening to them,'' Walsh said.

When busing began in 1974, Walsh, a parochial school student, wasn't directly affected. He had other worries, however, beset at an early age by a grave cancer. But on his way to grammar school at St. Margaret's, he remembers watching police cruisers escort yellow school buses with black children aboard.

The Taft Street area, which also had black, Latino, and Vietnamese families, did not feel the rage that marked the school desegregation era in much of Boston. The neighborhood, near Columbia Road and Dorchester Avenue, was already mostly integrated. Still, families began fleeing in droves to the suburbs from nearby areas, like the streets where Baker lived, in part because of turmoil that followed busing.

"We went from knowing everybody on Crescent Avenue to knowing nobody,'' Baker said.

Joe Burnieika, a former school department spokesman during the desegregation crisis, stayed, raising his four children there, even after some buses got stoned in Savin Hill because they carried black children and other buses got stoned in Upham's Corner because white children were aboard.

But the Savin Hill resident could stay no longer when, in 1982, white teenagers killed 30-year-old William Atkinson, a black man. They chased Atkinson onto the Red Line tracks into the path of the oncoming train, all the while flinging bottles and racial epithets at him. Afterwards, Burnieika moved his family to the Cape.

"We knew exactly who did it. These were our kids,'' he said.

Some 700 people walked, in Atkinson's memory, from Upham's Corner to Meeting House Hill.

Many, like Burnieika, left, but many more stayed. Some, like the Walshes, sent their children to parochial or private high schools.

The future mayor was also getting schooled in Boston's trademark topic — politics. Even as a teenager, it raced in Walsh's veins. He was a regular at civic meetings, a feature at the Dorchester Day parade, and a reliable campaign volunteer during the 15 years that Jim Brett served in the State House.

"His DNA is Dorchester,'' said Brett, whom Walsh succeeded as state representative.

His neighborhood looked out for his family during hard times, and steered him onto the political path. By 1995, Walsh, for many years an alcoholic, was sober. He followed his father and uncle and joined the labor union, where he began to find his way, and rose into leadership.

Four years later, Walsh bought a house on Tuttle Street, about a five-minute drive from his childhood home. After he became a state representative, he was frequently described as a native of Savin Hill. He never made the same claim.

"I always say (I'm from) St. Margaret's parish,'' Walsh said. "You never hear me say Savin Hill.''

Politics in Jackson's blood

Jackson followed in the footsteps of his father, Herb, who launched voter drives in the 1970s — amid the school desegregation crisis — and helped boost candidates of color into public office. Herb ran a recycling business and launched efforts to clear the neighborhood's littered empty lots.

"It was in my blood,'' Tito Jackson said, of his early attraction to politics.

By the time he was a teenager, Grove Hall was reeling from crime and decades of neglect and broken City Hall promises. But it wasn't always like that.

It had once been a predominantly Jewish community, with bakeries, pharmacies, and mansion-like houses. But by the 1970s, the businesses had all closed or moved.

"The neighborhood tipped,'' recalled Edward Redd, who has lived on Schuyler Street all but two of his 69 years. "All of sudden there were no pharmacies. It was bizarre.''

As a boy, Redd played with Bolling and the Cruz kids — who would go on to lead two of Boston's black dynasties — on Schuyler Street, where Jackson grew up. (Royal Bolling became a Massachusetts senator and Bruce Bolling, a District 7 city councilor and 1993 mayoral candidate. The Cruzes are builders and real estate developers.) Redd, who used to help out on the Bolling campaigns, became a district judge.

Jackson used to mow the Redds' yard and shovel the snow. Even as a child, he was cognizant that he lived next door to a doctor (Redd's wife), a judge, and other city movers and shakers who never thought of leaving their community.

They stayed through the rough years — through years of high unemployment, crime, and government housing policies made Grove Hall ripe for low-income developments.

"It became a problem,'' said Daniel Richardson, a former president of the Garrison Trotter Neighborhood Association in the Grove Hall. "People got a little uptight about all the low-income housing being put in the neighborhood.''

Grove Hall residents resisted the forces lashing the neighborhood. They met at the Freedom House civic center to figure out how best to protect their children whose buses were being stoned. They cultivated young leaders. They pushed back against crime. Jackson's father, Herb, used to take him to those community meetings, some of which were held at his home.

Twice in history — in the spring of 1967 at the welfare office and again a year later after Martin Luther King Jr.'s assassination — Grove Hall erupted in riots. Politicians after each pledged revivals that never came. Apartment buildings and lots were left barren. It took years to rebuild and the traumatic memories of those days remained vivid for many during Jackson's formative years.

So did the specter of crime. In 1988, a stray bullet from feuding drug dealers exchanging fire killed Darlene Tiffany Moore. The senseless tragedy shook a 13-year-old Jackson to his core.

Herb and Rosa enrolled Jackson in the METCO program and he attended Brookline schools, which, his mother said, were better than the options available in Boston. As a teen, he was on the local NAACP's youth council and attended a college-bound program at the Freedom House. On the streets, the neighborhood troublemakers left him alone. He was going places.

So, in some ways, is Grove Hall. A shopping center pushed by activists now thrives as the hub of the community. But crime remains a nagging problem. The Grove Hall area has had seven times as much major crime as the Savin Hill area so far this year, according to the most recent police data.

But while crime and poverty remain very real, there are some signs of hope — and perseverance. Residents started a community garden in an empty lot on Jackson's Schuyler Street, but without access to running water, the effort petered. But 68-year-old Alda Rock hasn't given up. He is still there every day, tending to okra, cabbage and beans, and there he was once recent afternoon, by the fence, hand in pocket, to greet a neighbor headed home. It was Tito Jackson.

He remembered the councilor as a boy walking to the bus stop. Now that boy is running for mayor.

"Glad to see what you are doing,'' Alda Rock told him.