Local News
A massive Wegmans is opening in Medford
The 120,000-square-foot grocery store includes alcohol, a "Burger Bar," and made-to-order pizza.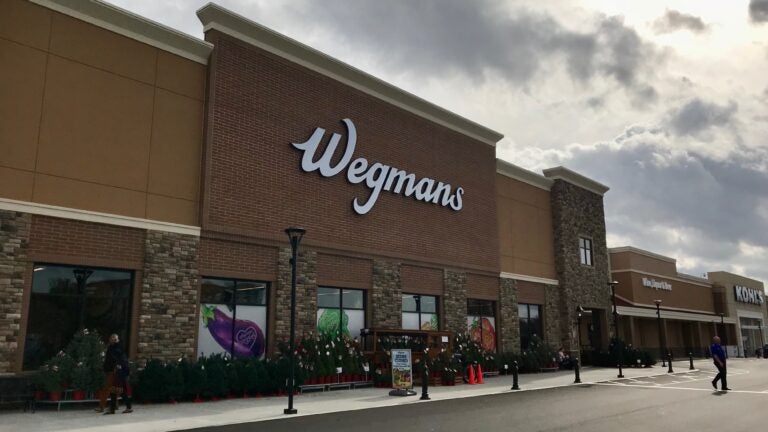 The Wegmans invasion continues.
The New York-based grocery store is opening a new location Sunday in Medford. The new 120,000-square-foot store is the chain's fifth in Massachusetts, with another on the way next spring in Natick.
The new Medford store, which was announced by the city's mayor nearly two years ago, is located at the former Meadow Glen Mall. According to store manager Kevin Russell, it has two features not found in any other Wegmans in Massachusetts: a Burger Bar and Pizza Shop.
"The Burger Bar is a family friendly in-store restaurant counter, serving burgers and sandwiches, salads, soup, sides, and beer and wine by the glass," Russell said in a statement. "The Pizza Shop here offers made-to-order pizzas baked in a custom rotating brick hearth oven, along with Sicilian-style pizza by the slice."
The Medford Wegmans also includes a broad selection of prepared foods for dine-in or take-out, a sub shop, a cafe serving coffee, tea, and breakfast sandwiches, sushi, salad bar, and hot bar. It will also sell a diverse selection of beer, spirits, and wine, ranging from $6 bottles to "offerings from some of the finest wine estates in the world," according to Russell.
The grand opening at the 3850 Mystic Valley Parkway location begins at 7 a.m. Sunday. The store will be open from 6 a.m. to midnight seven days a week.
Wegmans has developed a strong, loyal following in the Mid-Atlantic, where most of its stores are located, due to its combination of selection, speciality foods, and customer service.
Check out more photos from inside the new store below: