Local News
Could New England actually change time zones—and what happens if it does?
The move would effectively implement year-round daylight saving time.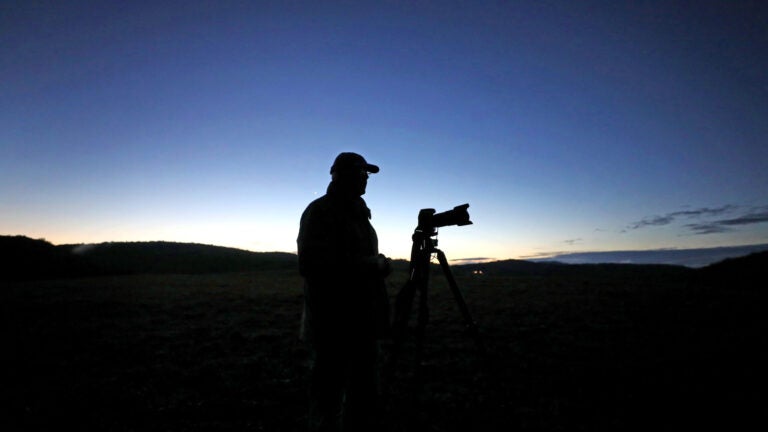 New England residents may be relishing the extra hour of sleep Sunday morning. However, studies have shown that the semiannual ritual of changing clocks has perhaps outlived its usefulness.
And in fact, Massachusetts is officially pushing the idea of getting rid of it.
In their final report released this past week, a special state commission recommended that Massachusetts switch time zones "under certain circumstances," effectively adopting daylight saving time all year round. The move — which would have the Bay State join Nova Scotia, Puerto Rico, and others in Atlantic Standard Time — would come with costs and benefits.
Why?
On a map, New England (and especially so Maine) is hundreds of miles farther east than other Eastern Standard Time cities, which is why it currently gets darker earlier in Boston than it does in, say, Buffalo, despite the latter being farther north.
For the entire month of December, the sun will set in Boston sometime between 4:11 p.m. and 4:20 p.m.
"Boston lies so far east in the Eastern Time Zone that during standard time, our earliest nightfall of the year is a mere 27 minutes later than in Anchorage," Tom Emswiler, a leading proponent of changing time zones, wrote in 2014. "When it comes to daylight, we can do much better than Alaska."
Researchers have found that the switch from daylight saving in the fall and winter is associated with an increase in heart attacks, workplace injuries, and pedestrian fatalities.
In their report Wednesday, the state commission argued more light in the afternoon would boost local commerce via evening retail sales; increase retention of students who cite the cold, dark winters as a frustration with the region; and even reduce crime and energy usage.
Perhaps a simpler solution would be to adopt daylight saving time year-round. However, federal law only allows states to opt out of daylight saving time — as Arizona and Hawaii currently do. So the state commission recommended switching to Atlantic Standard Time and then opting out of daylight saving.
What would the change mean on a day-to-day basis?
In practicality, Massachusetts and the rest of the eastern United States already observe Atlantic Standard Time from March through November. So in terms of sunlight, for the majority of the year, there would be no difference.
In the winter months, the sun would rise later in the morning and set later in the evening.
"In Boston, the latest sunrise of the year would be 8:14 a.m. during the first part of January, but the sun would never set before 4:30 p.m. again," meteorologist David Epstein wrote last year.
What are the concerns?
Switching to an earlier time zone and dropping daylight saving would put Massachusetts an hour out of sync from the rest of the East Coast from November to March, which could result in a good deal of confusion and inconvenience.
"Not only would there be a time difference, but there would be a non-uniform time difference," David Prerau, the author of Seize the Daylight: The Curious and Contentious Story of Daylight Saving Time, told Boston.com.
From transportation to entertainment, the move could prove disruptive.
José Massó, director of policy at Massport, told the state commission that the hour time difference in the winter could confuse passengers at Logan airport traveling to or from places like New York City or Washington, D.C., the respective financial and political capitals of the country.
During the three weeks of the year when the United States observes daylight saving time but Europe does not, manageable, but costly, logistical challenges result for both passengers and airports, officials said.
On the ground, Prerau says the change would also be chaotic and inconvenient for people living near or regularly traveling across the border, whether its on the edge of Western Massachusetts or on the Connecticut-New York line.
"Living near a time zone border is not very pleasant," he said, adding that the original time zone lines were chosen in low-population areas to avoid such problems.
And even if Americans are increasingly cutting the cord when it comes to cable, the move would have an impact on residents' TV-viewing habits with primetime events starting one hour later during the winter months.
For example, take a trip to Nova Scotia today and TV shows and sporting events in the United States all start one hour later at night. Game of Thrones would begin at 10 p.m. instead of 9 p.m. And if you thought this recent World Series ran late, trying waiting for the post-11:30 p.m. tipoff of the Celtics' next West Coast game on Atlantic Standard Time.
How realistic is it that this could happen anytime soon?
Massachusetts may be leading the charge, but they're hardly the only state considering this idea.
The commission recommended making the move "only if a majority of other Northeast states – possibly including New York – do so as well." They urged Gov. Charlie Baker and state lawmakers to raise the issue with regional bodies in the hopes of getting neighboring states to follow suit.
Earlier this year, the Maine House and Senate passed separate bills in support of moving to Atlantic Standard Time and ditching daylight saving time — but only if Massachusetts and New Hampshire did so, too. However, the legislation appears to have stalled after the two chambers failed to reconcile the bills.
New Hampshire's House also passed a year-round daylight saving bill, but it was voted down in the state Senate. Similar bills have been introduced in Connecticut and Rhode Island, according to Time Zone Report, a website that tracks such matters. Meanwhile, Vermont lawmakers are considering a resolution simply "demanding that Congress abolish daylight saving time" (which has only existed on the national level since 1966).
The report by Massachusetts's special commission sends the issue back to Beacon Hill, where  "members of the Legislature can choose to file bills based on its recommendations if and as individual members see fit," according to Mark Sternman, the legislative director for Sen. Eileen Donoghue, who chaired the commission.
If Massachusetts passes legislation to make the change and enough neighboring states agree to join, the move to a different time zone would still have to be approved by the U.S. Department of Transportation.
How would the state address other concerns?
Adopting year-round daylight saving "doesn't manufacture daylight, it just moves it around," said Prerau.
With most public schools in Massachusetts beginning the day before or around 8 a.m., even the commission on changing time zones acknowledged safety concerns for students.
"With current school schedules remaining in place, year-round DST could pose a safety risk during the winter to children waiting for the school bus in the dark and to adolescents driving in the early morning," their report said.
The commission therefore recommended that any move to year-round daylight saving time be accompanied by later school start times, which they noted that some are already calling for due to concerns that students already aren't getting enough sleep.
However, Prerau says the move to year-round daylight saving time didn't prove very popular when it was temporarily implemented during the 1970s energy crisis.
"People really disliked the very dark morning," he said, noting that later school start times occasionally clashed with parents' work schedules. "You couldn't change parents working time because if you moved everything up an hour, nothing would really change in the end."
However, a subsequent 1973 federal report found that extending daylight saving time from six to eight months would result in small improvements "in the areas of energy conservation, overall traffic safety, and reduced violent crime." By 2005, the period was extended to eight months.
Massachusetts wants to go all the way, even if acknowledging some drawbacks.
"Although appreciable costs associated with making this change would result, on balance the Commission finds that doing so could have positive benefits that largely stem from the absence of a spring transition to DST and the additional hour of winter evening light," the report said.
If adopted, the commission also recommended funding a public awareness campaign focused on travelers and communities near the hypothetical new time zone boundaries.
Another option would be abolishing time zones altogether. And then Bay Staters and everyone else could set their schedules however they like.