Local
Sean Spicer's fellowship at Harvard was completely off the record. Was it worth it?
Several students didn't think so.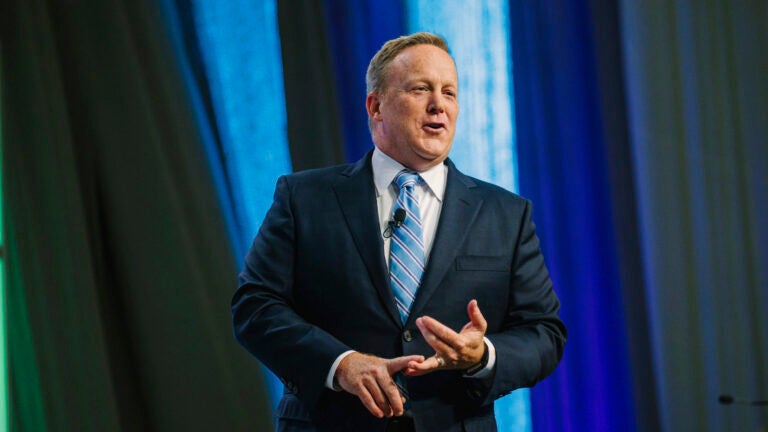 For a second time this fall, Harvard University is on the defense over its illustrious fellowship program.
After controversially revoking Chelsea Manning's fellowship in September, the Ivy League school welcomed former White House press secretary Sean Spicer to campus as a visiting fellow earlier this month. But the fellowship was cloaked in so much secrecy that the vast majority of students might not have noticed, according to Harvard student Dan Drabik.
"It was secretive to the point that many students didn't know he was here," he told Boston.com.
As Drabik wrote in a Harvard Crimson piece last week, Spicer spoke at 11 events during his three-day visit, all of which were open to just a select group of students and were deemed off the record — meaning his statements could not be quoted or relayed to anyone who did not attend them.
"That is not a normal Visiting Fellowship at Harvard," said Drabik, a master's student at the Kennedy School of Government, adding that Spicer's appearances were not prominently advertised and that the "timeline of his visit was kept under wraps."
In his piece for the Crimson, Drabik criticized Harvard for trying to avoid any controversy that might arise from a clash between the high-profile Republican and the school's largely liberal student body, which could have included difficult questions or organized protests in light of Spicer's combative and much-criticized tenure at the White House.
"I understand that it's uncomfortable to invite someone to campus and then have students publicly challenge that person's actions," Drabik wrote. "However, constructive civil discourse isn't comfortable and easy; it's awkward and challenging. Unfortunately, Harvard valued the comfort of itself and its guest more than it valued providing a learning opportunity for its students."
Drabik's article elicited a response this week from fellow students Jason Ge and Emily Hall, co-chairs of the fellows program at Harvard's Institute of Politics, who said that on-the-record events are "simply not the central purpose" of the program.
"We try to use the Fellow's time in a way that is most valuable for the broader Harvard community, so we therefore prioritize event structures that are unique to our program," they wrote Tuesday in the Crimson, adding that a lottery was conducted through the institute's email list to determine who got to attend Spicer's public events.
According to Harvard spokesman Doug Gavel, Spicer isn't the only fellow to have an off-the-record visit to Cambridge — not even this semester.
"Mary Katharine Ham, Guy Benson, and Joe Slade White had schedules similar to Sean Spicer's and were totally off the record," Gavel said in an email.
Ham and Benson are both conservative political commentators. White is a Democratic campaign strategist.
"Events are typically off-the-record discussions with a relatively small group of around 30 students," says the fellows program website.
Gavel said that the reason for this is to ensure a "free and candid discussion for both fellows and students."
Visiting Fellow @Seanspicer talks to students over breakfast about the state of politics in America. pic.twitter.com/bBOkBhRKeV

— InstituteOfPolitics (@HarvardIOP) October 18, 2017
But did the content of Spicer's discussions merit keeping the appearance off the record?
In his piece for the Crimson, Drabik said no. He attended one of the classroom sessions and said that Spicer told the same stories he's told publicly since leaving the White House.
The classroom session followed the same playbook as his Press Secretary tenure: Dodge hard questions, make a few false statements, attack the media, claim that Trump is treated unfairly, etc. The off the record policy did not make him particularly candid.
Several students who also attended the events and spoke to HuffPost on the condition of anonymity concurred with Drabik's summation.
According to their paraphrased accounts, Spicer defended his White House tenure ("I'm a spokesperson for the president, and my job is to say what he wants me to say"), parsed the definition of differing deception devices ("An alternative fact is 3+1=4 or 4+0=4 … A lie is 3+2=4"), and recalled his favorite memories serving President Donald Trump (giving White House tours and meeting the New England Patriots).
According to HuffPost, the students described the questions Spicer received during the sessions — which were not prescreened, but chosen by moderators — as "relatively tame."
However, Spicer himself told The Hollywood Reporter that he faced "a lot of critical questions."
"I think that was the whole point of it," he said. "To let people ask tough questions to gain an understanding into what the experience was like."
Spicer's visit last month was followed this week by another controversial former member of Trump's campaign: visiting fellow Corey Lewandowski.
Ge and Hall say Lewandowski had two on-the-record events on Monday. Drabik says those were the result of the pressure applied by himself and other students. To their credit, he says, the institute's leaders have been responsive to requests for more transparency.
Still, Drabik would like to see the school stop playing defense and instead re-examine its standards for fellows.
"We should examine the policies and push the school to do better," he said. "A simple rule of requiring Visiting Fellows to make a single public appearance seems like a good start."