Local
Watch: 22-foot whale rescued after getting stranded on Wellfleet beach
The minke whale was tagged so rescuers can track its progress via satellite.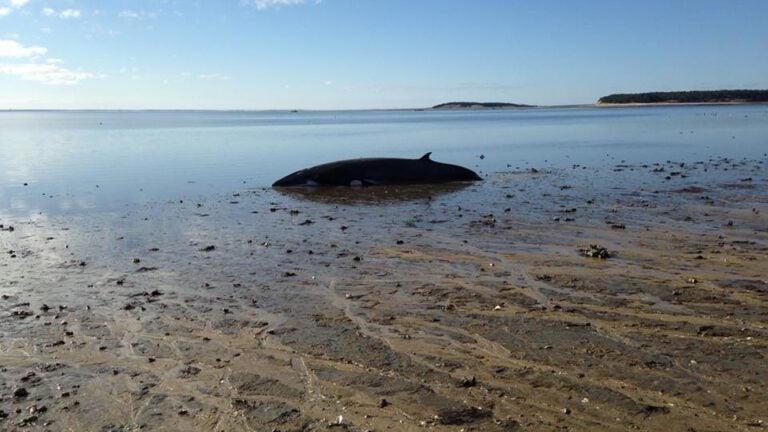 A 22-foot whale was rescued Thursday morning after it became stranded on a Wellfleet beach.
Wellfleet police said they responded to a report of a whale in shallow water at Mayo Beach around 8 a.m. The law enforcement agency said they contacted the Yarmouth-based International Fund for Animal Welfare and assisted rescuers at the scene.
Police said rescuers tried to put the minke whale on floats in order to tow the animal out of the shallow water.
"While this was initially successful, it didn't work as the whale came off the floats," police said in a Facebook post. "Fortunately the tide was coming in and the whale was able to swim on its own."
Boats then directed the whale towards deeper water and pass the Wellfleet's breakwater, according to police.
As part of the rescue effort, the IFAW said it tagged the whale in order track it by satellite.
"Today IFAW completed the first EVER known satellite tagging of a stranded baleen whale," the rescue agency said. "After successfully re-floating the whale, our team remains cautiously optimistic and will monitor the satellite track."
https://www.facebook.com/ifaw.na/posts/1574435685946226
Brian Sharp, program manager for the IFAW's Marine Mammal Rescue and Research, told Boston.com that while stranded live minke whales are "very uncommon," rescuers have seen three become stranded in Wellfleet this year.
"Of the other two whales in Wellfleet, one was originally seen swimming near the pier and eventually stranded in the Herring River and died while we were trying to stabilize it," he said. "The other was in very poor health and was stranded deep in the marsh system behind Lieutenant Island and had to be euthanized. Yesterday's was the first one where rescue was an option."
Watch the rescue teams at work to save the whale below:
https://www.facebook.com/wellfleetpolice/posts/1593781157327680