Local News
What we know about the 'free speech' rally on Boston Common this weekend
Saturday's gathering is going forward without a permit and without as much fanfare as the rally in August.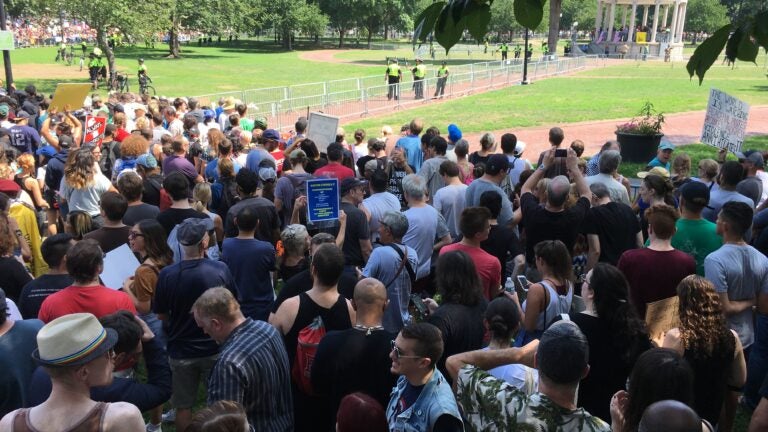 Self-described free speech advocates are returning to the Boston Common this weekend to stage another rally similar to the one in August that was drowned out by widespread protests against racism and hate.
The Saturday rally is being planned by loosely the same organizers, who have repeatedly denounced white supremacism. Removed from the shadow of the violent rally in Charlottesville, Virginia, the groups' upcoming gathering has received far less coverage and fanfare, and police say they "do not anticipate any issues."
Despite being denied a permit, organizers are pushing forward to make their voices heard this time.
Who is behind this rally?
The primary organizer of Saturday's gathering, "Rally for the Republic," is a group called Resist Marxism, an "umbrella organization" of groups committed to defending against what they describe as "extreme hostility towards free speech" by cities such as Boston and other organizations, like Antifa and Black Lives Matter.
"We consist of groups across the ideological spectrum and nation," Resist Marxism says on its website. "All groups who honor the Constitution and love America are welcome to join including patriotic, conservative, libertarian, civic nationalist, and classical liberal organizations. We do not associate with neo-Nazis, fascists, communists, and of course Marxists."
The rally is also co-sponsored by Boston Free Speech, which organized the small but heavily counter-protested rally on the Common in August, as well as a coalition of other local groups.
According to a press release, speakers at the Saturday rally include Joey Gibson, the founder of the Oregon-based, right-wing group Patriot Prayer; Kyle Chapman, an alt-right social media celebrity; and others who attended the previous rallies on the Common in May and August.
How will it compare to the rally in August?
Resist Marxism submitted their permit application in September listing this Saturday's anticipated attendance at 2,000 people. However, John Medlar, a spokesman for the group, says they were purposefully overestimating turnout, since the permit they were issued in August underestimated attendance.
"We expect a good turnout but the number on the permit was set deliberately high, as the number of 100 which the city set for August was far too low," Medlar told Boston.com in an email.
Following a makeshift press conference Tuesday outside City Hall, organizers refused to provide an exact estimate of how many people they were expecting Saturday. A Facebook event page for the rally showed 93 people "going" as of Wednesday afternoon.
The rally in August was attended by "a small group of sympathizers," according to The Boston Globe. The Washington Post put the attendance at "a handful." However, the event — held a week after Charlottesville rally — drew tens of thousands of counter-protesters and 500 police officers to the Common and surrounding streets. After 45 minutes, the rally was cut short by organizers, who were escorted from the scene by police. Police arrested 33 people at the rally and counter-protests.
Organizers have blamed the media and Boston Mayor Marty Walsh for giving counter-protesters the impression the August rally would be attended by white supremacists — though an initially planned speaker did have ties to the movement.
Resist Marxism has repeatedly denied any association to white supremacist groups and describes themselves as "free speech absolutists." The groups said they expect to again be counter-protested by anti-fascist groups this Saturday.
"We expect the city to enforce all laws and regulations within their normal practices," Medlar said Tuesday, adding that the city should enforce state anti-mask laws so that counter-protesters cannot disguise themselves.
Will there be counter-protesters this time?
The two main groups behind the massive counter-demonstrations in August are together promoting a single response this time.
Fight Supremacy 2.0 is being organized by the Boston and Cambridge chapters of Black Lives Matter, as well as social impact group Violence in Boston. The response consists of a nearby counter-demonstration at noon on the Common's Parade Grounds, followed by day-of-action events, including artist performances and workshops.
As of Wednesday afternoon, Fight Supremacy 2.0 had 700 expected attendees on its Facebook page.
Monica Cannon-Grant, an organizer of the counter-demonstration Saturday, as well as a previous one in August, says they proved a point before with their massive turnout and this time are hoping to give people "something tangible to plug into" with the performances and workshops.
"The truth is white supremacy happens in the city of Boston every day," Cannon-Grant told Boston.com. "We need people to stand up for the racism that people of color experience in this city through legislation, housing disparities, and budget cuts."
Cannon-Grant also rejected Resist Marxism's claims of being unassociated with white supremacy.
"I'm still trying to figure out how they feel like they're free speech is being impeded on when the truth of the matter is everything in this country states otherwise," she said, questioning at what point heterosexual white men in the United States have ever had their free speech in jeopardy.
"Where are they when people of color are using this free speech and being beaten, shot, and killed?" Connors-Grant said. "Their fight is baseless and just an excuse to exude hatred."
What is the dispute over the permit?
To this point, Resist Marxism's biggest clash hasn't been with counter-protesters, but with the City of Boston.
The group had their permit application for the Parkman Bandstand denied by the city last month, due to a previously permitted road race nearby on the Common.
According to city officials, the Camp Harbor View Citython 5K was permitted on March 1 — more than six months before Resist Marxism filed their application — and will involve street closures, large tents, moving vehicles, and hundreds of families on the Common. The city offered the group a permit for Sunday or for another day.
However, organizers complained that the city took longer than than the standard 10 business days to respond to their application and reiterated that they are planning to hold their rally Saturday — with or without a permit.
The group said at the time that, due to the delay in the city's response, attendees "were forced to make plans without the knowledge of whether the permit would be approved" and had already prearranged flight and hotels. Mark Sahady, one of the rally's organizers, suggested Tuesday the city's delay was over the content of the rally.
"Their actions give the appearance that there are other reasons for the permit denial, rather than just bureaucratic inefficiency," Sahady said.
However, city officials said Medlar and Sahady had previously agreed to moving their event to Sunday after meeting with the city's parks and police departments — but then called back later to say it had to be moved back to Saturday, which is when the permit was denied.
Resist Marxism has since pushed back the start time of their rally from 10 a.m. to noon Saturday, but are pressing forward with their plans without a permit, which would have guaranteed their spot and allowed for staging and amplified sound to be set up.
"You'll have to ask the city," Sahady said Tuesday, when asked about the ramifications for holding their rally without a permit. During the press conference, Medlar pointed out that counter-protesters during the August rally had used microphones without any permit.
Officials have expressed no plans to stop the gathering due to their lack of permit. Boston Police spokesman Lt. Mike McCarthy said Tuesday that the department will remain in contact with the groups organizing the rally.
"We will have adequate resources assigned to all events planned for the weekend to ensure the safety of the participants and the public," McCarthy told Boston.com. "We do not anticipate any issues with the groups."