Local
A brief history of Brookline's war against turkeys
"Wild turkeys have a 'pecking order' and people who act fearfully will be treated as subordinates."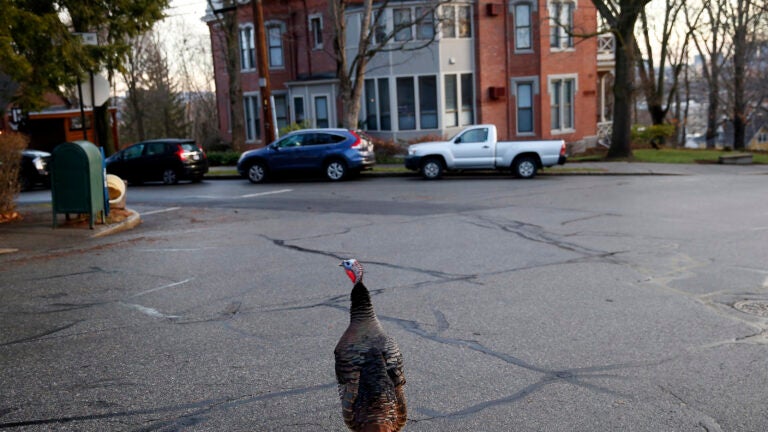 Unlike the White House, the town of Brookline isn't in the business of pardoning turkeys.
Rather, the affluent Boston suburb has battled against the scourge of the roaming wild birds, a truly 21st century menace. Earlier this year, Brookline officials advised residents not to be intimidated.
"Wild turkeys have a 'pecking order' and people who act fearfully will be treated as subordinates. Being aggressive toward wild turkeys is recommended by State wildlife officials," they wrote on the town's webpage, before backing down and softening the language (state officials actually do not recommend being aggressive toward turkeys).
But that doesn't mean Brookline is going to let the turkeys win — even if the feathered invaders (or are we the invaders?) have the momentum.
This wild turkey decided to follow me home from Brookline. @universalhub pic.twitter.com/2LxIfx6yQd

— Zoey (@notquitefound) November 4, 2016
November 23, 2003
Exactly 14 years ago, Massachusetts officials were celebrating the abundance of wild turkeys.
The victims of overhunting and habitat destruction, the species' population had been literally eliminated in Massachusetts in the 19th century. According to state wildlife officials, the last known native bird was killed in 1851. And for roughly a century, attempts to bring back the wild turkey in the state were unsuccessful.
However, in 1972, officials embarked on a three-decade restoration effort — a precursor to what would be a nationwide initiative — which consisted of trapping birds in New York and letting them loose in the Berkshires and other parts of the state.
By 2003, the statewide population had been restored to 20,000, according to The Boston Globe.
"Massachusetts has been a leader in the comeback of the wild turkey in New England," James Earl Kennamer, senior vice president of conservation programs for the National Wild Turkey Federation, said that November.
The state division of fisheries and wildlife currently exclaims that the estimated population now exceeds 25,000 birds.
October 23, 2007
"Turkeys take to cities, towns," read a front-page (yes, really) headline in the Globe.
"Some people are getting very upset," said Brookline police animal control officer Pierre Verrier, who estimated that there were "at least two dozen" wild turkeys living off bird seed and gutter trash in the town — and often marauding the townspeople.
The article documented a number of police calls from people reporting turkeys in Brookline's bougie downtown, sometimes even aggressively chasing residents.
"He came at me and, at first, I tried to shoo him away," recalled one woman, who said she escaped the three-foot bird by ducking into a Dunkin' Donuts. "I figured I'd just go 'Shoo!' and he'd go. But he was very aggressive."
State wildlife officials expressed surprise at the turkey's appetite for suburban living.
"Who knew?" said state biologist Marion Larson. "The last time there were turkeys in Massachusetts there weren't a whole heck of a lot of suburbs."
The surprise was perhaps not long lasting.
December 6, 2012
After a number of residents reported being attacked by one or multiple birds, about 30 people raised their concerns about aggressive turkeys during a meeting at the Brookline Public Safety Building. According to the Globe, turkey calls had increased significantly from 2010 to 2012, topping out at eight a month that fall.
A 64-year-old woman said she was walking down Tappan Street that November when three turkeys turned on her. The dominant flew at her head and scratched her neck, reportedly breaking the skin. She was only able to escape when the driver of a passing car stopped and threw the door open for her to get in.
She was hardly the only one to have a frightful encounter with an aggressive bird.
Neighbors told police, town officials and a representative from the state Division of Fisheries and Wildlife Thursday night that the birds have been attacking cars and people and often are not scared away by loud noises or being sprayed with water.

Steve Bruno, the mailman for the Aspinwall Hill neighborhood, said his run-ins with turkeys, and the three especially aggressive birds, have been frequent.

"Probably every two weeks they come after me," Bruno said.

While some voiced their support for protecting the birds and just trying to scare away the trouble makers, other neighbors are asked police to shoot the aggressive birds. One man in the audience even requested if he could spray-paint the problem birds so police can identify them.
Police said that firing guns at turkeys in the neighborhood was not an option, but that they would look to find ways to address the disruptive birds. Animals experts said that removing one particularly aggressive bird could result in the rest of the group becoming less troublesome.
January 15, 2013
Roughly a month after the town meeting, Brookline police reportedly captured the main bird believed to be terrorizing residents. After a chase through multiple backyards, officers netted the turkey behind a house on Tappan Street.
The turkey was taken to Tufts University's veterinary school in Grafton, where it had to be euthanized due to a broken wing. But it had already reportedly racked up a laundry list of assaults against residents in Aspinwall Hill.
The neighborhood is where the turkeys have attacked children on their way to school, and forced some mailmen inside homes on their routes. Angry turkeys have tried to peck through a storm door window and one neighbor said he has had to fend off the birds with an umbrella during a siege that he labeled "a nightmare."
Police said they hoped the other two turkeys that had been part of the notorious trio would be less troublesome without their primary agitator.
April 28, 2013
Brookline resident Didi Coyle received a Sunday night surprise when a turkey busted through the double-paned front windows of her Addington Road home, according to an article that May by Globe reporter Todd Feathers.
Fortunately, no one was hurt, save for the turkey losing a "teaspoon of blood." Coyle told the Globe that she quickly grabbed her collie to keep it from attacking the bird and that a police officer soon arrived to shoo it out a back window, which he had opened.
May 28, 2014
Despite dealing with the primary problem turkeys, Brookline police began advising residents in 2014 on how to deal with the birds. First and foremost, the advice consisted of limiting potential food sources for the turkey and not allowing the birds to get the upper hand.
"Don't hesitate to scare or threaten a bold, aggressive turkey with loud noises, swatting with a broom or water sprayed from a hose. A dog on a leash is also an effective deterrent," police said.
Attached are some guidelines for dealing with Turkeys. @TownofBrookline has asked for your help to not feed wildlife. pic.twitter.com/KjJOjMr8fk

— Brookline PD (@BrooklineMAPD) May 28, 2014
2017
The town of Brookline appeared to tweak those guidelines this past August, doubling down on their uncompromising advice and warning residents to not let themselves be "treated as subordinates" by the turkeys. A town document provides two-steps to follow if approached by a turkey:
Do not back away or turn your back
Step toward the turkey and act confidently
According to state wildlife biologist Dave Scarpitti, local wild turkeys have become so emboldened around people because they have no reason to be scared.
"Turkeys are becoming so accustomed to being around people that there's just this loss of sort of natural human and animal behavior," Scarpitti recently told Boston.com. "The animals aren't necessarily tremendously afraid of humans because they have no cause to be. They're in and around them day after day after day."
And they don't appear to be going away.
Good morning Mr. Turkey ??? #Brookline pic.twitter.com/55qN1U165d

— Joe Pesaturo (@JoePesaturo) May 23, 2017
The Associated Press reported last month that Somerville, Belmont, and Brookline had fielded a combined 137 complaints about turkeys since the start of last year.
Brookline resident Tess Bundy told the AP that she has developed a particular grudge against the birds that roost behind her home and often charge upon her arrival. Bundy said she even called the police in April after one turkey repeatedly launched itself at her and her infant daughter.
It reportedly only backed down after Bundy "whacked it several times with a shovel."
Officials recommend a broom or hose. But after the past decade, Brookline residents may contend that any defense is fair game in the war against the official game bird of Massachusetts.