Local
Harvard upholds 2016 rule against single-gender social clubs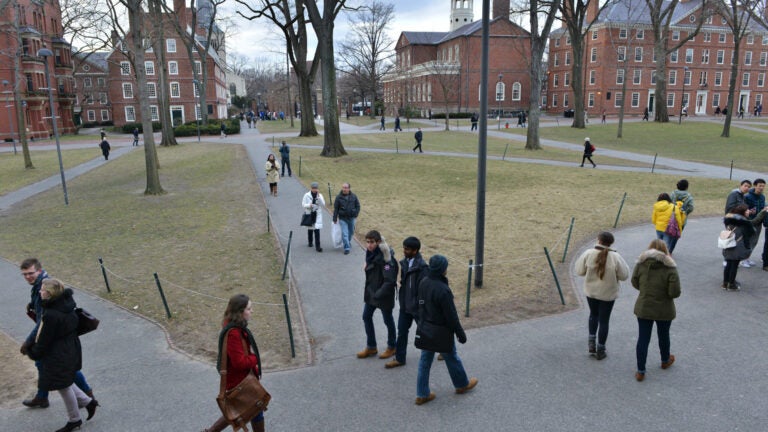 BOSTON (AP) — Harvard University is upholding a policy that pressures secretive all-male social clubs to accept students of any gender, its top leadership announced on Tuesday.
In a private meeting on Monday, the university's governing board voted to approve a May 2016 rule saying students who join single-gender clubs are forbidden from leading campus groups or serving as captains of sports teams. The rule also says the university, based in Cambridge, won't back those students for major scholarships.
University administrators created the rule to spur change among male social groups known as final clubs, including some that date to the 18th century and count former U.S. presidents among their past members. In recent years, the clubs have been accused of problems with alcohol abuse and sexual assault.
A statement from Drew Faust, Harvard's president, and William F. Lee, a senior fellow of the university's governing board, said the overall impact of gender-exclusive groups has been negative.
''The final clubs in particular are a product of another era, a time when Harvard's student body was all male, culturally homogenous, and overwhelmingly white and affluent,'' they said, adding today's student body is ''diverse on many dimensions.''
Harvard's decision spares the clubs from a harsher fate recommended by a faculty committee, which said in July that students should be banned from joining single-gender clubs or face disciplinary action.
The rule also applies to all-female clubs and to fraternities and sororities open to Harvard students even though the university doesn't officially recognize them. Some clubs have already expanded admission rules in response to the rule. The Delphic, an all-male club, and the Bee, a female final club formed in the 1990s, merged in August and will share a clubhouse near campus.
Harvard's Tuesday announcement drew condemnation from the North-American Interfraternity Conference, which represents three fraternities that include Harvard students.
''Harvard could not be more wrong. You can both honor a student's rights and foster a safe and healthy campus community,'' spokeswoman Heather Kirk said in a statement. ''It's ironic that one of the most exclusive institutions in the world is limiting what organizations students can join.''
A lawyer for the Fly Club, one of Harvard's all-male clubs, said the group has yet to decide whether to take legal action against the decision.
''It shows remarkable disdain for student choice and student autonomy and student liberty,'' civil liberties attorney Harvey Silverglate said. ''I find it remarkable that the administration is treating Harvard students like little children.''
Some alumni and faculty members also opposed the rule, saying it limits students' freedom of association and speech. Harry Lewis, a computer science professor and former dean, led an effort to overturn the sanctions, but the university's faculty voted against his proposal at a November meeting. Lewis declined to comment on Tuesday.
The governing board's Monday decision solidified Harvard's stance against final clubs, which have faced increasing scrutiny from administrators. A university committee reported in March that group members have ''deeply misogynistic attitudes'' and a ''sense of sexual entitlement.''
A university survey found 47 percent of female seniors who interacted socially with the clubs had experienced non-consensual sexual contact. Students and alumni from some clubs denounced those accusations and denied they have problems with sexual assault or harassment.
Faust had previously said she would make the final decision, but the university's governing board, known as the Harvard Corporation, joined the decision as Faust prepares to step down.
The option chosen by the board was one of three recommended by a faculty committee in September, and the leadership says it preserves students' choice to join groups but with consequences.
''Ultimately, students have the freedom to decide which is more important to them: membership in a gender-discriminatory organization or access to those privileges and resources,'' the statement said.
___
Follow Binkley on Twitter at @cbinkley