Local
In unusual murder trial, alleged foes are codefendants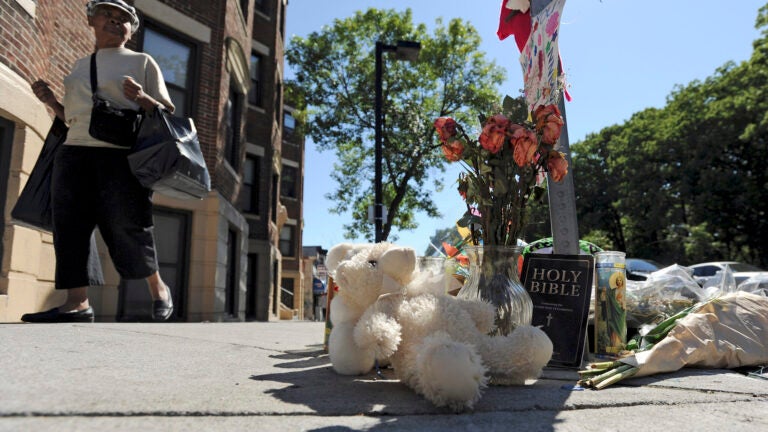 As the carefree Caribbean carnival parade known as J'ouvert rolled down Blue Hill Avenue in Dorchester, Keith Williams and Wesson Colas allegedly confronted each other with guns in hand. Williams fired, but Colas did not, prosecutors said.
Caught in the middle on Aug. 23, 2014, was Dawnn Jaffier, 26, a bystander and youth mentor who was shot in the head after stepping out of the joyous procession. A second woman was shot in the leg but survived.
Three years later, Williams, 21, and Colas, 25, will sit just feet apart Monday in Suffolk Superior Court in a trial with an unusual legal twist: The adversaries are simultaneously facing first-degree murder charges, even though only Williams is accused of pulling the trigger.
Defense attorneys, who had attempted to separate the cases, must navigate difficult legal terrain as they endeavor to fight the prosecution in a courtroom where the codefendants are also foes. Williams and Colas have pleaded not guilty.
"It's going to be difficult for the two defense attorneys to not implicate the other side,'' said attorney Christopher Belezos, who is not involved in the case but has defended clients in similar legal predicaments. "I think it's going to make the prosecution's case easier.''
Prosecutors said the case against Williams and Colas is based on a 1997 Supreme Judicial Court ruling, which found that rivals who participate in a gun battle resulting in the death of a third person may be held liable "even if it was the defendant's opponent who fired the fatal shot.''
Suffolk County prosecutors have brought similar charges in two previous gun deaths, including the 2007 slaying of Chiara Levin, a 22-year-old bystander. Manuel Andrade was convicted of murder for starting the Dorchester gunfight that killed Levin.
In that case, the gunfire started when Andrade shot another man in the chest. The man's friend, Casimiro Barros, fired back, but struck Levin instead. Barros and Andrade were tried separately, and a jury convicted Barros of voluntary manslaughter.
Belezos, who represented Barros, said Barros would not have received a fair trial if he had been tried at the same time as Andrade. "Neither one could properly pursue their defense without inflicting damage on the other,'' he said.
Edward P. Ryan Jr., a veteran defense attorney, said he's never seen two combatants accused of killing a bystander go on trial together.
"It's always difficult in a joint trial,'' said Ryan, who is not involved in the latest case. "If it's one pointing the finger at the other, that's generally not a good thing.''
In the trial over Jaffier's slaying, lawyers' opening statements are scheduled for Monday.
The killing stunned the city, leading to a press conference at Boston Police headquarters within hours of her death in which Jaffier's father, Ian, displayed a photograph of his slain daughter and begged for help in solving the murder.
Shantell Jeter, who grew up with Jaffier in Brighton, lamented what she described as the persistent violence in Boston in which young people often are the victims and perpetrators. Jaffier was a popular staff member at the West End House Boys and Girls Club in Allston who loved to dance and work with children.
"Dawnn was an advocate for young people, and these tragedies are being caused by young people to young people,'' Jeter said. She said it will be difficult for Jaffier's family to endure a trial during the end-of-the-year holidays.
"It's sad and unfortunate that this has to happen at this time,'' Jeter said.
Defense attorneys for Colas and Williams declined to discuss the case, but court papers reveal strategies they've considered.
At his arraignment in March 2015, defense lawyer Peter Marano, who represents Colas, said prosecutors overreached when they charged him with murder, saying his client "was lucky he wasn't shot and killed.''
"Our defense remains the same,'' Marano said this week. He declined to elaborate.
Williams's attorney, John M. Galvin, has argued in court papers that his client was wrongly identified as the shooter.
Another possible defense is outlined in court papers filed by a third defendant, Jordan Reed, who was accused of helping Williams dispose of the firearm that killed Jaffier. At trial, Reed's lawyer wrote, Williams "is expected to argue that it was Reed who fired the shots in the direction of Colas that ultimately struck the victims.''
Reed, 24, died at his home in August. His death is not suspicious, the Suffolk DA's office said.
The incident that killed Jaffier began inside Rose's Market on Blue Hill Avenue, where Colas and his friends encountered Reed and his companions and took exception to their presence in that part of Dorchester, court papers say.
The groups stared each other down and the confrontation spilled onto the street, where an off-duty Boston police detective saw Colas pull out a gun and aim it at Reed, Williams, and another man, court records show.
Although Williams wasn't involved in the stare down in the store, prosecutors allege he fired a revolver at Colas. The gunfire hit Jaffier and grazed the leg of Lealah Fulton, who was standing at the intersection of Blue Hill Avenue and American Legion Highway, prosecutors said.
Williams, Reed, and another man fled to nearby Drummond Street, where Williams allegedly discarded the revolver in a yard. Police took the three men into custody and seized the firearm. Ballistic testing tied the bullets fired at Jaffier and Fulton to the revolver recovered from the yard, authorities said, and Williams was charged with murder.
In March 2015, a grand jury indicted Colas on the murder charge and accused Reed of being an accessory after the fact.
In announcing the charges against the three men, authorities said the defendants had gang ties, but jurors won't hear about those alleged connections, court papers show. The prosecution and defense agreed not to raise the issue because authorities don't believe gang affiliations instigated the violence.
Anim Aweh, who grew up with Jaffier, said she is hoping for justice.
"We try to move on with our lives,'' said Aweh, a social worker in Oakland, Calif. "For someone like me, we never truly forget.''