Local
Sutton family says 15-year-old Connor Tronerud took his own life 'after struggling with bullying from peers'
"This shouldn't have happened," his reverend said.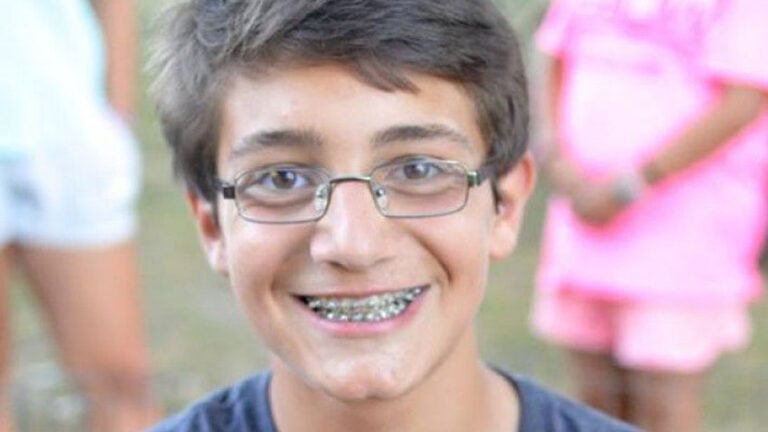 Connor Tronerud was happiest during the summer when he was at camp. At home in Sutton, the 15-year-old could most often be found "chillaxing" in his room with peanut butter cookies, his Nintendo, and an iPad.
Those memories were among the many the Tronerud family shared in an obituary for the teen, who they said took his own life on Dec. 4 "after struggling with bullying from peers."
"He brought a finesse to duct tape art, a determination to rocketry, and a sense of humor to the agriculture of 'grassheads,'" the family wrote of his time at Camp Stonewall. "Above all else, Connor helped foster an environment among peers in which being oneself and accepting others was truly 'cool.'"
In the obituary, the Troneruds asked that instead of flowers, memorial contributions could be made to a fund to help other children with "Connor's intrepid spirit" attend the summer camp he loved or to a GoFundMe page established to send donations for bullying prevention and self-harm awareness education.
"Connor was a dynamic, witty, unforgettable young man," the fundraising page reads. "He was also an intensely private person. As he transitioned into adolescence, he struggled with peers invading that privacy in order to provoke a response. He had many spaces in which he felt safe and nurtured; others – including social media – proved overwhelming and harmful."
The page, created on December 7 with a goal of just $1,000, had collected more than $12,000 and been shared more than 2,000 times on Facebook as of Wednesday afternoon.  
"No child should suffer marginalization," the page reads, going on to state, "The more we can equip peers, coaches, teachers, mentors, and friends to bolster those who are isolated, the more lives can be saved, and the sooner healing can begin."
With the donations, messages of support, love, and solidarity have poured in from those who knew the teen or his family — and from strangers.
"Like many others, I did not know Connor but was heartbroken after I read his obituary," wrote Diane Golas on GoFundMe. "After reading it, I felt so compelled to DO SOMETHING besides saying 'oh, that's so sad', so here you go. I hope it helps someone going through what Connor did – may his memory live on…"
"I did not know Connor, and I do not know his family, but I was once bullied just like him," Aiden Fyre Harrington wrote. "I wish he could have grown up to know that 'it gets better' and lived to be a shining example for others. I pray other lives can be saved in the wake of this tragedy."
Rev. Dan Mulcahy, the pastor at Our Lady of the Assumption in Millbury where Tronerud was an altar server, called the 15-year-old a "sweet kid" who smiled easily and was always humble.
He said the teen had just returned to school at Marianapolis Preparatory School in Thompson, Connecticut, about two weeks before he took his own life, after finally recovering from breaking both his legs in a freak accident at the end of the summer. Mulcahy said Tronerud, in a double cast, had kept up with his classes through Skype, maintained his place on the honor roll, and was excited to be returning to school.
"This shouldn't have happened," he said of the boy's death.
Marianapolis Preparatory School said on Twitter it is grieving the death of its sophomore student.
The Marianapolis community is grieving the loss of sophomore Connor Tronerud. Connor will be greatly missed by the entire community. For information about services, please visit https://t.co/yCSiOwCkyW pic.twitter.com/4gyI4vFxK0

— Marianapolis Prep (@Marianapolis) December 9, 2017
On Wednesday evening, the school's head of school, Joseph Hanrahan, released the following statement:
Connor Tronerud ('20) was an inquisitive and committed student whose constant willingness to help others made him a very special member of our Marianapolis family. Connor was an enthusiastic participant in many school activities and our community is comforted that he found so much joy both as a student and a camper for six summers at Marianapolis' Camp Stonewall. We will always hold Connor close to us, and we offer prayers of comfort and peace for his family. Students will be leaving campus for Christmas break on December 20th, and between now and then we are making counselors available to any students who feel they need additional support.

Marianapolis is a community of faith, inclusivity, and unconditional love. We are continuously vigilant to aggressive incidents of any kind, including cyberbullying, and whenever an issue is identified or reported we respond swiftly and compassionately with the safety of our students as our top priority. Marianapolis promotes a culture of transparency encouraging our entire community to raise any issues of concern and providing support services whenever there is a need.
The Worcester District Attorney's office told Boston.com the teen's death is being investigated.
Mulcahy recalled attending the teen's graduation from Our Lady of the Angels in Worcester, where Tronerud had made the National Junior Honor Society and achieved the highest GPA in the school's history, according to his obituary.
"He was smart," Mulcahy said. "He was very smart. But he wasn't the type that would lord it over you or anything."
The pastor said this past summer, the 15-year-old became a leader at Camp Stonewall, which he had attended every summer since he was 8 years old.
"He was the type of kid that would welcome anybody into a group or onto a team or things like that," Mulcahy said. "Really a lot of goodness."
The pastor, who spoke at the funeral mass on Monday, said the boy was adored and loved by all his friends and family. But in the last year and a half, he said the teen began to experience bullying through social media.
"He wanted to handle it," Mulcahy said. "He did go to some counseling."
But "something broke," the pastor said.
"I think that old saying — 'sticks and stones may break my bones but words will never harm me ' — I don't know about that," Mulcahy said. "I think they can, I think they can destroy people."
He said he hopes the outpouring of support in response to Tronerud's death to raise awareness about bullying will cause people harassing their peers to "think twice."
The pastor said he also hopes those suffering from bullying will see there is support, and love, for them.
"If kids especially could realize that they don't have to keep this bottled up, that if they could talk with somebody, the love is there more than anything that they could be bullied with," Mulcahy said. "The love is there and the concern is there, so that there wouldn't be this end to it."