Local News
MIT janitor facing deportation is released from jail
Francisco Rodriguez-Guardado is facing deportation.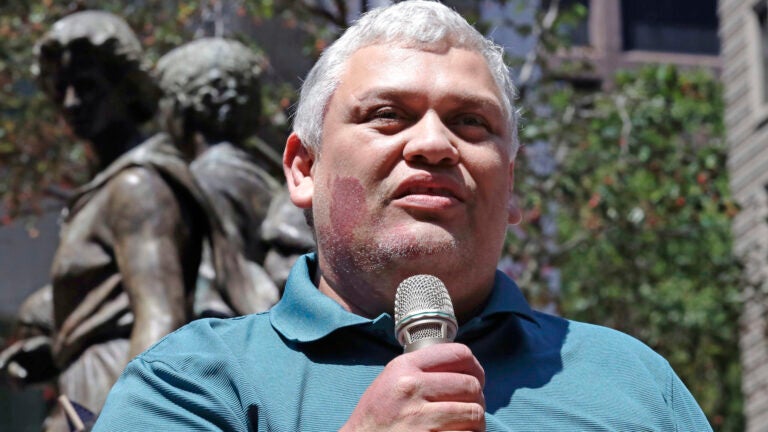 BOSTON (AP) — A Massachusetts Institute of Technology janitor whose deportation case became a rallying cry for opponents of President Donald Trump's immigration crackdown has been granted a holiday reprieve: He was released from a Boston jail Thursday.
Francisco Rodriguez-Guardado had been jailed since July, when the U.S. Immigration and Customs Enforcement declined to renew the temporary authorizations that have allowed him to remain in the country since 2006. That sparked protests and an outpouring of support from local politicians this summer.
Rodriguez-Guardado's deportation to El Salvador has been on hold pending a request to reopen his asylum case, a process that's playing out in a federal appeals court in Denver, according to his lawyer, John Bennett.
The 43-year-old says he fled El Salvador after his co-worker was murdered. He was denied asylum in 2009 and an appeal was rejected in 2011.
The latest court proceedings could take months, with no guarantee that Rodriguez-Guardado won't ultimately be returned to jail or deported, added Amity Paye, a spokeswoman for the Service Employees International Union that represents Rodriguez-Guardado and other janitors at MIT.
An ICE spokesman declined to comment, other than to confirm he was released with a GPS monitor on his ankle.
Rodriguez-Guardado is expected to speak about his release on Friday.
His family, which now includes a son born while he was in prison, is "overjoyed" to be reunited in time for the holidays, said Rodriguez-Guardado's mother, Jesus "Yessi" Rodriguez.
"His son has been wiggling with excitement to have his father home and the girls can't wait for their dad to pick them up from school like he used to," she said in a statement Thursday. "Our family is whole again."