Local
It began with a plea on Facebook. Now this New Hampshire nonprofit is helping dozens of pregnant women and new mothers addicted to opioids
Hope on Haven Hill has rapidly expanded its services since it opened in December 2016.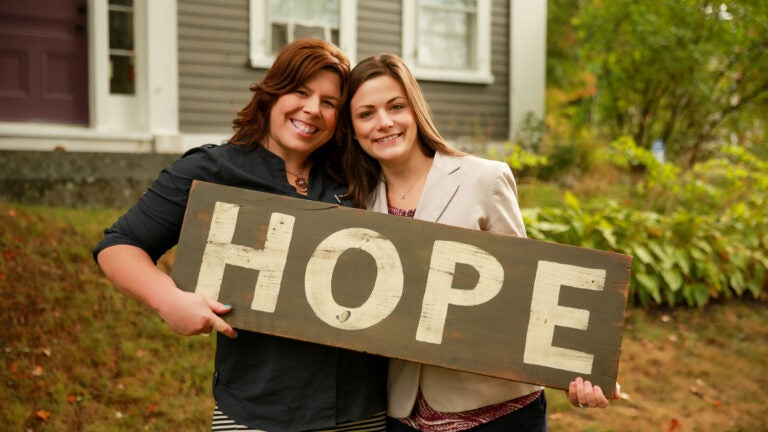 A year after Hope on Haven Hill opened its doors to pregnant women and new mothers struggling with substance abuse, the New Hampshire nonprofit that grew out of a desperate plea on Facebook is forging ahead to help more women caught in the opioid epidemic.
The Rochester-based organization started on Dec. 8, 2016, as an eight-bed treatment facility, and it now offers intensive outpatient services for pregnant and postpartum women seeking substance use and mental health counseling.
Executive Director Courtney Tanner estimates Hope on Haven Hill currently serves between 30 and 40 women.
Like any other residential facility for substance use, the organization's inpatient program includes case management and intensive group and individual counseling. But their program is unique in that it allows mother and child to stay together after a woman gives birth.
"We find that women who are able to keep their children with them — it's beneficial not only for their maternal health but also for infant health and infant mental health," Tanner said. "The child is able to continue to breastfeed, to continue to bond with mom, and mom is able to continue to bond with that child. We know that postpartum is a really delicate time for anybody, any mom. A mom that's also juggling their substance use disorder and or concurring mental health disorders really is at serious risk when she is experiencing postpartum."
Hope on Haven Hill works with the women through nurturing parenting classes, child development courses, and helps the mothers navigate the state's Division of Children, Youth, and Families. Head Start also comes directly to the program to work with the women.
Most, but not all, of the women are pregnant when they arrive at the facility.
"We're assisting with getting them to their prenatal appointments, primary care appointments," Tanner said. "A lot of our women are juggling the corrections system, so [we're also] helping them to case manage diversion programs and helping to case manage any other needs they have."
There is only one other facility in New Hampshire that serves pregnant and postpartum women for substance use disorders.
Tanner said the clear need for more support for pregnant and postpartum women is evident with the sheer number of women on the waitlist for Hope on Haven Hill, which is one of the reasons why the organization expanded to offer outpatient services so quickly.
"We were finding that we didn't have enough beds to serve women and we needed to be able to support women in the community," she said. "So while there are women on our waitlist from across the entire state, we are serving them too as much as we can, doing case management and outpatient services until we can get them the residential care that they need."
The urgency is also manifested in the number of babies born in the state with neonatal abstinence syndrome — when a newborn suffers from symptoms of withdrawal due from the mother's drug use.
According to the New Hampshire Bar Association, the state saw 15 out of every 1,000 babies diagnosed with the syndrome  in 2012 and officials believe the rate has since "increased dramatically."
Glennon Doyle, author and founder of Together Rising, caught wind of the need, Tanner said.
She visited Hope on Haven Hill with her wife, retired soccer star Abby Wambach, and started a fundraising campaign for the nonprofit. The aim of the "Love Flash Mob" was to help Hope on Haven Hill purchase a new transitional living home where their clients in recovery can go and continue to have access to support after they've completed their inpatient treatment.
LOVE FLASH MOB TODAY! Join Us!

When Glennon and the Together Rising team informed me that the next Love Flash Mob would be for the opioid epidemic I was grateful that they chose to tackle something that NEEDS to be addressed, and that it's something I have personal experience with. I know how addictive opioids can be and how dangerous they are. I know how slippery the slope can be, and for me, what at first started out as pain management for playing, turned into abuse. It happened so fast. I am very lucky to be alive. And you might be thinking, "that will never happen to me," and maybe you're right, but it happened to me, a two-time Olympic gold medalist, and World Cup Champion. From that perspective, I kind of think it can happen to anyone.I was able to join the Together Rising team when we went to visit Hope on Haven Hill and I was astonished at how much I saw myself in these women. Women who are strong. Women who persevered. Women who are new mothers and scared shitless. Women who are dealing with so much, and then add the guilt and shame the world puts on them. Women who are learning how to be vulnerable. This is me. I am these women. And now I can pay it forward to honor those who helped me. They need our help. I know I did. Let's buy them a home today so mothers and babies can stay together while they heal.You can learn more about this project and make your tax-deductible donation here: http://momastery.com/blog/2017/12/12/we-cant-fix-everything/ Please give what you can today — $5, $10, $15, or $25 – we're relying on small donations from thousands of people. Remember that every donation matters.Thank you. Abby#TogetherRising #CompassionCollective Glennon Doyle Elizabeth Gilbert Cheryl Strayed Marie Forleo Brené Brown Austin Brown Lewis Howes Latham Thomas Jen Hatmaker Awesomely Luvvie Melissa Hartwig

Posted by Abby Wambach on Tuesday, December 12, 2017
"What we're finding now is that as women come to us, the first thing that they express concerns about — and the last thing that they express concerns about — is housing. 'Where do I go next?'" Tanner said. "Oftentimes a woman is ready to leave residential care but doesn't have a place to go, and oftentimes these women have worked really hard to either reunify or maintain custody of their children. So not having that safe, supportive housing is a great risk factor for losing their footing with keeping their kiddos."
The flash mob raised $175,000 for the nonprofit to secure a property.
"We need to do this in our community. We need to do it now."
Hope on Haven Hill started with a Facebook post.
Kerry Norton was tired of seeing women struggling with opioid addiction ask for help only to be unable to get the treatment they needed.  
By January 2015, the opioid epidemic ravaging New Hampshire had touched the OBGYN nurse personally — her son suffered an overdose — and professionally. She was trying to help a patient, a young pregnant woman addicted to heroin, into a treatment program.
The young woman, Abi Lizotte, was placed on a waitlist in January and when she called Norton again in June, she was eight months pregnant and still waiting to get into treatment.
"By that time she called she had been outside for four days, hadn't eaten or drank anything, and she told me she was afraid she was dying," Norton said. "So I went and got her and we admitted her into a local hospital in the birth center. And a whole bunch of people feverishly all worked together to just get this one young women into treatment."
On her way home, she said she couldn't stop thinking about her patient.
"It just blew my mind thinking about how hard it was to coordinate this one woman — who wanted to live so badly — to get the treatment that she needed,"  said Norton, who now serves as operations director for Hope on Haven Hill.
When she got home, she asked on Facebook if anyone knew Oprah or Ellen or "someone rich" enough to help start a treatment program for pregnant women in active addiction.
"We need to do this in our community. We need to do it now," she wrote.
Her friend, Dr. Colene Arnold, responded the next day that she didn't know the celebrities and wasn't rich, but she had a house. She too had wanted to do something for the past couple years.
"It just happened," said Norton of Haven Hill's start. "We just got fed up watching when we expect women to ask for help and then having them not be able to get the help that they needed."
https://www.facebook.com/kerry.norton.399/posts/10211792448706627
Norton said while she feels "really good" to be celebrating the one-year anniversary of the organization and grateful to be what she says is a just "a small part" of a solution for a "humungous need" in New Hampshire, she still feels the same way she did in 2015.
She said her goal for the coming years is for Hope on Haven Hill to go on growing its continuum of care.
"These are women who are disenfranchised and they're stigmatized even in their own circle of people who are suffering in addiction," she said. "Women who are pregnant and parenting are looked at as less than, so they're stigmatized the most and they have really complex histories of trauma and abuse and chronic homelessness. There's a lot for them to have to overcome, and it's incredibly amazing the work that they do. And we should be a part of helping them do that."
Tanner said in addition to securing property for its new transitional housing, Hope on Haven Hill is also immediately focused on fundraising to buy its current building from the Arnold family.
Despite the success Hope on Haven Hill has seen in expanding its reach, the first year has not been without heartbreak. Lizotte, the young woman who inspired the call out on Facebook and was there to help Norton and Arnold cut the ribbon for the organization's grand opening ceremony, died on Dec. 1.
She was attending Southern Maine Community College in Portland, with a goal of helping others with a degree in Behavioral Sciences and had been forthright in sharing her own experience with others.
"Abi was taken from us by this insidious, cunning disease, like so many before her, and unfortunately, so many more to follow," her family wrote in her obituary.
Tanner said Lizotte's death "speaks to the need" for long-term support and services for women and men experiencing substance use disorders.
A day after her death, with just under a week before its one-year anniversary, Hope on Haven Hill shared the news of her passing on its website:
The loss of Abi Lizotte has left us utterly heartbroken. Abi will always be our inspiration and her light will live in the dreams and aspirations of all who pass through our doors.  We honor Abi's memory through our daily resolve to cultivate the hope that makes recovery possible. Because as Abi exhibited, all people matter.
Norton wrote on Facebook that Lizotte's bravery inspired an entire state.
"I will continue to honor her as long as I live," she wrote.
https://www.facebook.com/kerry.norton.399/posts/10215140643809412