Local
No, sharks aren't just freezing to death in Cape Cod Bay. But they are getting trapped
A local shark expert explains how the ongoing cold snap may be affecting the ocean predators.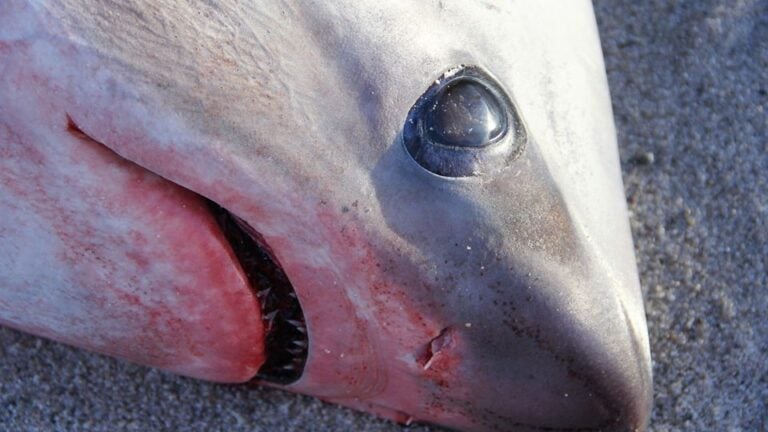 Frigid temperatures may have transformed the waters off Cape Cod to ice, but it turns out the recent cold snap is not literally just freezing sharks to death.
It may, however, be contributing to the ocean predators getting trapped in Cape Cod Bay.
Greg Skomal, the senior fisheries scientist for the state Department of Fish and Game who leads the Massachusetts Shark Research program, said the thresher sharks — like the four that have been found dead in Wellfleet and Orleans in recent days — are dying as they attempt to swim to warmer southern waters but are getting stranded in shallow waters in Cape Cod Bay.
"The rapid cooling associated with this cold snap and water temps is forcing the sharks to move south at a faster pace, and the landmass of Cape Cod is contributing to them getting stranded in shallow water," said Skomal, adding that the exact cause of the sharks' deaths remains hypothetical at this time.
Cape Cod, with its shape of an outstretched human arm that hooks at Provincetown, can act as a natural trap for animals trying to move south quickly, and most shark species need to be continually moving in order to breathe effectively, he said.
"If you look at the northern shoreline of Cape Cod Bay, you see that it's fairly complex in terms of shoaling and sandbars and landmasses that get in the way, so if a shark is up in that shallow water, it's not going to last very long if it can't keep moving," he said. "So if it gets caught up on a sandbar, it's probably going to drown, literally, because it can't breathe effectively."
Water temperature may play a role at some point in the animal's death, but the scientist stressed the real factor would be that the shark is stranded and, therefore, incapable of breathing.
The Atlantic White Shark Conservancy, which assists Skomal and his colleagues studying sharks, responded to the strandings of two thresher sharks in Wellfleet and Orleans on Dec. 27 and a third was found in Brewster two days later.
"We hauled the shark off the beach and it is currently thawing at NOAA Fisheries Service to be dissected later," the conservancy wrote on Facebook of the shark in Brewster. "A true sharkcicle!"
The conservancy's program director, Michelle Wcisel, said a fourth thresher shark was found in an ice pack off Wellfleet on New Year's Eve. But researchers aren't able to access the shark's carcass due to the current dangerous mix of king tides and ice in the area, she said.
"Hopefully this storm will push it farther up the beach, and we'll have a chance next week," she said.
Skomal said thresher sharks are a "relatively poorly studied species" when it comes to their movement patterns and their exact temperature requirements in the water. But it is known that the sharks migrate north during the summer months and return to the southeastern coast of the United States or the Gulf of Mexico during the cold seasons.
"The sharks that we're seeing on Cape Cod are likely late migrants," he said. "In other words, they remained in the Gulf of Maine and were probably slowly making their way south as is typical of these sharks."
Skomal said there are likely a number of thresher sharks that didn't get caught up in Cape Cod Bay, but added that because he and his colleagues don't have a lot of data on the species, it's unclear how many of the animals may still be trying to make their way past the Cape to warmer waters as another blast of Arctic air approaches this weekend on the heels of a major winter storm.
The scientist said he and his colleagues are on the lookout year round for stranded sharks. And they have seen what they call "late season threshers" getting stranded on Cape Cod beaches in past winters.
But the number that has been seen this year is not typical.
"This is unusual to have so many, and it might be associated with the rapid onset of cold that we've had," Skomal said.
He encouraged anyone who spots a stranded shark in the coming days to reach out to shark research program or the Atlantic White Shark Conservancy, which is currently running a donation drive for equipment to respond to shark strandings.