Local News
The last week at the summit of Mount Washington has been no holiday
Cold enough to "fry" an egg.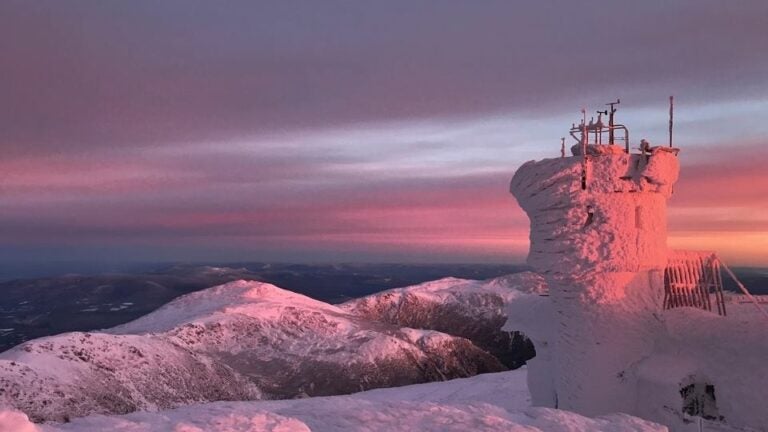 Compared to the last two weeks, the weather on Wednesday for Adam Gill seemed practically balmy.
"We've warmed up to about 2 degrees today," Gill, a weather observer at the Mount Washington Observatory, told Boston.com.
It was the first time since Friday that his workplace, at the summit of the highest peak in the Northeast, had seen temperatures above zero. Gill acknowledges the single-digit temperature doesn't sound like much, but, as the last week of weather atop the 6,288-foot mountain has illustrated, it could be much worse.
The summit set a record last Thursday with a low of negative 34 degrees with a windchill of negative 89. Since Christmas, the Observatory has seen temperatures consistently bottom out at more than 20 degrees below zero, in addition to hurricane-force wind gusts up to 116 mph. On New Year's Eve, it was colder than Mars.
Even for a place known foremost for it's extreme weather, Gill says the most recent stretch has been unordinary.
"Typically when you get these super-cold events, they last like one or two days," he said. "But we had like three different rounds of cold air and it didn't warm up in between. So we had like five days where we were in the teens- or 20s-below zero."
Cold enough, Gill said, that you could fry an egg. Sort of.
According to Gill, with the extreme cold and wind, if you crack an egg into a frying pan and hold it out into the wind, it will actually "freeze fry" in 20 to 30 seconds.
"It still has the same coloration as if you cooked it on the stove, but it's frozen and you can like flip it in the pan," he said. "You need really cold temperatures, whereas the boiling water trick, you only need it to be 10 degrees below zero or so."
That said, marriage proposals notwithstanding, the last week of extreme weather atop Mount Washington hasn't been all fun and games. Works goes on as usual, regardless of the skin-biting temperatures.
Gill — who works 12-hour shifts and stays overnight at the summit for a week at a time —  says workers at the Observatory still have to go outside at the top of every hour to take manual weather measurements and observations of things like temperature, humidity, and visibility.
"Ironically, sometimes we have to spend more time outside as the weather gets more extreme," Gill said, since some of the Observatory's instruments don't do as well in the frigid cold and require maintenance.
All the trips outside in extreme subzero temperatures requires layers. Lots of them. As observer and meteorologist Caleb Meute wrote in a blog post last week, the wind chill the likes of which the summit saw on Thursday would result in frostbite on any exposed skin in "a matter of seconds" with permanent damage within one to two minutes.
"Because of this, we do not mess around up here," Muete wrote.
Gill says it takes him five to 10 minutes to get all his clothing on before he goes outside. On his lower body, he said he wears long johns, sweat pants, and insulated snow pants. On his upper body, he puts on a T-shirt, followed by a long-sleeve T-shirt, followed by a light-weight thermal jacket, followed by an insulated down jacket, and, finally, a windproof shell over everything — and also two gloves on both hands. He also says he'll try to stay inside for around 10 minutes after putting on all those layers to warm up before he heads out into the cold.
"You'll cool off pretty quick," he said.
Even inside the Observatory there's no respite from such prolonged, extreme cold spells, as the building's heating struggles to keep up.
"The heat basically starts failing once we hit about 25 below and we start getting higher winds up over 75 mph," Gill said. "It's not quite airtight so winds get in. … You just kept watching the indoor temperature fall. It got down to 51 before the wind calmed down."
One silver lining of the recent cold snap was that last week's record low brought in a bunch of clean Arctic air, which Gill said resulted in visibility of 130 miles — the maximum distance the Observatory reports — and vivid views of the Green Mountains and Adirondacks against the crystal blue skies.
"You can basically look off in the distance and see crisp outlines of mountains," he said.
Gill said Wednesday he was just beginning another weeklong shift atop the summit and the Observatory was beginning preparations for Thursday's storm (expected to bring gusts of up to 125 mph) and this weekend's plunge back into the extreme lows.
"It's looking like we could actually flirt with negative 40," he said.