Local
Why New England's cod catch is at an all-time low
However, officials say the industry may be close to a rebound.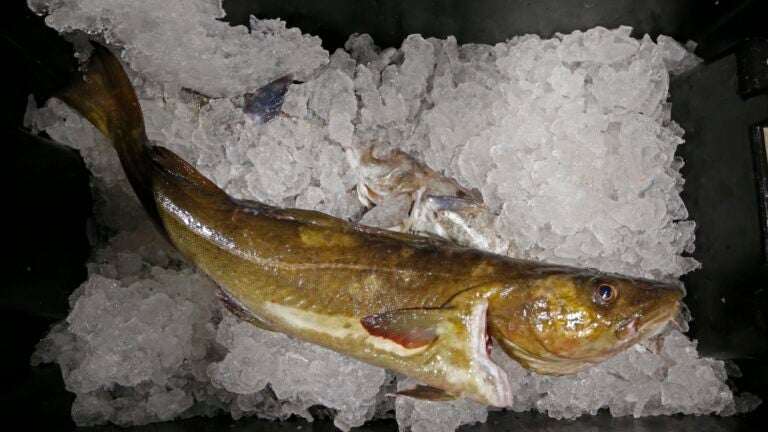 PORTLAND, Maine (AP) — America's catch of cod is at an all-time low, but the fishery might finally experience a rebound in the coming fishing year.
Atlantic cod were once the backbone of New England's commercial fishing fleet, but catch has plummeted in the wake of overfishing and environmental changes. The 2016 catch, which is the most recent to be fully tabulated, was the lowest in recorded history, according to statistics from the National Oceanic and Atmospheric Administration.
But NOAA officials said there are some positive signs for the cod stock, and quotas are set to increase slightly this spring after years of heavy cutbacks. Fishermen seek cod in the Gulf of Maine and on Georges Bank, and both areas are scheduled for quota bumps on May 1.
"The quotas are so constraining that there's not a lot of opportunity and interest in targeting cod," said Ben Martens, executive director of the Maine Coast Fishermen's Association. "But we're headed in the right direction."
The U.S. cod fishery, based mostly in Massachusetts and Maine, brought in more than 100 million pounds (45.4 million kilograms) of fish per year in the early 1980s and bottomed out at 3.2 million pounds (1.45 million kilograms) in 2016. Scientists have blamed factors including years of heavy harvest and warming oceans for the collapse of the stock.
Recent analysis, though, shows more abundance of cod in the Gulf of Maine and Georges Bank, said Jamie Cournane, groundfish plan coordinator with the New England Fishery Management Council, an arm of NOAA.
The council has proposed about doubling the commercial cod quota for the two areas to nearly 3.9 million pounds (1.8 million kilograms), she said. The move is still pending approval by the federal Department of Commerce.
Cournane cautioned that ocean managers have seen the cod stock waffle before, and the reprieve could be brief.
"It appears that federal information suggests there have been some recent increases, but we're not sure how long that's going to last," she said.
American markets and restaurants have become reliant on cod imported from countries such as Iceland and Russia since the stock dried up here. The fish, which is closely associated with fish and chips, is still readily available to U.S. consumers for that reason.
Cod are regarded as a "choke species" by fishermen because they must stop fishing altogether once they hit the low quota for the fish. Because of that, many fishermen seek to avoid cod altogether.