Local News
Gambling regulators to discuss reported Steve Wynn allegations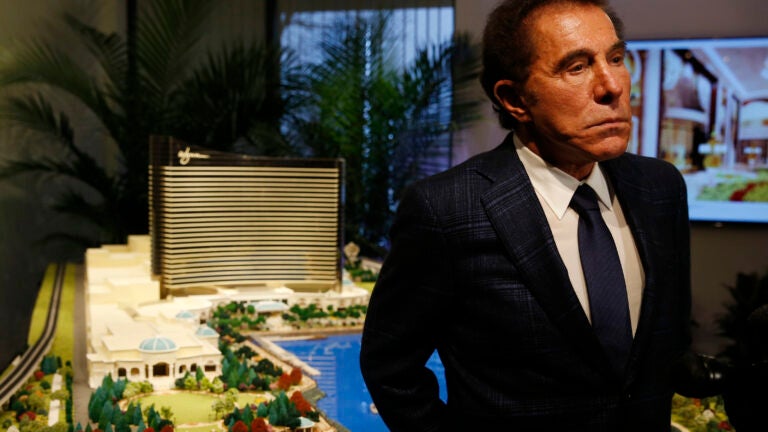 BOSTON (AP) — Massachusetts casino regulators said Monday they would hold a special meeting to discuss sexual misconduct allegations against Las Vegas billionaire Steve Wynn, whose company is building a $2.4 billion casino just outside Boston.
The Wall Street Journal reported Friday that a number of women said they were harassed or assaulted by Wynn, and that one case led to a $7.5 million settlement with a manicurist.
Wynn, 76, has strongly denied the allegations, which he attributed to a campaign led by his ex-wife. He resigned Saturday as finance chairman of the Republican National Committee.
The Massachusetts Gaming Commission, in a statement, said its enforcement bureau would provide an update at Wednesday's meeting on a review that began immediately after the Journal story was published.
"The commission is profoundly aware of the gravity of this matter and will proceed with the appropriate sense of urgency and rigor," the panel said.
Wynn and his company passed background checks conducted by the bureau prior to the commission awarding a subsidiary of Wynn Resorts a 15-year license to operate the sole eastern Massachusetts resort casino license. Wynn Boston Harbor is under construction in Everett with a scheduled opening date of June 2019.
The background check focused primarily on whether Wynn had any associations with organized crime and found no evidence that he did. In their 2013 report, the Massachusetts investigators said they spoke to several of Wynn's references who described him as "highly ethical," and "a perfectionist who is passionate about everything he does."
It was unclear what, if any, action the commission might consider taking against Wynn or the impact it could have on the future of the Massachusetts project.
According to the 2011 state law that legalized casino gambling, a casino license is considered a "revocable privilege," and can be suspended or revoked under certain conditions, including a finding that the licensee was "unsuitable to operate a gaming establishment."
Republican Gov. Charlie Baker called the allegations "awful and appalling," and said if true, "Wynn would fail to meet the suitability standard under the state gaming law."
Asked if such a finding by the commission could derail the casino, Baker said it would be up to Wynn Resorts to make a decision on how to proceed.
He also called for the Republican Governors Association to return any donations it received from Wynn in the last election cycle, and not accept any from the casino mogul going forward. Baker has been the recipient of campaign cash from the RGA during his two previous campaigns for governor.
Richard McGowan, a business professor at Boston College who studies the casino industry, noted the commission awarded the casino license not to Wynn personally, but to his company. The panel could allow the project to go forward, he said, but insist that Wynn disengage from future management.
"I think it's going to open," said McGowan of the casino. "But I also think there are going to be wholesale changes from what they are doing right now."
___
Associated Press writer Steve LeBlanc contributed to this report.