Local News
Baker proposal would let police detain immigrants at request of federal authorities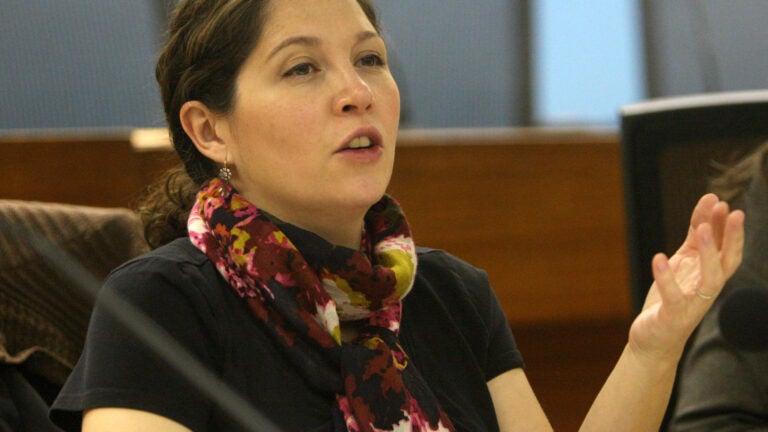 A bill that would allow — but not require — local police in Massachusetts to detain immigrants at the request of federal authorities is not in response to pressure from the Trump administration, Daniel Bennett, the state's secretary of public safety and security, testified at the State House Tuesday.
Governor Charlie Baker's proposed legislation formalizes what was an informal practice during the Obama administration, Bennett told the Joint Committee on the Judiciary. Local authorities, if they previously chose to, could hold an immigrant wanted by federal immigration officials for up to 48 hours, he said.
But in July, the Supreme Judicial Court determined that police officers don't have the authority under Massachusetts law to comply with detainer requests from Immigration and Customs Enforcement. Doing so, the state's highest court said, would be akin to an illegal arrest.
Baker's legislation seeks to rectify this. The bill gives local law enforcement the right to hold immigrants who would otherwise be free but are "a threat to public safety,'' those who have been convicted of such crimes as murder, rape, domestic violence, or drug and human trafficking. Officers would be able to hold someone for up to 12 hours, and anything beyond that would require judicial review.
"No one who hasn't been convicted of a serious crime should be held,'' he said.
About half a dozen immigration attorneys and advocates testified against the bill, saying the law would be unconstitutional and would have a chilling affect on immigrant communities' relationships with police officers.
"Even if we crafted a very narrow bill that gave judges what they needed, . . . that focused on very serious criminals, that would not cure the big problem with this bill, which is that it detains people without probable cause and without a warrant,'' said Laura Rótolo, an attorney with the American Civil Liberties Union of Massachusetts. "No other state in the nation has passed a bill like this. In fact, three other states have gone the opposite way.''
Baker's proposed bill is an effort to close what the governor called "the statutory gap'' identified in Commonwealth v. Lunn.
Streynuon Lunn, an immigrant arrested by Boston police on larceny charges, was held by a state court officer on an ICE detainer and transferred to federal authorities. Lunn appealed his detention and, although he was released, the Supreme Judicial Court agreed to hear the case to set a precedent for future cases.
Under Baker's proposal, any participating department must designate officers in advance to supervise detainees. It also limits such detentions to immigrants already in state custody.
The bill does not give state and local police the power to "proactively arrest people for immigration law violations,'' Baker said in the filing letter accompanying the legislation.
"I have long believed and repeatedly said that local officials are in the best position to decide whether and to what extent they should cooperate with federal government on immigration detention matters,'' Baker wrote.
Bennett reiterated the administration's position on Tuesday, telling the committee the bill does not force cities or towns to adopt the practice it prescribes.
Tuesday's hearing came as the US Justice Department continues to ramp up pressure on so-called sanctuary cities. Last week, the department sent letters to nearly two dozen cities demanding proof they are cooperating with federal immigration authorities and threatening to revoke a public safety grant.
The Department of Justice has repeatedly threatened to deny millions of dollars in federal grant money to communities that it says refuse to comply with a statute requiring information-sharing with federal authorities, as part of the Trump administration's promised crackdown on cities and states that refuse to help enforce US immigration laws.
Boston is — and will remain — a sanctuary city, Alejandra St. Guillen, director of immigrant advancement for the city of Boston, told the committee on Tuesday.
Baker's bill, she said, will "erode trust'' between immigrant communities and police officers and is a "step in the wrong direction.''
"Knowing that Boston police are there to protect them rather than try to deport them is paramount,'' she said. "Mayor [Martin J.] Walsh has also made a commitment that Boston police officers will not become deputized as immigration enforcement officials.''
The legislation undermines efforts to reassure immigrants that all public agencies will protect and serve them regardless of where they come from, said Amy Grunder, director of legislative affairs at the Massachusetts Immigrant Refugee Advocacy Coalition.
"There is a perception now in immigrant communities that any contact with public agencies, from courts to law enforcement to 911 emergency services to community health centers and hospitals to the attorney general's consumer protection division, will result in separation of children and family members through deportation,'' she said. "And we cannot, as providers, tell them this perception is unfounded.''