Local
This Massachusetts elementary school teacher ran 7 marathons in 7 days on 7 continents
Renee DeMarsh, 52, came in third among the women and 13th overall in the 2018 World Marathon Challenge.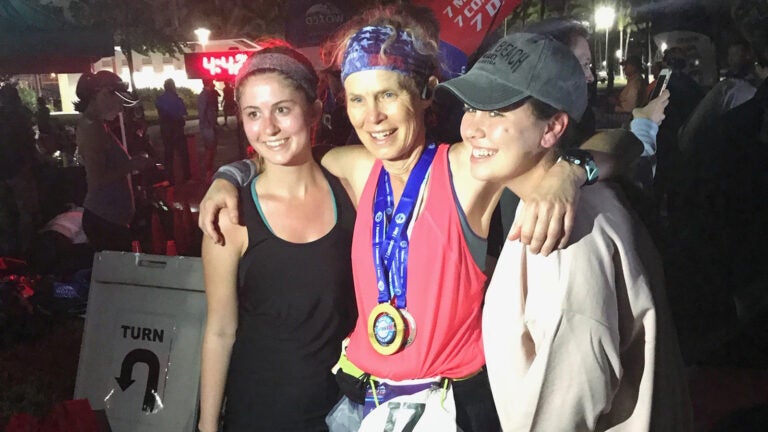 Running a marathon in Antarctica is actually "pretty comfortable" compared to racing outside in New England's winter.
That's what Carver Elementary School teacher Renee DeMarsh learned recently when she competed in, and completed, the World Marathon Challenge. The 52-year-old physical education teacher ran seven marathons on seven continents over the course of seven consecutive days as a fundraiser for a running trail at her school and for the Big Brothers and Big Sisters program she has volunteered with on Cape Cod for three years.
She came in third for the women's division and 13th overall.
DeMarsh, who lives in East Sandwich, told Boston.com what it's like to be back, how she kept in touch with students during the competition, and why she'd run the challenge again "in a heartbeat."
Note: This interview has been lightly edited for clarity and length.
Boston.com: How has it been being back and going back to work after the whirlwind trip?
Renee DeMarsh: Before I left, the whole school gave me this huge sendoff. And then while I was there, I was sending videos and pictures. And they were doing little pep rallies and stuff while I was away and learning about the continents. I was also sending stuff to the girl I volunteer with through Big Brothers and Big Sisters, to her class as well.
When I got back they had this huge reception for me with the entire school, so it was pretty cool. I mean I was tired. And my feet hurt. Really my legs held up pretty well, but it was mostly blisters. My toes.
Are you getting a lot of questions from students about the run?
Oh yeah. I'm going to be going to their classes individually and answering their questions.
When did you get into running?
Well, I always was more of a soccer and basketball player when I was younger in high school and then in college. I really got into running in my 30s. Then I took a lot of my 40s off, and got back into running about five years ago. Pretty heavy duty since then. I'm more into trail running now and ultra marathons than regular marathons and road races. I pretty much never do any short races at all. Just marathons or more. Those are my favorite.
Have you ever run the Boston Marathon?
Yeah, I've done that five times.
What sparked the interest in the World Marathon Challenge?
I had heard about it a couple times in the past and then last winter, right around this time probably, I heard a couple of runners on a podcast who had just done the event. And I thought it would be a great fundraiser.
And then I started exploring the idea — I always wanted to do it for charity. Because the runners I had heard had raised quite a bit of money for their charities. It seemed like a great idea to do it for charity.
What did you choose to fundraise for the school running trail and Big Brothers and Big Sisters?
I've been a mentor for three years for Big Brothers and Big Sisters, and I just think it's a great organization. And as much as I wanted to raise money, I also just wanted to bring attention to the need for more mentors. On the Cape alone there's around 100 kids on a waitlist. So that was a big part of it.
Then with the running path, at Carver Elementary we're getting a new school, but in the process they've torn down a lot of the paths that we've used for our running club. And it also seemed like a great opportunity since they're putting new athletic fields in to get a path that was more accessible for the whole community — a paved portion in addition to the wooded portion. More accessible to kids who have physical limitations and challenges and also for other people in the community to use.
What was your typical running routine before you started training for the challenge?
I've done other really long races. I did a 100 mile race before and other ultra marathons — 50 mile races. So I pretty much went off of that. I did a lot of back-to-back long runs to get ready. Over thanksgiving, three days in a row I ran 20 miles. Things like that. I did a lot more miles than I've ever done in the past. I maxed out about 80 miles in a week, which is more than I've ever done.
How does that compare to what you would be typically running?
Normally I just run 40, maybe 50, on a bigger week. It depends what I'm training for. There's always something I'm training for.
Do you run outside year round?
Yeah. It actually wasn't that bad in Antarctica. I ran all winter here. And I felt like Antarctica was pretty comfortable.
What would you say was the most challenging part of the whole thing?
It really wasn't the running. The traveling was the hardest part. Just the long flights. I don't really sleep well on planes, so very little sleep. I eat a plant-based diet, but I was lucky they pretty much had meals for me on most of the flights. I was really worried about that going in, but it worked out pretty well.
At night, it was tougher. At lot of our races were actually at night, so trying to find food at 2 o'clock in the morning is not easy.
What was it like running the races while also keeping in touch with your students and being a mentor?
I also coach several youth soccer teams. I have a high school group that I've been coaching since they were 7. So I was texting with them, and posting stuff on Facebook for the other kids. And then they were sending some videos back to me. It was a lot of fun actually. I got some of the other runners to make videos for them, so I think they learned a lot about the continents.
It seems like that could lend itself to you kind of having your own cheering section throughout?
I ended up coming in third for the women and I came in 13th overall, so I was very much aware of my place. I knew an entire school was tracking me, so I didn't want to let them down. I didn't get second every time. I got second on the first three, and I was like, 'Oh no, now they're going to expect second all the time.'
I probably would have done about the same anyways, but it definitely made me more aware of how I was doing. Most of the time when you're doing the event you're just really worried — I think a lot of people felt this way — that you would pull something and have to walk, which happened to quite a few people. So I was pretty lucky that didn't happen to me.
How do you feel having completed it?
Really good. At my age, I was really happy with it. If I was younger maybe I would have wanted to better. But I mean, I'm 52, so I was pretty pleased with how I did. Initially it was just the blisters on my feet and I lost some toenails, so that was a little painful. But my daughters met me at the end, and a teacher I've kept in touch with from high school and his wife came down, so that was great. My youngest daughter [Kenna] ran the last 16 miles with me.
And then my daughter Rylie was there as well.
It was terrific having them there at the end. Especially because they dragged my suitcase to the hotel. I was pretty done. I would say now I pretty much feel back to normal.
Was there a particular race that was your favorite?
I loved all of them for different reasons. I got to spend more time in Cape Town than anywhere else, so it was really great. In fact, I got penguin footage for the kids, and I got to do a lot of cool things there. But I would say my favorite race, in part because I felt really good that night, too, was Cartagena, which was the sixth race in Colombia. It was just a really neat place to run inside the old city that's walled in. There's a lot going on.
It was actually Super Bowl Sunday. I was getting score updates from one of the husbands that was running.
What's next? Are you already looking at your next race?
Yeah. I usually just try to get into Boston every three or four years or so. So I'll probably try to qualify for Boston. Because I haven't done a road marathon other than these in a while. And then in the fall I'm registered for a 100 mile race called 'Ghost Train' in New Hampshire.
Do you have any advice for anyone who might be considering doing the World Marathon Challenge?
I would definitely recommend it. I would do it in a heartbeat again. I mean, this was a once in a lifetime thing for me, but I would definitely do it again. I can't even explain it. It's just so epic, the whole thing. And all the amazing support — from the kids I coach and teach, their families and friends, and my family. You kind of get treated like a celebrity, and when else do you really get that? And hopefully it will culminate with the running path being built.