Local
3 things to know about Boston's March for Our Lives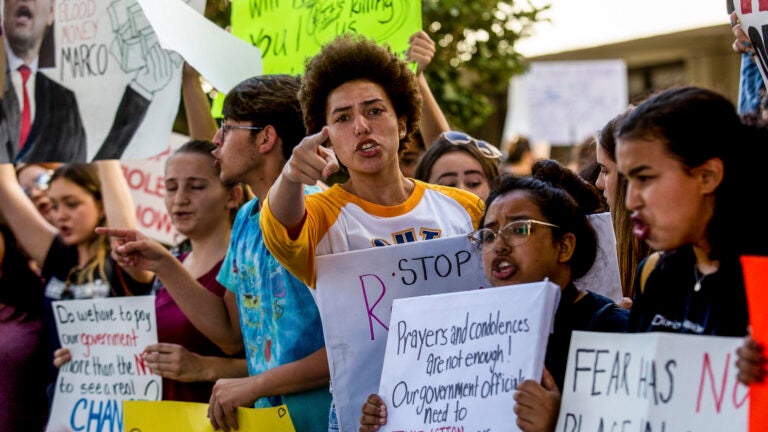 The nationwide march for gun reform is coming to Boston.
Following the Florida school shooting that killed 17 people, classmates and families of the victims are leading a march on the nation's capital calling for new gun control laws. But the energized movement isn't only happening in Washington, D.C.; grassroots organizers are also leading simultaneous March for Our Lives demonstrations across the country, including on Boston Common.
"This must be a legislative turning point for our country in regards to gun control," organizers wrote on Facebook. "This. is. not. normal. So together with fellow students and survivors they are calling for a 'March for Our Lives.' Here in Boston – we heed their call."
What are the logistics of the Boston march?
According to the Facebook event page, the Boston march will begin at noon on March 24 and run until 5 p.m. Organizers say the official route is expected to be published early next month, but that the march will coalesce on the Common for performances and speakers.
Julian Diego Lopez-Leyva, the lead organizer of the demonstration, says the group has applied for a permit, which they expect to be approved, but that the march will proceed either way. City officials say two other groups have already filed for March 24 permits on the Common and Boston police are looking at the March for Our Lives application to see if all events can take place on the same day. [Update: March for Our Lives received a permit Friday for the March 24 demonstration, officials said.]
Lopez-Leyva says the March for Our Lives in Boston is intended to "raise the voices of all those directly impacted by gun violence," from the Marjory Stoneman Douglas High School shooting survivors to those affected by homicide and domestic gun violence in New England.
"We hope to weave together all these groups in reaching the common understanding that gun violence affects everyone," Lopez-Leyva told Boston.com.
As of Thursday afternoon, nearly 8,000 people said they planned on attending the march.
Who exactly is behind it?
Lopez-Leyva, a 19-year-old student at Bunker Hill Community College, says he spent the "better half" of his teenage years involved in nonviolence advocacy movements in Washington, D.C. He said his activism has been driven by the impact of gun violence on friends and family, as well at the tragic events at the infamous white nationalist rally in Charlottesville, Virginia, last summer.
The Phoenix native said gun violence was never far from his doorstep growing up — from his early memories of attending a vigil for an elementary school administrator murdered in a K-Mart parking lot to a cousin who was recently paralyzed by multiple gunshot wounds. Lopez-Leyva says even he himself has been accosted by people wielding firearms, but fortunately was never harmed.
"It's clear that personal stories of gun confrontation and violence are all to common," he said. "I had been previously frustrated with the violence that existed in Phoenix and D.C., but my determination in seeking a resolution has truly hardened since the tragedy at Stoneman Douglas and in the better half of this past week."
Lopez Leyva says he is spearheading the march in collaboration with other students in Boston, from middle school to college.
The group of organizers includes several Northeastern University students with direct ties to the recent shooting in Florida, according to Lopez-Leyva. As The Huntington News recently reported, second-year student Beca Muñoz, a cohost of the Boston march, is from Parkland. Muñoz's sister is a student at Stoneman Douglas and survived the shooting. Fourth-year student Leslie Chiu and first-year student Sheridan Lasher are also from Parkland and both went to Stoneman Douglas.
Lopez-Leyva says the march is being planned almost exclusively by students.
"The world is a different place than it was five or 10 years ago, and so is the internet," Chiu told the student newspaper. "It's easier to spread a message and get it across. And Stoneman Douglas is a very articulate, academic school."
What reforms do they want?
Lopez-Leyva says the purpose of the Boston march is in accordance with the broader March for Our Lives mission to fight back against the gun lobby in support of a comprehensive bill to address school shootings. However, there are also local reforms that he says would make a difference.
A small number of states have so-called "red flag laws" that allow family members or police to request a court order temporarily stripping a person of their gun rights if they show signs of violence. Massachusetts is not one of those states.
"It is recurrently evident that with each gun violence tragedy, the perpetrators display various warning signs which remain too often unnoticed by law enforcement," Lopez-Leyva said.
However, he added that the gun violence issue is "intrinsically multidimensional."
"Subtle policies — from an obligation to community-oriented policing to firearm education for gun owners — have proven to stymie the senseless loss of life to gun violence," he said.