Local
New Hampshire community posts memorial for man killed by police
Jesse James Champney, whose family believes he was unarmed, was shot in the back and torso in December.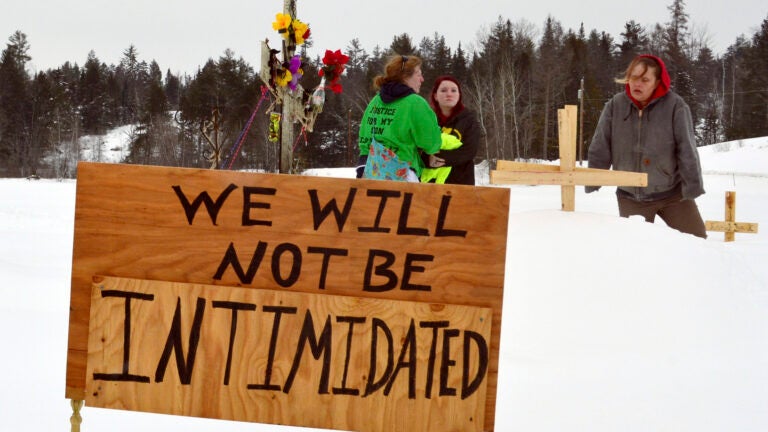 CANAAN, N.H. (AP) — Behind a 7-foot cross in a snowy field bordering a two-lane highway winds a trail of 16 smaller crosses. Some spell out "Justice For Jesse" as they disappear into a grove of trees.
Nearby, a sign declares: "WE WILL NOT BE INTIMIDATED."
"We want to show how far he ran," said family friend Amber Redmond, walking 200 yards to the spot where the troubled 26-year-old Jesse James Champney, newly engaged to be married and turning over a new leaf, died. There lay other mementoes of his life: a black leather jacket; a wooden sculpture of Pudgy, the family pit bull; a pack of cigarettes.
Champney's family created the memorial shortly after he was fatally shot by a state trooper in December, and it has been the talk of the town since, not in a good way. Someone burned the small crosses in January; the family replaced them with even more.
On the surface, the case merely carries the same hues of police mistrust and abuse of power that color higher-profile shootings of recent years far from usually quiet Canaan, population 4,000. There are also similarities to the film "Three Billboards Outside Ebbing, Missouri," up for some Oscars on Sunday.
But complicating, and perhaps contributing to, the matter is that no love is lost between Champney's family and area police.
One of his brothers is at large, wanted for violating probation for tossing a stolen gun, and with a history of several other probation violations. Another brother was arrested last week in nearby Lebanon on charges of sexually assaulting a 9-year-old girl, and for violating probation for the sexual assault of a different underage girl. While being arrested, authorities said, he tried to gouge out an officer's eye.
Champney himself was wanted for failing to show up in court for 2016 charges of drug possession and resisting arrest. But his sins and those of his brothers, said relatives and their supporters, are no justification for what happened the night of Dec. 23.
Champney's family claims police staked out a grocery store being visited by him and his fiancee, Saeti Tobin, pursuing reports he was driving a stolen car. His family says he legitimately borrowed it.
Trailed by at least two cruisers, Champney slid into a ditch, according to relatives and news reports . He jumped out and ran toward a grove of trees, while his girlfriend remained in the car. Officers smashed the window, pulled her out and ran after Champney, the family said.
Champney, whose family believes he was unarmed, was shot in the back and torso. The state attorney general's office, which is investigating and saying little, has allowed that Champney was shot four times; one bullet in particular was the fatal shot.
"My personal opinion is that he was running and they saw they were going to lose him in that thick woods and shot at him," said Fred Butman, Champney's stepfather. "They shot him in the back and then ran over to him and finished him off."
His fiancee wasn't arrested, and it's also unclear how a state trooper became involved. Local and state police and the troopers' union aren't commenting. A lawyer for O'Toole, who has been placed on administrative leave, did not respond to requests for comment.
Supporters — about 100 of them showed up for a candlelight vigil at the shooting site — argue the family deserves answers. And then there is the mysterious fire; family and supporters believe it was started by someone upset with the efforts to publicize the case. The family didn't report the fire to police, figuring it wouldn't make any difference.
"It seems like someone is trying to send a message that 'You should be quiet about this,'" said Ervine Aiken. "It's not going to happen."
Others in town are ready to move on.
"The general feeling is the people would like to see the issue put to bed," said Town Administrator Mike Samson. "There are more people who think the memorial is OK until there is an answer from the state police and then, really, it's served its purpose."
Dan Collins posted a "Rest In Peace Jesse" sign outside his convenience store.
"Whether you knew this young man or like him or not or agree with what he was doing, the fact is that a young man lost his life at the hands of a paid official in our community," he said.
At the home of Butman's mother, signs at the end of the driveway allege Champney was a victim of excessive force. Inside, his ashes rest in an urn on a mantel. At the kitchen table, relatives leaf through photos of a smiling Champney camping, flexing his muscles at the beach and playing with Pudgy.
The family talks of a young man showing signs of maturity. He had recently been baptized, gotten off drugs and, on his Facebook page, announced he and Tobin had become engaged Dec. 15.
"There was no reason for any of this to happen," said sister Shania Butman. "He wanted a family. I feel like if he had a family, he would have changed even quicker. Now, he can't even do that."
___
Information from: Lebanon Valley News, http://www.vnews.com