Local
Here's what is known about the shipwreck unearthed by a nor'easter in Maine
"A ship like that is kind of like the 18-wheeler of today."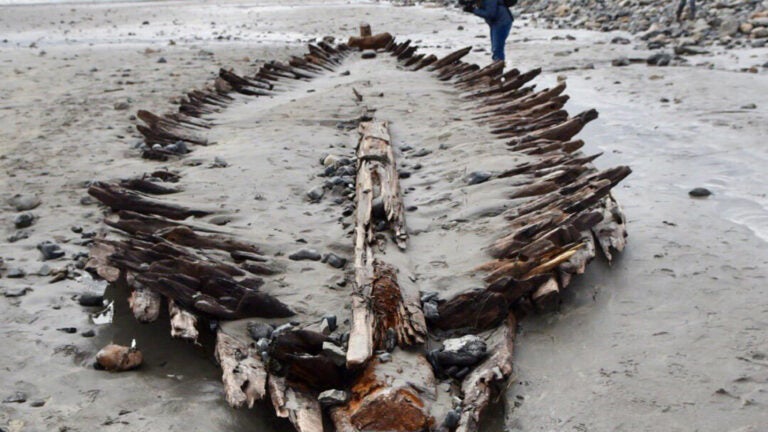 The surging tides and high winds of the powerful nor'easter that rolled through New England last week did more than just remind coastal residents of Mother Nature's sheer force. They revealed a bit of history.
The devastating coastal storm, that caused damage from Saco, Maine, to Scituate, Massachusetts, brought forth the remnants of a shipwreck that had been buried beneath the sands on a beach in York, Maine.
The York Police Department shared photos of the skeletal remains of the ship on Short Sands Beach that remain visible, days after the storm.
"Every once in a while after a storm the ocean moves enough sand for it to be seen," the department wrote on its Facebook page. "Thought you might like to see it."
The photos were shared thousands of times, and news of its uncovering was reported across the country.
According to the Portland Press Herald, with all the attention, the town has recently made moves to try and protect the shipwreck as visitors have flocked to the beach to see the bit of history, with some people trying to break off pieces as souvenirs.
For all the recent attention the ship's remnants have garnered, very little is known about the vessel's history, according to Leith Smith, historic archaeologist for the Maine Historic Preservation Commission.
"Basically the vessel resurfaces from time-to-time, and this has occurred over the years," he said.
The archaeologist said the wreck was initially uncovered in 1958, and it was revealed again in 1978.
Smith said sometimes just the tops of the timbers from the wreck show out of the water and "people don't really pay much attention to it."
"But obviously this year a lot of sand has washed out, so it's really revealed it more than it's been revealed for a long time," he said.
When it was mostly uncovered in 2007, Smith said he and his colleagues studied it, mapping the remains and taking samples to try and determine what type of wood the ship was made of.
Smith and his colleagues found that about 51 feet of the vessel's hull had been preserved, leading them to estimate that the ship would have originally been about 60 feet long and 14 feet wide.
"In mapping it, the purpose was to try and determine what kind of ship it was," he said. "At that time it was determined that the style of the ship was either a sloop or a schooner and was of a style that could have been made anywhere from about 1750 to 1850."
With the media coverage of the wreck's emergence this year, Smith said he and his colleagues have heard some new ideas suggesting origins of the ship's remains, though he said they haven't been able to evaluate the veracity of the ideas yet.
An additional challenge in ascribing the wreck to a specific date is that for about 100 years the ship's design was very common.
"It's difficult because a ship like that is kind of like the 18-wheeler of today," Smith said. "Basically it loads up with all kinds of goods, whatever was being traded, going from port-to-port-to-port. And there were hundreds, if not thousands, of boats doing this."
They were often called "coasters" he said, because they were able to get into shallower wharves.
The prevalence of the boats is also evident in the number of wrecks that exist up and down the coast.
"People just don't know about them either because they're covered with water, or up in Maine, they're covered with seaweed," Smith said of vessel remains. "But there are quite a few wrecks, and a lot of the wrecks are actually the result of people abandoning them."
He said often, once a ship had gotten toward the end of its useful life and was old and leaky, it would be pulled up onto a sand bar —  or up in a river — and abandoned, left to rot away.
But that isn't believed to be the case with the York wreck.
"We think it was probably driven ashore during a storm, and it was pushed so far up onto the beach so that it couldn't be pulled back in the water," Smith said. "So as was very common of the day, when this happened to ships, usable materials that the owner could take off them were taken. And oftentimes townspeople would just end up taking the timbers for firewood or to use in structures."
He said it's clear that timbers have been cut off off the wreck's top edges, indicating that they were likely cut down to the waterline shortly after it became stuck and was then abandoned.
Smith said the shipwreck's typical environment — usually buried under sand and water at shore's low tide line — is actually the best way for it to be preserved, which is one reason why the vessel's remains haven't ever been removed.
Once exposed to the air, it gets laid bare to bacteria that can spur deterioration, he said.
Smith said the wreck will likely be re-covered within a couple of months, but if not, there may be a planned effort to put sand over it.
Removing the wreck — disassembling each piece and reassembling it elsewhere — would be "very, very expensive," according to Smith. Normally such an undertaking would only be considered if the vessel was known to be a very unique ship or built by someone famous.
"The problem is we don't know for sure which ship it was because it's just the bottom of the hull," he said. "We don't know for sure at this point what kind of ship it was."
Smith said that the hope now, with the ship uncovered, is to learn more while its accessible. Researchers will be taking samples again to try and pin down its age.
In the meantime, the archaeologist encouraged people to go take a look at the anonymous wreck and "connect with history" but urged against trying to take a souvenir.
"Enjoy it for what it is, and its age, and that it is remarkable that it is potentially that old and still preserved," he said.