Local
How will the snow affect Wednesday's school walkout against gun violence in Massachusetts?
Another snow day isn't going to stop students from speaking out.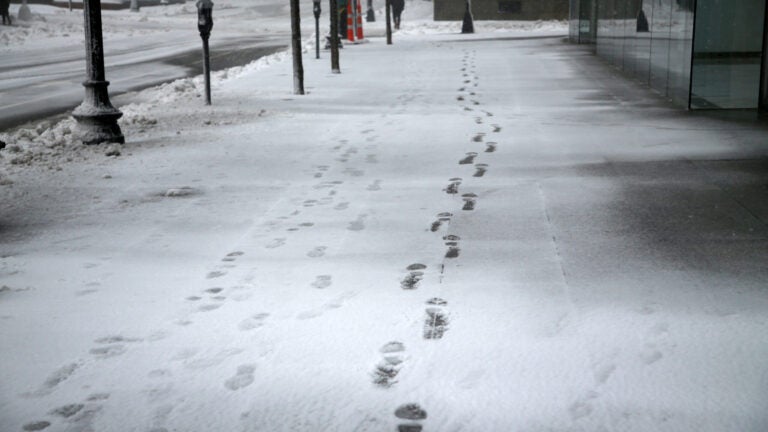 Can you have a school walkout on a snow day?
That's the question many Massachusetts students are asking, according to Charlotte Lowell, the lead student organizer of Wednesday's national school walkout against gun violence in Massachusetts, as many Boston-area schools cancel classes for a second day this week.
"It going to happen regardless," the Andover High School senior told Boston.com. "Weather can't really stop a movement."
Students across the country are planning to walk out of their classes Wednesday at 10 a.m. for 17 minutes in honor of the 17 people killed in the Parkland, Florida, school shooting last month. In Massachusetts, students from more than 20 schools plan to follow up the walkout with a day of speeches and lobbying at the State House.
However, as a nor'easter Tuesday continued to bury the state in snow, Lowell said she began fielding emails from students wondering if the demonstrations would go on in the event of a school closing or delay Wednesday. Even if students don't have class to walk out of, Lowell says they will be moving forward with the second half of their plan.
"This movement is not dissuaded by a snowstorm," she said. "We're hardy Massachusetts students, and we'll brave the snow in order to speak out about what matters to us."
According to organizers of the demonstration, WalkOut for Action, students are planning to meet across from the State House outside the Cathedral Church of St. Paul at 11 a.m. to speak out against gun violence. Lowell says many students are planning to walk or take public transit, and that they have organized buses from some of the schools. She also noted that organizers will even have hot chocolate and snacks on hand. Following the speeches, they plan to march across the Common to the State House, where they will meet with legislators and lobby for a so-called red-flag bill recently introduced in the House.
https://www.facebook.com/WalkOutForActionMA/posts/243500262859144
Lowell says she isn't worried that the absence of an actual walkout at schools with snow days will in anyway diminish their message.
"I'm hoping that the visual effect of students traveling through the snow from all over Massachusetts to the State House will provide that symbolism," she said.
After announcing a second snow day Wednesday for Boston schools, Mayor Marty Walsh said he supports the demonstration and commended the students for their actions. In a Tuesday afternoon press conference, Walsh explained that it wasn't feasible to postpone the walkout since it's a national demonstration. Other Massachusetts high schools with snow days Wednesday have relocated or rescheduled their planned 10 a.m. walkouts.
"I support the kids," Walsh said. "Certainly, the NRA and Congress … they're not listening to adults. Maybe they will listen to young people."