Local
Busta Rhymes Island exists in Massachusetts on Google Maps but not in real life. Here's why.
"It's just a small pond in the town of Shrewsbury, Massachusetts."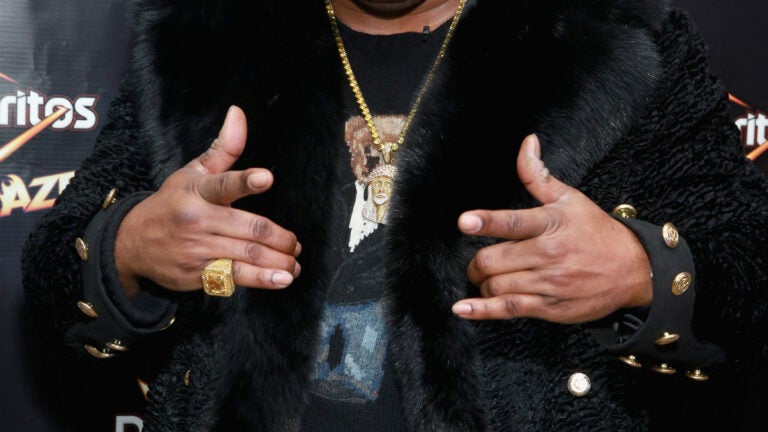 Earlier this month, the internet was reminded of an unusual fact about Massachusetts.
There is an island in the Bay State that has — at times — been referred to as "Busta Rhymes Island."
The small land mass, located in Mill Pond in Shrewsbury, is even labeled with the name of the 45-year-old rapper on Google Maps.
When Atlas Obscura mentioned the island's existence on March 6, people quickly reacted, making the tweet go viral and garnering it a moment on Twitter.
"I can't believe I lived 20 minutes from Busta Rhymes Island for 15 years," one person wrote.
I CAN'T BELIEVE I LIVED 20 MINUTES FROM BUSTA RHYMES ISLAND FOR 15 YEARS https://t.co/KexiZE86y3

— Emma. (@emmapiscia) March 6, 2018
"This gives me hope," said another.
This gives me hope. https://t.co/GhphpK4ORt

— Nathan Fox (@nfox) March 6, 2018
But in reality, the island in Mill Pond has no name, according to Angela Snell, director of parks and recreation in Shrewsbury.
"It's just a small pond in the Town of Shrewsbury," she told Boston.com. "And residents use it for canoeing or fishing. There's no swimming at the pond, so it's really just to enjoy nature and that kind of stuff."
The existence of "Busta Rhymes Island" first was reported nine years ago, when it was discovered that the first result for a Google search for "Busta Rhymes" and "Boston" was a link to the island, according to The Boston Globe.
Shrewsbury resident Kevin O'Brien, then 27, told the newspaper he had been maintaining the island that is near his home since 2005 and described himself as a fan of the rapper since he was a teen.
"It's a very small little island [with] rope-swinging, blueberries, and . . . stuff Busta would enjoy," he told the newspaper in 2009.
O'Brien told 99% Invisible a few years later that he planted the blueberry bushes there, picks up after teenagers who leave beer cans behind on the island, and applied a geotag for the 40-by-40 piece of land in Google Maps: "Busta Rhymes Island."
According to the podcast, the Shrewsbury resident also submitted a formal proposal to the U.S. Board on Geographic Names, hoping to have the name become the island's official designation. His application was denied, since there is a requirement that a celebrity be deceased for five years before a body of land can be named for him or her.
The other path the U.S. Board of Geographic Names looks at when considering a naming proposal is "local usage," according to 99% Invisible.
So, do residents of Shrewsbury refer to it as "Busta Rhymes Island"?
"No," Snell said.
From time-to-time, the parks and recreation director said she is asked about the island.
"Every now and then it will come up," she said. "Somebody will ask about it."