Local
Donald Trump blamed two Massachusetts cities for New Hampshire's opioid problem. Their mayors shot back.
"The president continues to treat every problem that faces our country like a campaign rally, and it's not."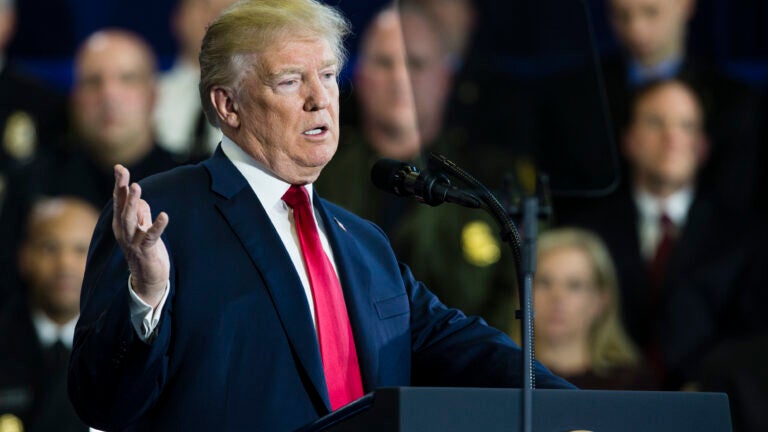 During an event Monday rolling out his administration's controversial plans to combat the opioid epidemic, President Donald Trump singled out two cities in Massachusetts — Boston and Lawrence — as reasons for the crisis in New Hampshire.
"According to a recent Dartmouth study, the sanctuary city of Lawrence, Massachusetts, is one of the primary sources of fentanyl in six New Hampshire counties," Trump said in a speech in Manchester, New Hampshire, renewing his argument that ending so-called sanctuary cities, which limit cooperation with federal deportation efforts, is "crucial" to addressing the addiction crisis.
"In Boston, Massachusetts, which is a place where you have sanctuary cities," Trump said Monday. "I'm repeating my call on Congress to block funds for sanctuary cities and to close the deadly loopholes that allow criminals back into our country and into our country in the first place."
The Republican president's efforts to deny funding to sanctuary cities was blocked last November by a federal judge.
Boston Mayor Marty Walsh, who has consistently defended his city's sanctuary status, shot back at the president Monday. In a statement, the mayor said Trump "criminalized both our immigrant community and those suffering from substance abuse all in one speech today."
"It's time to stop painting all undocumented immigrants as criminals," Walsh said. "Our immigrant community makes positive contributions to our city each and every day. And this epidemic is not something we can arrest our way out of — we need actual investments in prevention and treatment programs and policies, not just talk."
Lawrence Mayor Dan Rivera went even further, calling a press conference early Monday evening to respond to Trump's comments.
"I've got a lot of emotions running through me right now, because it's not very often that the president takes your city's name in vain," Rivera said, according to NECN. "So I'd like to start by saying shame on the president. He's trafficking in pain and divisiveness, creating boogiemen where we need solutions."
The Democratic mayor also refuted Trump's get-tough-on-drug-dealers proposals, recalling previous efforts to address drug epidemics in that manner.
"I'm a Reagan baby, I'm a kid from the '80s," he said. "I remember the crack epidemic. I remember the 'Just Say No' to drugs campaigns. I remember the increased prison time for dealers and users. But you know what beat the crack epidemic and the cocaine epidemic? It was police practicing community policing, jobs for inner-city kids, and treatment, treatment, treatment. Serious, long-term, expensive treatment."
In the Dartmouth study Trump mentioned, 60 percent of emergency responders identified Lawrence as a source of fentanyl and other overdose causing drugs. However, researchers say the opioid epidemic in New Hampshire is more complex. In addition to the state's proximity, the Dartmouth study found that the Granite State's low per capita spending on services to help addicted users, rural pockets of "economic degradation," and doctors prescribing opioid pain relievers at a rate almost twice the national average also contributed to the drug crisis.
New Hampshire, which Trump has called a "drug-infested den," has ranked third in the nation in the rate of overall drug overdose deaths and first in the rate of deaths due to synthetic opioids, such a fentanyl.
Rivera accused Trump of "talking out of both sides of his mouth" Monday.
"He went to New Hampshire, smiling in New Hampshire's face, after calling them a 'drug-infested den,'" the mayor said, according to NECN.
"This is not a political problem, this is not a crime problem, this is not an immigration problem," he continued. "This is a human problem. This is an American problem, with more than 175 Americans dying every day. And the president continues to treat every problem that faces our country like a campaign rally, and it's not."