Local News
Boston sued over 2016 police shooting of mentally ill man
The suit seeks to force a change in how first responders deal with people with mental illnesses.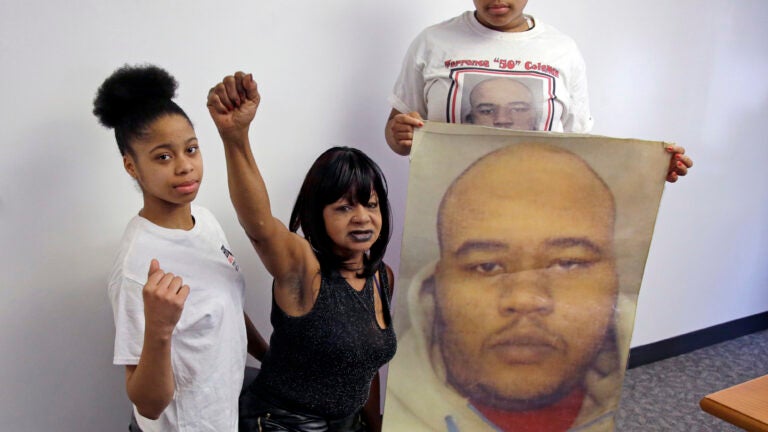 BOSTON (AP) — The mother of a black man fatally shot by Boston police filed a federal lawsuit Wednesday that seeks to force a change in how first responders deal with people with mental illnesses.
Terrence Coleman, who was diagnosed with schizophrenia, was killed in 2016 after his mother called for an ambulance to take him to the hospital. Police and prosecutors say he attacked emergency medical technicians with a large knife, but his mother denies her son was armed or posed any danger.
Hope Coleman said Wednesday that she never imagined that calling for medical help would end in her son's death.
"I was just trying to help my son," she said through sobs at her lawyers' office. "I brought him into the world. The police shouldn't have took him out."
Spokeswomen for the city and the police department declined to comment.
The lawsuit comes amid the latest upheaval over the fatal police shooting of an unarmed black man. Last month's shooting of Stephon Clark in Sacramento, California, has led to demonstrations and calls by some for restrictions on when officers can open fire.
The lawsuit filed against the city, the police commissioner and others says Hope Coleman became concerned about her 31-year-old son because he refused to come inside from the apartment building's front stoop.
She said she told the 911 operator she didn't want police because she worried that would agitate her son, but the operator said it was the policy for officers to accompany EMTs.
Terrence Coleman, who had gone inside the apartment by the time EMTs arrived, became upset when he saw blue flashing lights and told them he didn't want to go to the hospital, but the EMTs insisted he come with them and tried to grab him, the lawsuit says. It says the officers burst through the door when they heard a scuffle and then tackled and shot the man.
Suffolk District Attorney Daniel Conley said in August that Officer Garrett Boyle's use of deadly force was justified because the lives of officers and emergency medical technicians were in danger.
Conley's investigative report said Terrence Coleman had pulled a 5-inch knife from a bag and attacked the EMTs who were trying to help him and then began slashing at the officers who came to their assistance.
One of the EMTs said in an interview with authorities that Terrence Coleman went after his partner and began "stabbing, stabbing, stabbing" and the EMT believed his partner was going to get killed.
The lawsuit says a knife was recovered from inside the apartment while the officers and EMTs said Terrence Coleman had attacked them in the foyer outside the apartment.
Hope Coleman's complaint says the city has flawed 911 protocols for responding to mentally ill people who need assistance.
It also says the city does not adequately train officers on helping people with mental illnesses and that the training programs that do exist "erroneously suggest that all persons who suffer from mental health disabilities are violent and dangerous."
Sophia Hall, an attorney for the mother, said they hope the lawsuit will propel policy changes in Boston and beyond, noting that there are no nationally mandated training procedures for how first responders deal with people with mental illness.
"What we're seeking is not only justice for Hope and Terrence, but for some kind of system change," said Hall, with the Lawyers' Committee for Civil Rights and Economic Justice, which filed the lawsuit along with attorneys with Fick & Marx LLP.
Hope Coleman says her son's death has turned her life upside down. She said she struggles to sleep and eat and doesn't even like going outside because she sees other parents with their children. A cake she made for his birthday last month still sits uncut in her kitchen because she can't get herself to do it without him.
"I'm never going to be normal," she said.