Local
Here's what we know about the fatal shooting of Yarmouth police officer Sean Gannon
The 32-year-old officer died after he was shot while serving a warrant in Marstons Mills.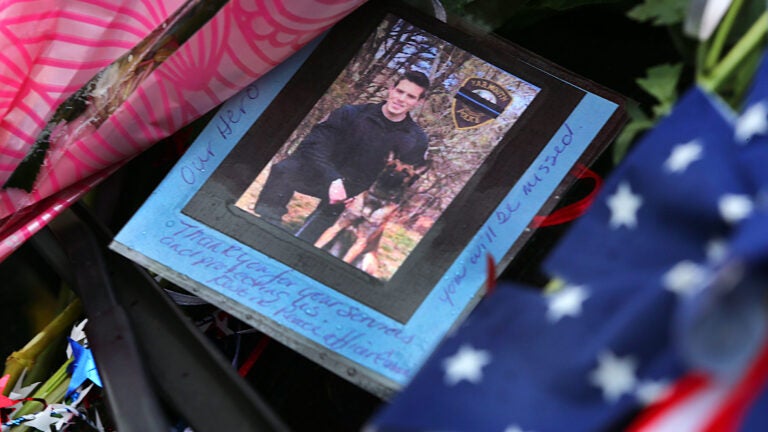 Police officers and members of law enforcement packed into a courtroom at Barnstable District Court Friday to witness the arraignment of the 29-year-old man accused of fatally shooting a Yarmouth police officer.
Thomas Latanowich was charged with murdering 32-year-old K-9 officer Sean Gannon. He pleaded not guilty and was ordered held without bail.
Authorities say Gannon was one of a "number of officers" from Yarmouth, Barnstable, and the state police who were serving a warrant at a home in Marstons Mills Thursday when he was fatally shot and his K-9 partner injured.
Here's what we know about the fatal shooting that has left communities across the state mourning the loss of the beloved and respected officer who has been called the "Tom Brady" of his department.
The shooting
On Thursday, police officers, including Gannon, went to 109 Blueberry Lane in Marston Mills, a village in the town of Barnstable, seeking to arrest Latanowich for violating his probation from a 2010 case, in which the 29-year-old had pleaded guilty to drug and gun charges, The Boston Globe reports.
The Massachusetts Probation Service told the newspaper that Latanowich had not been home on April 4 for a visit from a probation officer and the next day missed an appointment to take a drug test.
According to the Cape & Islands District Attorney's office, Gannon was shot around 2:30 p.m. while he was searching the home.
"During a sweep of the residence's attic Yarmouth Police Officer Sean Gannon was shot and killed," the DA's office said in a statement. "His K-9 dog was also shot and seriously wounded."
A law enforcement official told the Globe that the promising young K-9 officer was shot in the head.
Police and fire officials from the state, Barnstable, Yarmouth, Cape Cod Community College, as well as agents from the Bureau of Alcohol, Tobacco, Firearms, and Explosives, converged on the neighborhood after the shooting, the Cape Cod Times reports. Residents of the neighborhood were asked to leave their homes as police blocked off the area.
"After a standoff of some duration, officers were able to make contact with Latanowich via his cellular phone," the DA's office said. "At approximately 5:30 p.m. Latanowich exited the residence and was taken into custody."
Gannon's dog, Nero, was shot in the face and neck and underwent surgery at Dennis Veterinary Hospital.
"Nero has survived emergency surgery and is being treated and taken care of by the best medical staff in New England at a location here on Cape Cod," Yarmouth police said on Facebook Friday afternoon.
What we know about the suspect
Latanowich is being described as a "career criminal," according to the Globe, with more than 100 criminal charges on his record in the state, and four years in prison, dating back to 2005.
In 2016, he was arrested in two separate incidents for allegedly strangling a pregnant woman and vandalizing her car and allegedly stabbing a man stopped at an intersection, according to the Times.
In Barnstable alone, the 29-year has had 28 cases against him, according to the Globe.
In Barnstable District Court Friday, Latanowich pleaded not guilty to one charge of murder and one charge of mistreating a police dog, according to the DA's office. He is scheduled to return to court on June 26 for a probable cause hearing.
Authorities said his last known address was in Somerville, but neighbors told the Globe his only connection to the city outside Boston is that he has a relative who lives there.
According to the Times, Latanowich previously lived in West Yarmouth.
How Sean Gannon is being remembered
Condolences and messages of support for the Yarmouth Police Department have poured in from across the country.
As Gannon's body was taken away from Cape Cod Hospital Thursday night, scores of officers lined the street to salute the fallen officer, and police cars, lights flashing, formed a procession behind the vehicle carrying him away.
Long line of police officers riding in the procession for #Yarmouth K9 officer Sean Gannon who was killed in the line of duty. pic.twitter.com/DNiZTtji2D

— WBZ | CBS Boston News (@wbz) April 13, 2018
Gov. Charlie Baker ordered flags lowered to half-staff Friday on all state buildings to honor Gannon.
Heartbroken to learn of the passing of Officer Gannon & my thoughts and prayers are with his family, loved ones and the @yarmouthpolice after this tragic loss. MA is blessed to have courageous men & women who put their lives on the line to protect our communities every day. #lodd pic.twitter.com/WPQklvocXg

— Charlie Baker (@MassGovernor) April 13, 2018
Gov. Baker has ordered that the U.S. flag and the Commonwealth of Massachusetts flag be lowered to half-staff at all state buildings beginning immediately, until further notice, in honor of Officer Sean Gannon of the @yarmouthpolice who tragically died in the line of duty. #LODD

— Charlie Baker (@MassGovernor) April 13, 2018
Gannon is believed to be the first police officer in the state killed in the line of duty since 2016, when Auburn officer Ronald  Tarentino Jr. was fatally shot during a traffic stop, according to the Globe.
"We referred to him as the Tom Brady of the Yarmouth Police Department," Yarmouth Police Chief Frank Frederickson told reporters Friday. "He died doing what he loved, and he is going to be sorely missed. We have a devastated community, family, and police department."
According to the Globe, Gannon was originally from New Bedford and attended Bishop Stang High School in Dartmouth, where he played tennis, ran cross-country, and was on the debate team. He graduated in 2003 and received his bachelor's degree in criminal justice from Westfield State University in 2007.
Both schools posted messages on Facebook expressing their condolences for Gannon's family and colleagues.
Nantucket Police Chief William Pittman told the Globe that the young officer got his start in law enforcement while still in college, working as a summer special police officer at the department in 2005.
"Sean was known by several members of this department in his capacity as a K-9 officer," Pittman told the Globe. "He was well respected. Like many Massachusetts police officers, Sean got his start in law enforcement working for us in our seasonal program. He ultimately went on to become a member of the Yarmouth Police Department where he honorably served the community of Yarmouth and their Cape Cod partners."
Gannon began working at the Yarmouth department in 2010 and leaves behind a wife, Dara, according to the Globe.