Local
Hundreds mourn fallen Yarmouth officer at vigil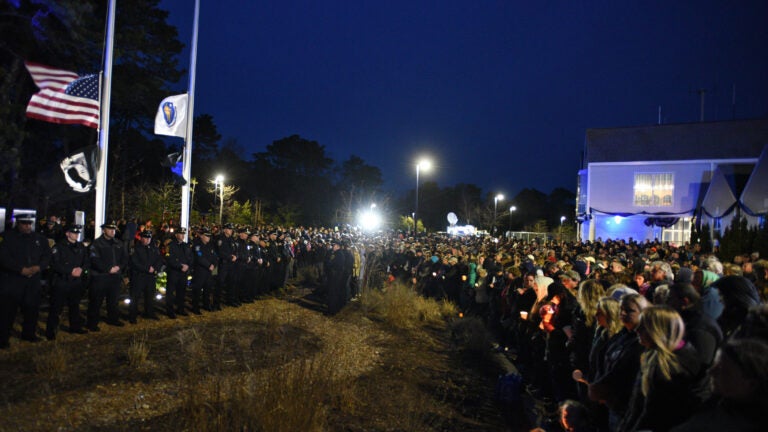 YARMOUTH — Mourners honoring slain Officer Sean Gannon on Saturday paid tribute to his sacrifice with simple acts of grace: sharing memories, offering consolation, placing flowers by a parked cruiser.
They were drawn together following the death of Gannon, 32, who was shot in the head while attempting to carry out an arrest warrant Thursday. Gannon's police dog, Nero, was shot and badly wounded, but is recovering.
Ken Pires, a West Springfield Police patrolman, was among those who came to pay respects at Yarmouth's police headquarters, standing silent for a moment before making the Sign of the Cross.
"You hear something like this, it hits close to home,'' Pires, 48, said ahead of an evening vigil for Gannon held at the police headquarters. "You just have this empty feeling. It kind of hits you in the gut because you understand it could be you.''
Among the countless flowers, flags, and black and blue balloons left by mourners stood a box of dog biscuits.
Other tributes were set up across the police department's grounds. Children's drawings honoring police sat on a table inside the station. One drawing by a 9-year-old from Sagamore showed an officer and his dog, next to a blue police flag. It was labeled "Officer Gannon'' and "Nero.'' Another child had written "GO POLICE'' above the Yarmouth Police Department seal.
By 7:20 p.m., hundreds of people, including some from local police and fire departments, crowded around the town's 9/11 memorial for the vigil.
Candles were passed out, as active-duty and retired officers lined up next to the memorial itself.
About a dozen members of the Boston Police Gaelic Column of Pipes and Drums marched up to the memorial as mourners lit their candles. Among those gathered were Gannon's parents, but not his wife, according to Yarmouth Police Chief Frank Frederickson.
State Representative Timothy Whelan delivered introductory remarks, in part addressing Gannon's family. "You are not alone,'' he said. "We love you, and we are here for you.''
In an emotional speech, Frederickson called on lawmakers to be more supportive of police and decried recent funding cuts for police training in Massachusetts.
"Help us!'' he said to applause. "I don't want to see this happen to anybody ever again.''
US Representative William Keating and state Senator Julian Cyr were also among the officials who spoke at the ceremony.
For 59-year-old Bill Smith of Dennis, it was the second time he had stopped by, after visiting the station just after learning of Gannon's death Thursday.
"The whole Cape, you see blue ribbons everywhere, and even off the Cape. It's really, really hit home for everyone out here,'' he said.
Gannon leaves his wife, Dara, and many other family members, including his parents, Denise and Patrick, according to his obituary. Gannon loved spending time with family, the obituary said, and enjoyed the outdoors, working with his hands, and volunteering his time with the Big Brothers Big Sisters organization.
"Whatever Sean did, he gave 100 percent of himself. He will be profoundly missed by his family, colleagues, and friends,'' according to the obituary.
A vigil and visitation for Gannon will be Tuesday from 4 to 8 p.m. at St. Pius X Church in South Yarmouth, according to his obituary. A law enforcement walk-by will be held at 5:30 p.m.
Gannon's funeral Mass will be said in the church at 11 a.m. Wednesday. Burial will be private.
Until then, Yarmouth police stand watch and maintain a "24/7 guard'' over Gannon, he said.
"He will never be left alone until interment,'' Yarmouth Police Lieutenant Steve Xiarhos said.
Gannon was born in New Bedford and was a graduate of Bishop Stang High School in North Dartmouth.
He earned a bachelor of science degree from Westfield State University in 2007, and a master's degree from Massachusetts Maritime Academy in 2011. Gannon also graduated from the MBTA Municipal Police Academy.
Gannon began his law enforcement career with Stonehill College's campus police department in 2007 before moving to Yarmouth's police force in 2010.
Gannon's police dog, Nero, was also shot and survived emergency surgery. On Saturday, Nero continued his recovery, Xiarhos said.
"Nero has survived and is fighting back strong! Being cared for by the best at a location on Cape Cod and protected 24/7 by police K9 Units from all over New England,'' he said.
A GoFundMe page was set up by supporters to raise money for Gannon's wife, according to the webpage. By Saturday afternoon, the page already collected more than $120,000 of its $150,000 goal.
"K-9 Nero had a good night and got a lot of rest. He walked outside this morning to go to the bathroom on his own and his surgeon says he is doing better than expected,'' according to the fund-raiser page.
The man accused of killing Gannon, Thomas M. Latanowich, 29, is charged in the shooting and pleaded not guilty during his Friday arraignment. Latanowich has been ordered held without bail.
Gannon was among three officers who responded to an October 2016 report that Latanowich had knocked down and choked his pregnant girlfriend, according to police records on file in Barnstable District Court.
Latanowich also allegedly used a knife to slash the tire of his girlfriend's car before he fled.
Latanowich was gone when police arrived that October, but it was Gannon who requested an arrest warrant for Latanowich on charges including assault and battery on a pregnant woman, according to records.
But the fact that Latanowich was free despite his lengthy criminal history was blasted by Yarmouth police in Saturday's statement.
Police only referred to Latanowich as "125'' — the number of prior charges Latanowich has on his Board of Probation criminal record in Massachusetts, the agency said.
"The Massachusetts Criminal Justice System has let us down and failed to protect our community and our Yarmouth Police Department,'' police said in the statement.
"Our organization is pushing forward as we have broken families to support — a community who loves us — and coward known as 125 behind bars who has earned the death penalty.''