Local
Watch Barbara Bush give the 1990 commencement address at Wellesley College
"Find the joy in life, because as Ferris Bueller said on his day off ... 'Life moves pretty fast. Ya don't stop and look around once in a while, ya gonna miss it!'"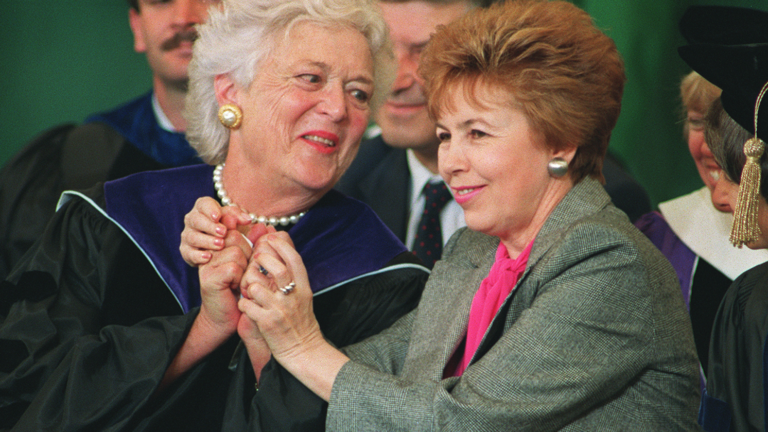 She may not have been the first choice to be Wellesley College's commencement speaker in 1990, but the address then-first lady Barbara Bush delivered was enthusiastically received.
Videos and text of the speech she gave are being recirculated following the former first lady's passing on Tuesday.
The Boston Globe reported in 1990 that controversy raged "for weeks" when Bush was asked to deliver the commencement address after author Alice Walker declined the initial invitation. In a petition, 150 Wellesley students objected to her invitation saying that the first lady had "gained recognition through the achievements of her husband."
Her speech ended up being rated by a survey of scholars in 1999 as one of the top 100 speeches of the century, according to the Associated Press.
The Washington Post reports the speech was carried live at the time on the three big networks.
"I believe it was the first, last and only time all three networks interrupted regular programming to cover a first lady's speech live," Edward McNally, a speechwriter in the Bush White House, told the newspaper Tuesday. "It was an unusual national moment, to say the least."
In her speech, Bush advised the graduating students to believe in something larger than themselves, cherish human connections, and referenced "Ferris Bueller's Day Off" in explaining the "most important decision of [her] life":
Early on I made another choice which I hope you will make as well. Whether you are talking about education, career or service, you are talking about life … and life really must have joy. It's supposed to be fun!

One of the reasons I made the most important decision of my life … to marry George Bush … is because he made me laugh. It's true, sometimes we've laughed through our tears … but that shared laughter has been one of our strongest bonds. Find the joy in life, because as Ferris Bueller said on his day off … "Life moves pretty fast. Ya don't stop and look around once in a while, ya gonna miss it!" (I am not going to tell George you clapped more for Ferris than you did for George.)
Watch the full speech below:
https://www.youtube.com/watch?v=bVmnyZhKThQ