Local News
'I'm hoping to walk again': Boston community rallies to help teacher Chris Wiley after sudden paralysis
The 29-year-old high school math teacher is paralyzed from the waist down after suffering a stroke following a surgery.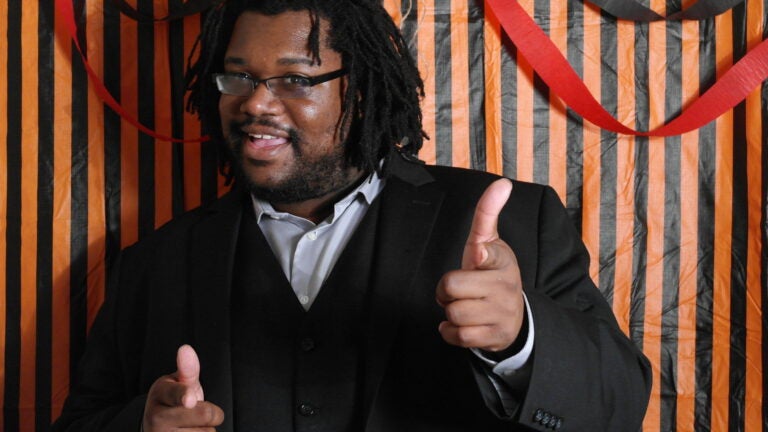 On April 9, Chris Wiley wasn't feeling well, but he decided to go to work anyway, to Jeremiah E. Burke High School in Dorchester where he teaches math.
Once there, though, his principal noticed he wasn't well and suggested he go home and take care of himself. The 29-year-old decided to go straight to the doctor.
At the doctor, Wiley's vitals were all "going wacky," according to his mother, Lynda Johnson.
He was rushed to Boston Medical Center.
"He was in pretty bad shape," his mother said. "He was pretty sick."
At BMC, doctors found that Wiley had an infection on the back of his head that needed to be removed surgically. They did an MRI afterward, Johnson said, just to make sure things looked alright.
But when Wiley woke up later that night, he couldn't feel or move his legs. His mother said it was determined that he must have had a stroke, but when it occurred exactly isn't clear.
"They think that it is permanent," she said. "However, because of Christopher's age, him being so young, there is a slight possibility that he could recover."
Wiley, who was moved to Spaulding Rehabilitation Hospital on Thursday, said he's feeling hopeful with his prognosis.
"I'm hoping to walk again," he said Friday.
Joe Liddy, a fourth-year student at Northeastern and a member of the university's Delta Tau Delta fraternity that Wiley is a chapter advisor for, has started a fundraiser on GoFundMe to help pay for the high school teacher's medical expenses and support his hope for rehabilitation.

"He's just an incredible person, and people are really inspired by him," he said. "And it's our time to rise up and give back to him for everything that he's done to impact us."

Liddy said he's known Wiley for three years through the 29-year-old's work with Delta Tau Delta to build the organization into one that is committed to bettering the Greater Boston community and redefining what it means to be a fraternity.

"He's just been such a leader and inspiration for us," Liddy said. "But more importantly, not just us, he's been a leader and motivator for the entire Northeastern community."
More than $15,000 has been raised for Wiley in just three days, and the impact the teacher has had on the Greater Boston community is evident in the dozens of messages of encouragement and solidarity left on the page.

"Stay strong," John Laputz wrote. "[Your] brothers are here for you."

"Don't give up Chris! You've worked so hard!" QinRui Pang said. "This won't stop you! Keep fighting!"

"Chris Wiley did so much for me and helped in my decision to go to NEU," shared Christian Gomez. "He made a difference in my life, so here I am giving back. Thank you Chris, and all of us in the Gomez family wish you a good recovery!"
Liddy said Wiley brings a spirit to everything he does that inspires others.

"Chris is someone who always fights for people that don't always have a voice," he said. "And it's really our job to fight back for him. He's always bringing a positive attitude, a new idea, just something very unique to the table, to always bring people together and better the Boston community. It's something people attach to and want to be a part of."

Johnson said when she rushed to Boston to see her son from her home in Las Vegas, she didn't know what to expect. He's been in the city for about nine years — staying in Boston after getting his bachelor's and master's degrees from Northeastern.
She knew her son had always been a people person, always wanting to help others. But she wasn't sure what his community was in Boston.
Since she's arrived, she said the phone hasn't stopped ringing and her son has had a constant stream of visitors.
"It is really something else," she said of the outpouring of support. "It's amazing. I had no idea Christopher touched so many lives. I had absolutely no idea. It's wonderful."
The deluge of messages and funds also surprised Wiley, who described the last few days as "incredible."
"I knew that I did a lot for the community, but I didn't realize how much until everyone told me how much they appreciate what I do for them, what I have done," he said. "Because to me, at the time, I'm just doing my part, if you will. But I've affected, apparently, tons of lives, and they're showing their appreciation."
The 29-year-old sad he's grateful for everyone who has reached out to help.  
Right now, Johnson said the focus is on making sure her son can stay independent.  
"We're working toward that," she said. "They've told us to just take one day at a time. And that's what we're trying to do."
"And of course, he wants to stay here in Boston," she said.