Local
How a 15-year-old boy allegedly murdered his mother in Maine with the help of two friends
"I know she was afraid of him."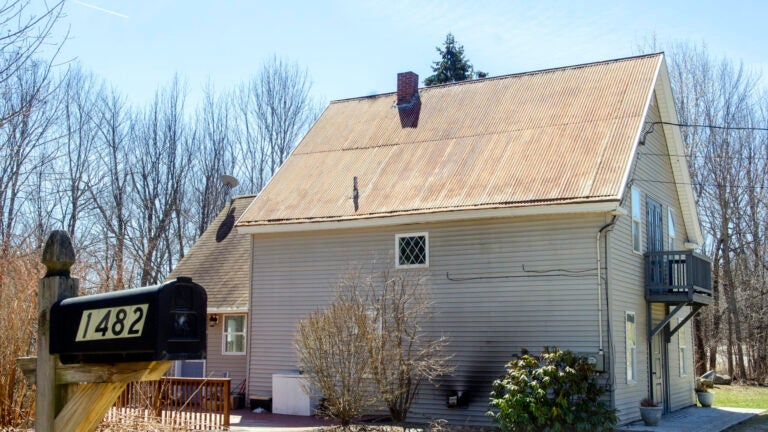 For years, Kimberly Mironovas lived with her 15-year-old son, Lukas, roughly two miles off the Boston Marathon route in the small town of Ashland. Reportedly seeking a career change, the 47-year-old mother moved to Litchfield, Maine, with her son last September.
It's not completely clear what led up to the disturbing events of this past weekend. But what we do know is that Mironovas was found early Sunday morning strangled and stabbed to death in her bedroom, and police say Lukas and two friends from back home in Ashland experimented with ways of killing her, before carrying out the murder sometime that night.
"I know she was afraid of him," Anthony Coco, the owner of the Maine cosmetology school Mironovas had been attending, told The Boston Globe. "She would not talk about him that much but when he did come up, she sounded scared."
What is the family's backstory?
Mironovas was living with Lukas at a single-family home at 1482 Hallowell Road in Litchfield, a town of roughly 3,600 people 15 miles south of Augusta off Interstate 95. She had moved there from Ashland to attend the Aveda Maine Institute, a cosmetology school in Augusta, where she enrolled last September, according to the Kennebec Journal.
"She was a little more than halfway through the program," Coco told the Augusta-based paper. "She was doing what she wanted to do."
Though Mironovas brought her son with her, Lukas reportedly kept in touch with his friends and father, Alex Mironovas, back in Ashland.
According to the Globe, Kimberly and Alex Mironovas married in 2003, but filed for divorce in 2007, at which point they had already been living separately for a year in Ashland. In court papers, Alex Mironovas was reportedly described as a "dedicated and concerned parent," who paid $900 a month in child support and had weekend visitations with his son. In a request last week, Kimberly Mironovas reportedly asked for an adjustment in her ex-husband's child-support payment, since she had full custody of Lukas and was attending school full-time.
According to the Globe, neighbors in Ashland recalled seeing a teenage boy playing basketball on weekends at his father's house on Spyglass Hill Road. Lukas reportedly had taken the train from Maine to Massachusetts as recently as last week to visit friends in the town.
Who are Lukas' two friends?
The two Ashland teens also charged in Mironovas' murder are 15-year-old William S. Smith and 13-year-old Thomas Jay Severance. Like Lukas, Smith has been charged with murder and conspiracy to commit murder, according to police. Severance is only charged with conspiracy to commit murder.
The three friends share unsettled upbringings.
Severance's father, Roxbury resident Hassan Redd, told the Globe that he had never met his son, and his son's mother, Cassandra Severance, reportedly wrote in court papers that she had no contact with Redd since her early pregnancy. Reached by the Globe on Tuesday, Redd said he had no idea his son was under arrest.
"I haven't seen my son, period," he said. "I pay child support and I don't even know what my son looks like."
Kevin Sullivan, an attorney to Severance, told the Kennebec Journal that the seventh grader is "completely distraught over what happened."
"At this point he needs to work through it," Sullivan said. "He's 13 years old, and someone died in the home where he was."
According to the Globe, court papers say Smith's father, Christopher G. Sandoval, sought emergency custody of his son in 2005. The request came after Everett police and state authorities allegedly learned that Smith's mother, Morgan Smith, was injecting heroin in front of her young son and had overdosed in his presence.
Walter McKee, Smith's attorney, spoke at length Monday to the Globe, stressing that his client is still "a little kid." Neighbors recalled the 15-year-old as a polite boy.
"I just can't fathom that Will had any part in it. He's certainly not like that," Gayle Donnell, who said Smith helped her family with regular chores, told the Globe Tuesday. Donell said she gave Smith and another friend a ride to the commuter rail station to pick up Lukas on April 15.
What do we know about Lukas?
According to the Kennebec Journal, all three boys had attended school together in Ashland, but Lukas had not been a student in the district since the 2009-2010 school year, when he would have been 6 or 7 years old. The Maine paper previously reported that Lukas was not enrolled in Litchfield's regional school district and that it was unclear if he was attending school elsewhere.
What does appear clear however is that Mironovas had deep concerns about her son.
Sage Arlene Lockhart, a cosmetology school classmate, told the Kennebec Journal that Mironovas had mentioned that her son had anger issues and had apparently threatened people.
"She did talk to me about her son, like how he's threatened people before, stole money, had anger issues, broke his laptop, etc.," Lockhard told the paper Tuesday.
Coco told the Globe it wasn't unusual for Lukas to have outbursts, though others said he wasn't outwardly aggressive.
"He was a little different," an unidentified former neighbor of Mironovas in Ashland told the Globe. "I know the family is going through a tragedy right now, so I don't want to say anything. Let's just say he was a little different."
So what allegedly happened this past weekend?
Coco told the Globe that Mironovas left school early Saturday flustered, after Lukas had apparently started an illegal bonfire at their Litchfield home. From that point on, the timeline gets hazy and disquieting.
Courts records reportedly allege that Severance, Smith, and Lukas decided to kill Mironovas at the Litchfield home on Saturday.
First, they plotted to crush prescription pills and put a fatal dose in Mironovas's wine, effectively poisoning her, according to the records. But after they tested the idea, they learned the powder would still be visible in the glass, law enforcement officials wrote.
"After the crushed medication failed to dilute sufficiently in liquid, Thomas Severance, William Smith and Lukas Mironovas discussed causing Kimberly's death by other means: stabbing and strangling her," the filings said, according to the Kennebec Journal.
Officials say that sometime early Sunday morning, Lukas "armed himself with a knife and donned a mask and gloves" and Smith put on gloves. Both of them then went up to Mironovas' bedroom, where she was sleeping, to carry out the killing, according to authorities.
"Both Lucas Mironovas and William Smith strangled Kimberly Mironovas," court papers said. "Lukas Mironovas also stabbed Kimberly in the neck."
Officials say the 13-year-old Severance participated in the murder's planning, but was not involved in the actual killing.
The Kennebec Journal reported Sunday that police discovered Mironovas' body around 2 a.m. Sunday, though officials have not said who it was that called them to the house. All three teenagers were reportedly taken into custody early that morning by Maine State Police.
It's still unclear what allegedly motivated Lukas and his friends to plot the murder.
What happens next?
All three boys appeared in court Monday to face charges. According to the Kennebec Journal, nine family members of Mironovas attended the hearing, but declined to speak to the media and requested not to be filmed by TV cameras as they left the courthouse.
Prosecutors are seeking to try the three teenagers in adult court, where, if convicted, they would face a sentence of 25 years to life imprisonment. If the cases are handled in juvenile court, they would be released once they turn 21 years old.
Meg Elam, a state assistant attorney general, said defendants must first undergo mental health competency evaluations in order for their cases to be tried in adult court, according to the Kennebec Journal.
The three teenagers will reportedly continue to be held at Long Creek Youth Development Center, a juvenile detention center in South Portland, for the evaluations. Elam said the next hearing would not be for months.