Local
This small Somerville brewery planned a 'The Office'-themed trivia night. Mild chaos ensued.
"We had friends out in the Berkshires and New Hampshire tell us they were coming in for it."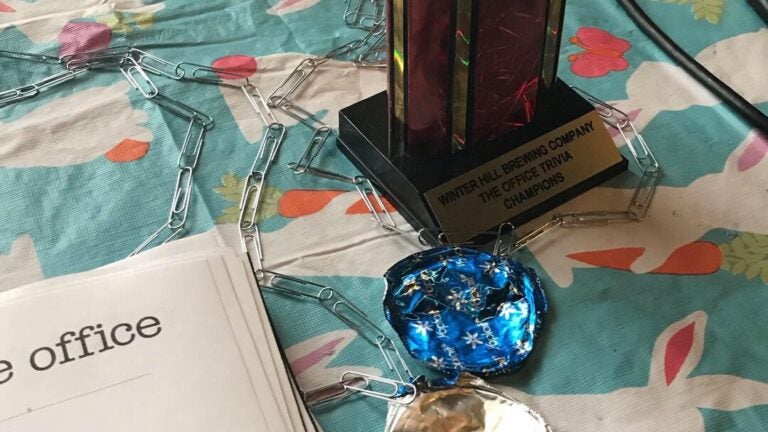 Bears, beets, Battlestar Galactica… beers?
Yup, Winter Hill Brewing Company, a two-year-old brewery in Somerville, brought them all together Wednesday for a The Office-themed trivia night, complete with Dundie awards and yogurt-lid medals. The only problem? The idea was shaping up to be too popular for the small brewery's own good.
Nick Murphy, Winter Hill's "Account Manager/Marketing Dude" (yes, that's his official title), says the idea originated when he was on a bike ride with his friend Andy, who was in the throes of an Office marathon. Like any other self-respecting super-fan of the acclaimed workplace sitcom, the two spent much of the ride yelling Michael Scott quotes back and forth at each other.
"After a few more bike rides and sort of one-upping each other on trivia knowledge, we thought that maybe some other people would be interested," Murphy said.
They were more than correct in that line of thinking.
Murphy took the idea to the rest of the brewery's team, and, earlier this month, they announced they would be holding a The Office Trivia Night.
"Think you know what bear is best or the conversion rate of Stanley Nickels to Schrute Bucks?" read its Facebook event page, promising a night of deep-cut jokes for the show's legions of fans.
Murphy says the initial response was encouraging, but then things began to snowball. Though not necessarily a novel idea (even in Boston, other bars have hosted The Office-inspired trivia before), for some reason the event was all over the place. Within a few weeks, it became clear it might be too much to handle for the brewery, which has a maximum capacity of 85 people.
"We had friends out in the Berkshires and New Hampshire tell us they were coming in for it," Murphy said. "That was sort of when we knew we had something cool on our hands. We thought it would be a super packed night, we didn't know it was going to blow up the way it did."
More than 3,000 people said they were interested in the event on Facebook. The number who said they planned to attend topped out near 700, Murphy said. Even if only a fraction of the people who registered interested actually showed up, there would have been lines down the block.
"I kinda thought it would be a good night," Murphy said. "But having close to 700 people coming, we were like, 'OK, we need to figure this out.'"

Hoping to avoid upsetting regular customers and a potential public relations disaster, the brewery scrambled to find a way to handle the response. Murphy says they considered everything from a raffle to multiple seatings before settling on making the night a $20 ticketed event (with proceeds going to a local charity). They also announced they would hold a second The Office trivia night on May 14.
However, when they sent out the ticket link last Monday, the rush of demand effectively crashed the Eventbrite page. Facebook users who said they clicked the second the link was posted complained they never even had the chance to buy a ticket.
"The website couldn't handle the traffic and kept listing tickets as unavailable, booting people from checking out or not giving a response at all. In fact when I shared the ticket URL, I couldn't even have gotten a ticket myself," Murphy said.
The result of the snafu was a stream of more than a hundred The Office fans in the comments, often venting their frustrations in show quotes and GIFs.
"Thanks for getting my hopes up Winter Hill Brewing Company," one commenter wrote, invoking Michael Scott. "Why are you the [way] you are? I hate so much about the things that you choose to be."
Murphy says the problem was accentuated due to the fact that they sold team tickets. While it ensured that people would be able to play with their friends, it also further limited the number of tickets available. As a fellow super-fan of the show, Murphy said he felt "awful" reading through each of the notes on Facebook.
Murphy said the brewery is working on a way to run the tickets for next month's trivia night to make the process "a little more fair and accessible for everyone."
But for all the hiccups, Murphy said things went "great" when the brewery opened its doors Wednesday night. If the premise of having a few beers and reminiscing about The Office with friends already sounds appealing, the addition of everything from the creative team names to the show-inspired T-shirts and playlist really made the event a night to behold, he said.
As they try to work out ticketing, Murphy says he doesn't know if they'll make The Office trivia a regular, recurring event, but it's not for a lack of material.
"It seems we certainly could go on forever," he said. "We have enough questions right now for two or three more nights, and that's just based off of questions we've asked each other on our bike rides."