Local
Marijuana shops become legal in Massachusetts in less than two months. Here's what to expect.
July 1 has been the long-anticipated date for recreational pot sales, but the wait could be longer for some.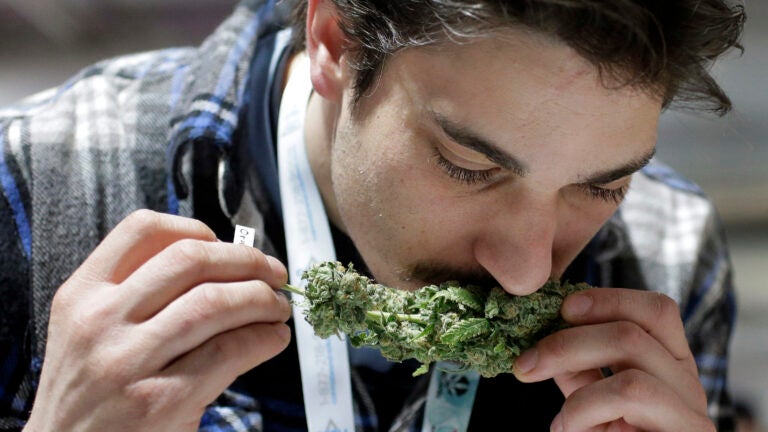 Exactly 600 days after Massachusetts voted to legalize recreational marijuana, the state's first pot shops will finally be allowed to open their doors. But will they?
The July 1 starting date for marijuana sales isn't as cut-and-dry as some may think, and residents shouldn't expect scores of recreational dispensaries to immediately throw open their doors on that particular day (a Sunday, no less).
"July signifies a starting point, not an end point, for the evolution and growth of this industry," Steve Hoffman, the chairman of the state's marijuana regulator, the Cannabis Control Commission, told Boston.com in a statement Thursday.
With that starting point less than two months away, here's what to expect from the sprouting retail marijuana market in Massachusetts.
What exactly is the significance of July 1?
July 1 marks the earliest possible day that licensed businesses can legally sell recreational marijuana to adults over 21. Under the voter-approved legalization ballot measure, sales were originally slated to begin on January 1, but lawmakers decided to push back the date six months to allow the state more time to work out the nuances of regulating the new industry.
The new July 1 date is tied to April 1, which was when the Cannabis Control Commission could begin accepting and reviewing license applicants. The CCC has to make a decision on license applications within 90 days.
Under the new rules, the commission first accepted applications only from already-registered medical dispensaries and applicants under the law's economic empowerment program, which is intended to promote opportunity in communities disproportionately harmed by marijuana prohibition and enforcement. The CCC then began incrementally accepting other categories of applicants in the following weeks. License applications for all retail stores open June 1.
The commission reportedly received nearly 200 applications on the first day — 77 from medical marijuana companies and 113 from economic empowerment applicants.
That seems a like a good number. So should they all be up and running in July?
Not quite. Hoffman expects the market will be "sparse" on July 1.
"There are going to be some number of people that are up and running that have all the municipal approvals necessary and have the ability to have supply. It's not going to be a large number," he told the State House News Service this week.
Hoffman added that he doesn't expect the industry to get fully off its feet for six to 12 months after July 1.
What's the reason for the slow start?
First, new marijuana shops need a supply to sell, and the CCC won't be approving retail or cultivation licenses until June 1 at the earliest. In the meantime, only registered medical dispensaries can grow marijuana plants and not all of the state's 24 medical outlets plan to immediately enter the recreational market.
Once additional licenses are approved, growing a marijuana plant can take up to several months. Thus, the only stores expected to have a supply of marijuana ready to sell in July are medical dispensaries that were granted retail licenses.
Second, more than half of the towns in Massachusetts have at least temporarily, if not indefinitely, banned retail pot shops from opening within their borders. Additionally, any marijuana establishment must show that they have done local outreach and reached a host community agreement in order for the CCC to approve their license.
"Given the realities of having to go through the municipal approval process as well as obtaining supply, I think it's fair to say it's not going to be on every street corner of every city and town in Massachusetts," Hoffman told the State House News Service.
In his statement to Boston.com, Hoffman said "the goal of having retail establishments open in July has not changed." However, he said the exact number depends on several factors: the number of sufficient license applications, the commission continuing to meet its deadlines, and applicants meeting the obligations of their required host community collaboration.
Say I am able to buy some recreational marijuana. Where can I smoke it?
Adults over 21 have been able to legally possess and consume recreational marijuana in Massachusetts since December 2016 — and those rules don't change when it becomes legal to sell it, too.
It continues to be illegal to smoke or consume marijuana in public. Public and private property owners are allowed to restrict or ban its use, as they already can do with alcohol or tobacco. Landlords can also prohibit tenants from smoking marijuana — as they can when it comes to smoking in general — buy they cannot ban the consumption of marijuana in other ways, whether it be edibles or tinctures.
Wait, if I'm a renter, and I can't smoke pot in public or at my home, where can I smoke it?
If that's the case, there is some good news and some bad news.
The law passed in 2016 allows for different types of "social consumption" establishments, such as "cannabis cafes" that primarily serve marijuana or even restaurants, movie theaters, or yoga studios that incorporate it into their principal business. That said, these establishments would be prohibited from serving or allowing the consumption of alcohol at the same time as they do marijuana.
Massachusetts would become the first state in the country to allow such social consumption establishments.
Unfortunately for those hoping to visit Amsterdam-style "coffee shops" in the Bay State, the CCC (under pressure from lawmakers) decided to delay the licensing of businesses where customers can buy and consume marijuana onsite for at least another eight months. Under the commission's final regulations, all social consumption establishments will continue to be prohibited as the first phase of the retail pot industry gets on its feet. Gov. Charlie Baker had urged regulators to roll out the new industry slowly.
"I think the experience coming out of both Colorado and Oregon has been that this is a very tough industry to regulate straight out of the gate, and people should crawl before they walk and walk before they run," Baker told reporters in February.
When it comes to such establishments, the commission has cited concerns about addressing impaired driving, preventing underage access, and consumption limits. CCC members have given themselves until the end of October to collect more information and say they will adopt regulations for the sites by the end of February 2019.
The commission has also delayed licensing of marijuana delivery companies, citing concerns about age/identity verification and distance limits. They have given themselves until the end of February to work out rules for home delivery as well.
Hoffman says they're committed to "standing up a safe, equitable, and efficient adult use cannabis industry." And even though the commission has hit its deadlines, it might just take a bit longer to fully accomplish that goal than some residents thought after the law passed in 2016.