Local
Closing time comes for Allston neighborhood pub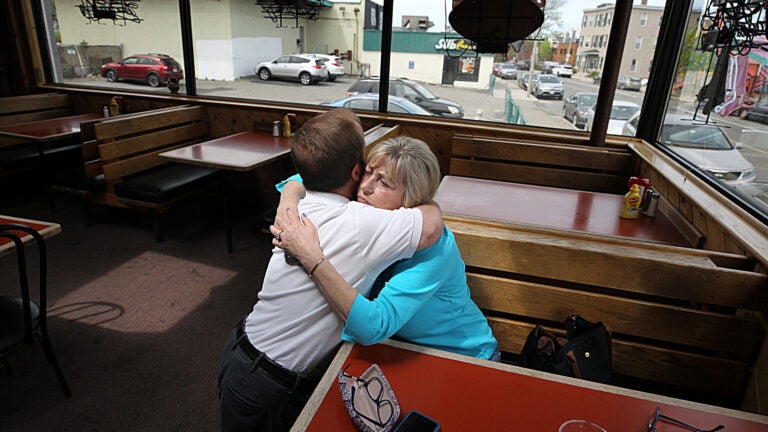 In some ways, it was just another lunchtime rush at the Bus Stop Pub: Joyce Hynds carried plates of fried clams and Delmonico steak to the regulars seated at the bar and the construction workers in the booths, while Linda Gillis cracked open bottles of Bud Light and Miller.
But this was not just another lunchtime: Hynds was crying as she worked, and hugging every customer she served. After 38 years, the Bus Stop will close Saturday, and Friday was a time to mourn the disappearance of a classic Boston institution — the blue-collar neighborhood bar — and the changing makeup of the Allston neighborhood that once sustained it.
"Not too many neighborhood bars left,'' said Gillis, who has tended the Bus Stop bar for 29 years and met her husband, Frank Harrington, when he was the cook, turning out London broil in the little kitchen in back. "It's terrible. I'm trying not to cry.''
With its wooden booths with red plastic tops, wire rack of chips and pretzels hanging over the cash register, Keno machine, jukebox, and pool table, the Bus Stop drew neighbors for beers and burgers, and softball teams thirsty for a round after games on the playing fields near Harvard Stadium. But the flow of customers slowed, Hynds said, as Allston has been transformed by Harvard's expansion over the Charles River and an influx of upscale businesses and condos. A podcast studio now sits across Western Avenue from the pub, and a Trader Joe's and a luxury apartment building have opened nearby.
"A lot of the walk-in business is gone,'' said Hynds, 60, whose father-in-law opened the Bus Stop in 1980 and who owns the pub with her husband, Steven. "How can we survive with this never-ending building all around us?''
Rather than try to reinvent the Bus Stop with a fancier menu, Hynds said, she and her husband decided to sell the business and move on. "When an offer came to us, we realized it was time,'' she said.
She wouldn't discuss the buyer or the sale price. Harvard — which is planning to build an "innovation district'' in Allston with offices, labs, a hotel, and conference center — dismissed neighborhood speculation that it is purchasing the property. Whatever comes next, Bus Stop regulars know it is the end of an era.
"The whole neighborhood is changing — and not for the better,'' said Mark Lydon, 53, who has been coming to the pub for years and hugged Hynds on Friday. "I'm really tired of it.''
He recalled other favorite haunts that have shut down with the changing times — Brigham's, Friendly's, Imperial Pizza.
"I don't know why this happens,'' he said. "It used to be a neighborhood. Not anymore.''
Kennedy Elsey, 47, a host at Mix 104.1-FM, said she has been coming to the pub for nine years, usually for a drink after her show. She pulled out a picture on her phone of Jack Clifford, the bartender who has worked there since 1980, reaching over the bar to give her her first space-saver — an orange traffic cone — when she moved to South Boston years ago.
"It's a place where you could come and hide and no one knew who you were. And if they did, they bought you beers,'' she said as she drank a Bud Light. "Everyone here is nice, which is a rarity in Boston.''
Plus, she said, the mozzarella sticks were good, and "I can come here and have a beer at 10 a.m. and not be judged.''
A clapboard box with tinted windows, the Bus Stop is an unassuming throwback to the 1980s — with sports memorabilia featuring Larry Bird and Carl Yastrzemski. Adorning two walls are the faces of dozens of regulars who paid an artist $20 to paint their portraits back in 1993.
Hynds said neighbors always knew they could come to the Bus Stop for birthdays and anniversaries, or after funerals.
"That's what I was always about — the community,'' she said. "Everybody could call us knowing they had a place to come and have a gathering.''
Donald MacKenzie, 60, a retired HVAC technician, has been going to the Bus Stop since it opened, to watch Patriots games or to meet friends he knew growing up. On Friday, he had an eerie feeling, he said, as he sat at the bar for the last time, eating a fisherman's platter and drinking a Coke. Behind him on the wall was his portrait, along with those of his three brothers, who also grew up in Allston.
"It's sad to see it go,'' he said. "It's just the camaraderie of the neighborhood friends that we grew up with. It's an emotional thing for a lot of people.''
Hynds said she has been crying all week.
"You think the hardest part is opening your business,'' she said. "And I've come to find out, the hardest part is closing your business.''