Local
Man charged in deadly hit-and-run: 'People hit and run people all the time'
Phocian Fitts was arrested Wednesday after giving an interview with a local television station.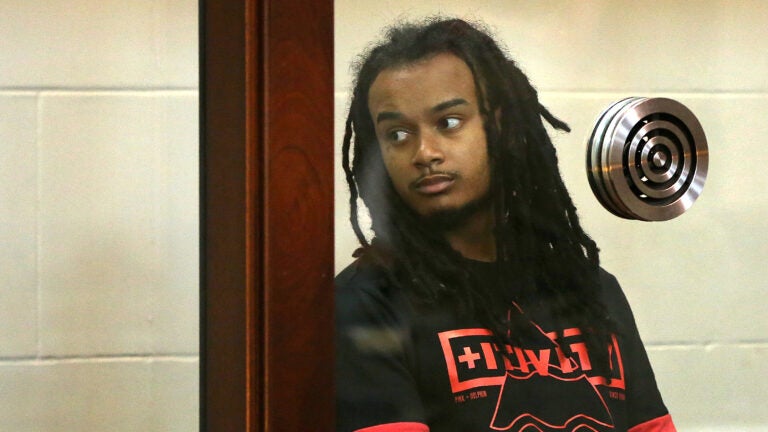 "Accidents happen."
That's what 23-year-old Phocian Fitts said in an interview with Boston 25 News Wednesday, admitting to the station's reporter that he had struck an elderly man crossing Commonwealth Avenue in Brighton earlier in the day.
Boston police say they responded to a report of a pedestrian struck by a car near 1316 Commonwealth Ave. in Brighton around 12:50 p.m. on Wednesday. Officers at the scene found an 80-year-old man suffering from life-threatening injuries. The man, who authorities have identified as Theodore Schwalb, later died at a local hospital.
After the crash, police immediately asked the public for help in searching for the driver who did not remain at the scene.
According to Boston 25, police identified Fitts as a person of interest and questioned him, but he was initially released without being charged. He was arrested after the interview he gave with the station aired around 10 p.m., Boston 25 reported.
The Suffolk District Attorney's office said in a statement Thursday afternoon that investigators had been continuing efforts to determine who was driving the car on Wednesday when the 23-year-old's "admissions" in the television interview caught their attention.
"Late last night, investigators became aware of Fitts' statements broadcast by a Boston news outlet admitting his role and his knowledge that he had struck a pedestrian," the DA's office said. "Based on those admissions – which corroborated physical evidence, witness interviews, and other information gathered through the afternoon and into the night – Boston Police placed Fitts under arrest at approximately 10:30 p.m."
"People hit and run people all the time," the 23-year-old Brighton man told Boston 25.
He said he wasn't under the influence when he was driving the car.
"I was listening to my music, but, as I'm driving, I'm driving too quick," Fitts said. "So I'm driving too quick to the point where it's like I couldn't really stop, but it was a green light. So as the guy was walking — the light is green, I'm driving, and I'm pressing the horn, pressing the horn, beep, beep, beep, beep. It was either I was going to die and crash into a pole, so when it came down to it, man — accidents happen, man."
The DA's office said footage from a dashboard camera that captured the crash revealed that Fitts did not "brake before or after the fatal collision" with the 80-year-old walking in a crosswalk.
"Accidents happen…people hit and run people all the time." Driver making no apologies in hit & run crash that killed 80 year old man in Commonwealth Ave crosswalk #Boston25 EXCLUSIVE coming up pic.twitter.com/TPkbDN4yg6

— Drew Karedes (@DrewKaredes) June 7, 2018
"I'm a real gangster, not in a bad way," Fitts added. "I'm a gangster because I help out the community and I look out for the youth."
Sources: statements made by driver in fatal hit & run in exclusive #Boston25 report led to arrest minutes later. Police initially led Phocian Fitts go today after police questioning pic.twitter.com/626Topmnf7

— Drew Karedes (@DrewKaredes) June 7, 2018
Boston police said Fitts was charged with motor vehicle homicide and leaving the scene of an accident after causing death. According to The Boston Globe, the 23-year-old pleaded not guilty to the charges Thursday in Brighton Municipal Court.
His bail was set at $10,000 cash, according to the DA's office. If he posts bail, he'll have to wear a GPS device, and he has been ordered not to drive.
The vehicle involved in the crash was registered to Fitt's mother, and, when police went to her home, she told officers the SUV was hers, that it was parked nearby, and that her son had been the last one to drive it, the Globe reports. She also told police that her son "hit something" and that he was upstairs.
Fitts was then taken in by Boston police for questioning, but was released after he declined to be further interviewed by police upon advice from an attorney, according to the newspaper. Once released, he spoke with Boston 25.
Schwalb worked as an art teacher at Stoneham High School for 40 years, before he retired in 2000, according to the Globe.
Donna Cargill, the current principal of the high school who previously worked with Schwalb, told the newspaper that the former art teacher was "a foodie" who "inspired many of them to be better people and artists."
"He was a funny guy who embraced life,'' she said. "He was a character."