Local News
When will cannabis cafes open in Massachusetts and what will they look like?
Bay Staters will soon be able to buy marijuana, but they still will have to take it home to consume it. Regulators say that will change; it's just going to be a bit of a wait.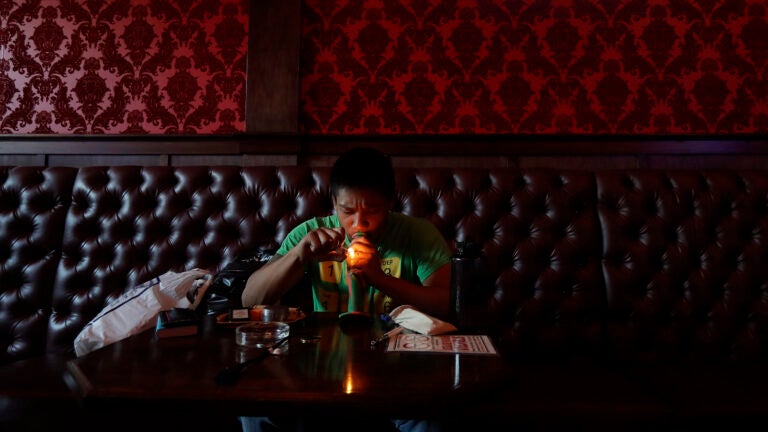 Imagine if alcohol was legal, but bars were not.
Sure, you could drink legally in your home, and there would be designated stores where you could buy beer, wine, and liquor. But there wouldn't be any businesses — no bars, no restaurants, no music venues or theaters — where you could buy a pint and actually drink it.
That's what the new recreational marijuana market in Massachusetts will be like for at least its first year.
The 2016 ballot question legalizing marijuana allowed the state to license "cannabis cafes" and other social consumption establishments, where adults can purchase and consume marijuana on the premises. But even though retail stores are set to (slowly) begin opening next month, Bay State residents still have a while to wait before they'll see any Amsterdam-style cafes where they can gather and light up a joint.
Under the marijuana industry regulations approved in March, the Cannabis Control Commission will not license any social consumption establishments, or weed delivery businesses, until at least well into 2019 — if ever.
So when could they arrive?
The agreement to stagger the rollout of the state's new industry came after Gov. Charlie Baker, Attorney General Maura Healey, and other lawmakers urged the commission not to simultaneously begin licensing social use establishments and delivery services with retail stores this July, as they had initially planned.
"I think the experience coming out of both Colorado and Oregon has been this is a very tough industry to regulate straight out of the gate, and people should crawl before they walk, and walk before they run," Baker, who opposed the 2016 referendum, told reporters in February.
Baker's administration raised concerns that licensing social consumption establishments could lead to more people driving under the influence of marijuana, as well as more minors accessing the drug.
The commission subsequently agreed on a compromise to delay social use and delivery licensing, giving it more time to study those concerns. It gave itself an explicit deadline to revisit the subject, after collecting more information, by Oct. 31 and to adopt regulations by the end of February 2019.
CCC officials say the decision was based on the 10 public hearings they held throughout the state and nearly 500 public comments they received prior to their final regulation discussions.
"It was clear looking at the feedback that there was hesitance and lack of confidence in how the process will play out and I think it's important for our commission to develop relationships where people feel that they can trust us, they can look to us to be answering the questions and addressing the concerns that they have," Shaleen Title, a commissioner, told the State House News Service at the time.
The CCC says it's difficult to predict when exactly the first licenses for social consumption would be issued. But officials note that the commission adopted its regulations for retail establishments this past March, but did not start issuing licenses until June 1. Perhaps a similar timeline would take place for the licensing of social consumption establishments in 2019.
When (or if) the commission does being issuing social use licenses, they will only be available to applicants through the CCC's equity program — which seeks to redress the disproportionate harm done by the war on drugs to marginalized communities  — and craft cooperatives for an unspecified period of time.
Until then, what will the commission be studying?
According to public documents, the commission plans to look at ways to address concerns about impaired driving and underage access, which have been two of the public safety issues most consistently raised by legalization skeptics in general.
They'll also look to tackle the issue of smoking versus vaping and other means of consumption like edibles and concentrates, especially since Massachusetts has a statewide ban on indoor smoking.
In San Francisco, one of the few places in the country with true social consumption establishments, city officials have been working to finalize regulations to protect workers from secondhand smoke. According to the Associated Press, the lounges are already required to install expensive heating, ventilation, and air conditioning systems to prevent the smell of marijuana from leaking outside and bothering neighbors.
In Massachusetts, though marijuana will be sold in single servings, the CCC will also have to decide about setting limits on the amount of time one can spend and the maximum they can consume during a visit. Establishments would be held to certain operational requirements on how to detect people who have gotten too high.
Anyway, there's a lot of minutiae to work out.
Andrew Livingston, a Denver-based lawyer who specializes on marijuana policy, says lawmakers will also have to consider things like if patrons will be prohibited, like at bars, from taking their purchased weed off the premises — and whether they would even be able to enforce such a rule, whatever its merits.
"It's easer to hide a gram of cannabis in your pocket, than it is a can of beer," he said.
Speaking of which, businesses that sell marijuana for social consumption would not be allowed to sell alcohol. That may restrict the types of businesses — notably, restaurants — that apply for licenses. Livingston says that regulators may have to grapple with the fact that people may consume alcohol and marijuana together, even if the businesses are segregated.
"Right now people are just leaving the bar to use their vape pen," he said. "A lot of cannabis regulation is realizing that this activity has been going on for a long time, and bringing it above board."
What will these establishments look like?
In Amsterdam, cannabis cafes come pretty much as described.
"It's a place that looks like if you took a normal cafe or nice juice or coffee bar, and added in the ability to sell cannabis flower and consume it on site," Livingston said.
And while the alliterative cannabis cafe is perhaps the most commonly mentioned term, social consumption establishments could take a variety of shapes and forms — from restaurants and movie theaters to spas and yoga studios. In January, the CCC made speculative mention of a "massage studio that uses cannabis-infused lotion." Livingston says he's even heard talk of arcades and laundromats where social consumption is allowed, though none have been licensed yet.
The commission has designated two categories of social consumption: primary use and mixed use. Licenses for primary use establishments would be given to businesses that derive 51 percent or more of their average monthly revenue from the sale of marijuana products to be consumed on site, while mixed use licenses would be given to businesses for which marijuana consumption is effectively a side offering.
There are more than 200 cannabis cafes in Amsterdam, but the examples are few and far between in the United States.
Massachusetts would be the first state in the country to license social consumption establishments statewide, though, like retail pot shops, they would be subject to municipal bans and restrictive zoning requirements. California allows towns to issue licenses for dispensaries with designated consumption lounges; Livingston says he estimates about a half dozen, including San Francisco and West Hollywood, have done so.
Barbary Coast, a social use dispensary in San Francisco, sells cannabis flower, pre-rolled joints, vape cartridges, edibles, and topicals to be consumed in its lounge. There's even a "dab bar" for concentrates. According to the AP, customers buy what they want from the dispensary's counter and then settle into a booth to consume their purchase inside the TV-adorned brick walls. The dispensary also reportedly offers bongs, joint rollers, and other tools to customers who spend more than $40.
But despite the fact that 10 states and Washington, D.C., have legalized recreational marijuana for adults, most consumers don't have the option to buy and consume it in one place. Denver passed an initiative in 2016 to allow cafes and restaurants to seek permits to allow customers to consume marijuana on site, though they will have to purchase it elsewhere. The city received its first application in January.
"It's BYOC," Livingston said.
For now, not even that is an option in Massachusetts. Unless they're in California, Colorado, or the Netherlands, Bay Staters will have to leave their legal cannabis at home.