Local
Could this be the first recreational marijuana dispensary in Massachusetts?
"We feel like we're ready to go."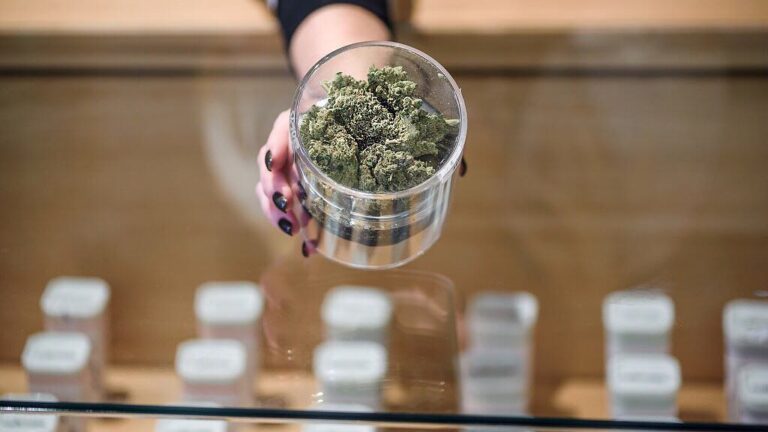 It's (maybe) happening.
Massachusetts regulators are poised to license the state's first recreational marijuana shop. According to the agenda for the Cannabis Control Commission's meeting Monday, the agency plans to vote on issuing its first retail license to Cultivate, a medical marijuana dispensary in Leicester that opened last December.
"Our whole team is just ecstatic right now," Sam Barber, the president of Cultivate, said over the phone Thursday evening.
Barber says the company has been busy trying to prepare for the wave of customers, if they do turn out to be the first adult-use retailer to open.
"We're looking at building up our inventory as quick as we can," he said.
Currently located on Route 9 in the Worcester County suburb, the "seed-to-table" dispensary grows, processes, and sells its product all out of a single facility. The menu for their current clientele of medical-use patients includes 12 strains of marijuana flower; 10 different vape-pen cartridges; pre-rolled joints; edibles, including macaroons, cookies, and confectionary cubes; tinctures; and even THC-infused lotion and lip balm. Barber says they're also about to launch a new line of cannabis-infused beverages.
If approved Monday, Cultivate would be the first licensed retail business in the state, but that doesn't mean they can immediately begin recreational sales.
The license would be provisional and final approval would be conditional on the company passing a few final hurdles, such as staff being fingerprinted for background checks and undergoing building inspections.
Retailers like Cultivate also cannot begin sales until the commission licenses at least one independent testing laboratory. That's because the CCC's regulations mandate that all marijuana products must be able to be lab-tested before they can be sold. So far, zero labs have even submitted a complete application and just one has begun the process.
CCC Chairman Steve Hoffman told WBUR on Wednesday that he expects three labs already working with the state's medical marijuana program to apply "very quickly." The commission formally voted Tuesday to expedite all lab applications they receive on or before Aug. 1.
"Once they get their licenses, they're pretty much ready to go, because they already have the labs up and operating," Hoffman said of the three labs he expected to apply soon. "But we can't force anybody to apply."
Barber says he's confident that the company, as an already-licensed medical marijuana dispensary, should pass the final hurdles. And once the state signs off, he says the dispensary has the capacity to almost immediately begin sales, though he couldn't give an estimate what the exact timeline would be.
"We feel like we're ready to go," Barber said. "We have the product. We have the inventory. It really comes down to the labs."
The scheduled vote Monday comes a day after the July 1 date on which licensed recreational marijuana stores can legally open for business in the state. They won't. The commission has yet to issue any retail licenses, as businesses navigate the multi-step application process and widespread local bans.
Hoffman said back in May that he expects the recreational marijuana market in July to be "sparse" and that it would likely take another six to 12 months for the industry to fully get off its feet. In his WBUR interview Wednesday, he said the initial rollout of the market would happen over the next two months.
"We have to get cultivators started, we have to get manufacturers started, retail stores have to get licensed," he said.
The CCC provisionally issued the state's first-ever recreational marijuana license to a Milford cultivation facility last week. As of Tuesday, the commission had received 18 completed retail applications and 61 overall application for adult-use cannabis businesses.