Local
The community meeting on the proposed Starbucks in the North End got heated
"If the City of Boston lets you guys get in, they've stabbed us in the back."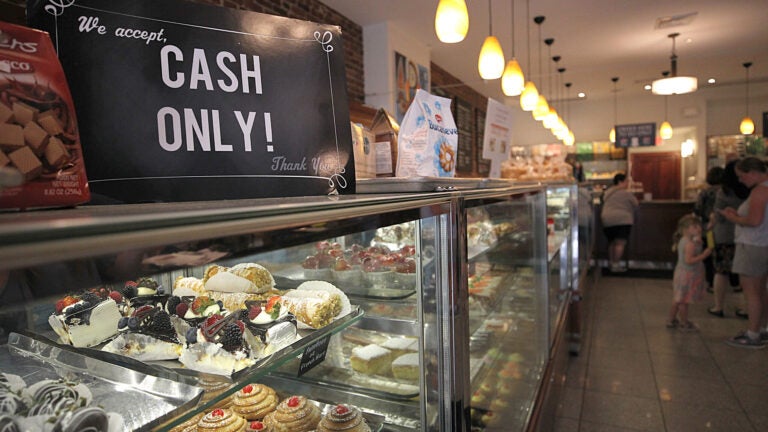 North End residents were out in full force — and at full volume — at Thursday night's public meeting to discuss the proposal to bring a Starbucks to the neighborhood's entrance.
Inside a packed room at the Nazzaro Center, representatives from the national coffee chain and Charter Realty, the firm proposing to bring a Starbucks to 198 Hanover St. as part of a larger retail development, met face-to-face with local North End residents and business owners.
To say residents are not enthralled with the idea of the Starbucks logo superimposed on the face of the historic neighborhood would be an understatement.
"We don't want you, all right? Plain and simple," John Picariello, the owner of Modern Pastry, said. "We're telling you, it's not a good fit."
The owner of Boston's Modern Pastry speaks out against Starbucks moving into the North End at meeting tonight, "…my family's been in the North End for 85 years". More at 11p on @wbz pic.twitter.com/6toZhZfra7

— WBZ | CBS Boston News (@wbz) June 29, 2018
The meeting, during which a city official repeatedly (and unsuccessfully) asked attendees not to applaud, went on for more than two and a half hours, as resident after resident stood up to give their opinion on the proposal. NorthEndWaterfront.com published footage of the complete event on their website Friday morning.
Starbucks is just one part of Charter's plan to overhaul the Cross Street stretch between Hanover and Salem streets, giving the North End a more "appealing" entrance.
"It's really been an eyesore," Dan Toscano, a North End resident and lawyer representing Starbucks, said at the meeting Thursday.
In an email Thursday, a Starbucks spokeswoman said they're working to make sure that the location reflects the "history and character of the community."
"The store's design will focus on the local community and will include unique features to compliment the dynamic neighborhood and community gathering space," the email said.
"We tried to come up with a concept that works for us, is financially viable, and is sensitive to the neighborhood," Karen Johnson, a Charter employee, said at the meeting.
The "North End Piazza" development would include two other retail storefronts, a Citizens Bank (which would be moved from the Hanover Street corner where the Starbucks would be located) and a restaurant, which the plan's backers said they hoped would be locally owned. The project also calls for more pedestrian space, public seating, and an "Italian heritage monument."
However, the attempt to pay tribute to the local Italian-American community did not go over well with residents Thursday.
"To be very honest with you, using the word piazza is insulting to me as an Italian. It's not a piazza," said Jeff Cerace, the co-owner of the 112-year-old North End liquor store V. Cirace & Son.
"We've gone through this exercise already, and it's great for you to schmooze this community, specifically the Italian community, with a heritage plaque and you calling it a piazza," Cerace said. "But in reality, it's going to have outdoor seating for Starbucks and possibly a restaurant, which may not be from anyone in the neighborhood."
Local restaurateur Damien DiPaola was also incensed.
"You're going to commemorate Italian heritage with a Starbucks at our entrance?" DiPaola said. "Am I the only one who thinks that's crazy?"
DiPaola called the project a "disgusting" affront to the immigrant-built neighborhood.
"This is a slap in the face to what this country is about," he said. "If the City of Boston lets you guys get in, they've stabbed us in the back."
To much applause, DiPaola offered to lead a crowdsourcing effort to construct a locally backed North End "piazza" (Charter already has secured permits for the larger construction plan).
"I'll put up $50,000, and I'm making the commitment right now," he said.
"Mayor Walsh don't let this happen to the North End!" #WCVB @Starbucks @marty_walsh pic.twitter.com/ZnCxA6KGAI

— Matt Reed (@MattReedNews) June 28, 2018
DiPaola was followed by a long line of residents and business owners who stood up to voice their opposition to the proposal, raising a wide range of questions and criticisms — and sometimes just plain insulting the chain's coffee.
"Stay out of the North End, because you cannot make coffee better than us," one woman said.
Maria Lanza, the official from the mayor's office who presided over the meeting, spelled out after everyone spoke that the plan is far from a done deal. The proposed Starbucks location still has to be approved by several city boards, which will vote on the proposal.