Local News
Mary Shertenlieb crossed the Boston Marathon finish line after midnight. She's running New York next.
"I felt this way before Boston. It's like you're sitting at the top of a roller coaster waiting for it go."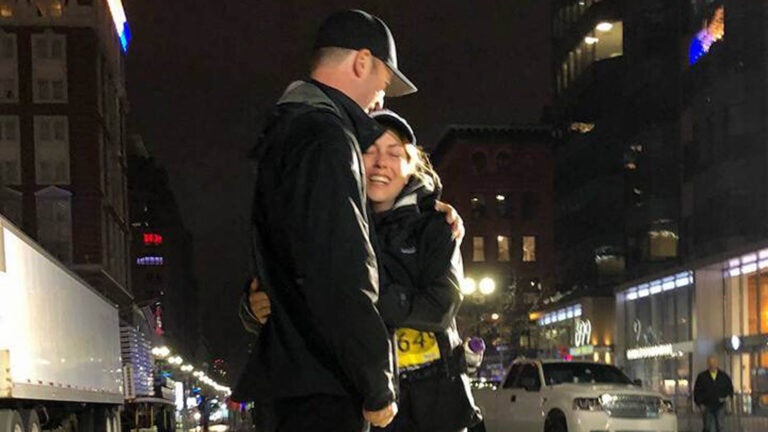 Mary Shertenlieb didn't think she'd run another marathon this year.
Back in April, she was one of the thousands of runners who battled brutal rain and cold on the 26.2-mile race from Hopkinton to Boston. At the 15.5-mile mark, the mother of two — who endured multiple rounds of chemotherapy and a bone marrow transplant to fight off cancer three times in the last five years — decided to stop because of the cold.
But she returned to the course hours later to finish the race, accompanied by her husband, Rich Shertenlieb, one of the hosts of 98.5 The Sports Hub's "Toucher & Rich" show.
They crossed the finish line together after midnight.
Mary final update: at 12:18am Mary Shertenlieb completed the 122nd @bostonmarathon with husband Rich by her side! Mary raised over 30-thousand dollars for @DanaFarber – @Toucherandrich @KenGriffeyRules @wbz #WBZ #BostonStrong pic.twitter.com/ACRNs59cN4

— Dan Roche (@RochieWBZ) April 17, 2018
"A couple days after the marathon, I was feeling pretty happy about how everything turned out," Shertenlieb told Boston.com. "Then in the back of my head, I was like, you know what, maybe I'm just not cut out for marathons, which is OK. Just because I finished last."
Shertenlieb said she was pleased with the thousands of dollars she raised for the Dana-Farber Cancer Institute, where she had been a patient, and she was happy that her run spread hope for others battling cancer. But she thought she needed a break from running marathons, maybe even for a few years.
Then her phone rang.
Representatives from Michelob Ultra offered her a spot to run the 2018 New York City Marathon on their lineup of 95 runners who will get coaching from Shalane Flanagan, the Marblehead native and winner of the 2017 New York City Marathon.
The company also pledged to donate $10,700 to the charity or cause of her choosing — one thousand dollars for every mile she returned to run that night in Boston.
"I couldn't say 'no' to that," Shertenlieb said. "And also getting a bib number for the New York City Marathon is really hard. It's all a lottery, and people have been trying for years to get into it."
She asked that the money go to Dana-Farber, bringing the total amount she has fundraised to almost $60,000.
"I've always kind of wanted to do it, but I thought, I don't know, it's such a huge goal," she said of the New York race. "I actually cried when they told me, and I'm not a big crier. It blew my mind. I can't believe that I'm running the New York City Marathon, and I'll have run two marathons in one year."
Shertenlieb said she's been doing some shorter runs — she recently ran two 5Ks with her 10-year-old son, Hank — and mixing in more cross-training to prepare for the Nov. 4 race. Her doctors have signed off on her running, too.
"I'm getting excited about it," she said. "My friends are joking, they're saying, 'Are you going to finish last again?' I'm like, 'No, I'm definitely not going to finish last.' I don't want it to be a trend. It was totally fine, but this time I want to finish. I'll probably finish somewhere near last, but not last. I just want to try and do it and try to have a nice, steady pace."
Once again, she hopes her run can help those who are sick to have hope and set goals for the future.
"I felt this way before Boston. It's like you're sitting at the top of a roller coaster waiting for it go," Shertenlieb said.