Local
Mass. law requires that all marijuana products be tested. About that.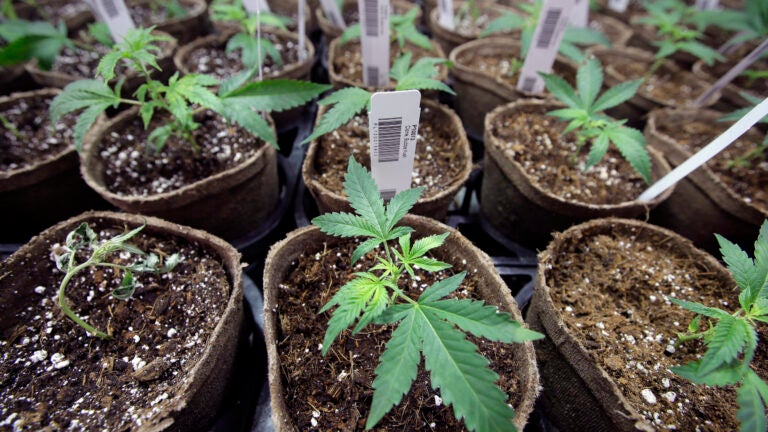 BOSTON (AP) — Massachusetts law requires that all recreational marijuana products bear a seal showing they have been tested by an independent laboratory for contaminants and potency levels. The problem is that there is no place to test yet, as no labs have been licensed by state regulators.
The lack of any authorized testing facilities is another reason why retail sales have yet to begin in Massachusetts despite an original July 1 target date for the first pot shops to open under the state's voter-approved law legalizing adult use of recreational marijuana.
The delay appears likely to continue for at least several more weeks.
The Cannabis Control Commission revealed on Thursday that it had received the first completed application from a prospective testing laboratory, and the panel's chairman, Steven Hoffman, said a vote to grant a provisional license to the unidentified facility could happen at the commission's next meeting on July 26.
Recognizing the conundrum that pot shops can't sell products unless they are independently tested, Hoffman had earlier said the commission would prioritize reviews of lab applicants.
Three labs already are registered by the state Department of Public Health to test medical marijuana, but they must seek a separate license from the commission to test for the retail market.
MCR Labs, of Framingham, has been testing medical marijuana since 2015 and was working to finalize its application to test recreational pot as well, something the company's president, Michael Kahn, says it is ready to do once it gets the green light from the state.
"The testing requirements are identical, it's something we have been doing all along," Kahn said in an interview.
Unlike medical marijuana, applicants for commercial licenses of any kind are required to sign host community agreements with the city or town where they plan to locate and certify compliance with all local zoning provisions and bylaws. While local opposition to recreational marijuana businesses have been a barrier to many prospective applicants, Kahn said Framingham officials had been cooperative and he hoped for an agreement soon.
State regulations also include several other requirements for independent testing labs, including that that they have proper accreditation and that employees involved in testing clear background checks. A testing lab cannot apply for any other kind of commercial marijuana license and its principals must have no financial entanglements with cannabis retailers or cultivators.
Independent labs will be responsible for testing marijuana products for the presence of any contaminants or pesticides, and to verify whether levels of THC — the psychoactive chemical in cannabis — are within acceptable limits, the commission said.
Hoffman said after Thursday's meeting he understands why some are disappointed that retail sales have yet to begin but said regulators were moving as quickly as possible.
"It's hard to lose sight of the fact that 10 months ago we started with no staff, no money and no offices, and I think we've accomplished a lot," he said.
The commission has so far granted only one retail license, to Cultivate Holdings, which operates a medical marijuana dispensary in Leicester and hopes to begin selling recreational marijuana at the same location within weeks. The company on Thursday was issued a second commercial license for cultivation at the site.