Local
This local designer used to call out Target for its dubious Boston T-shirts. Now, they're teaming up.
Can the department store regain some local credibility after a few embarrassing missteps?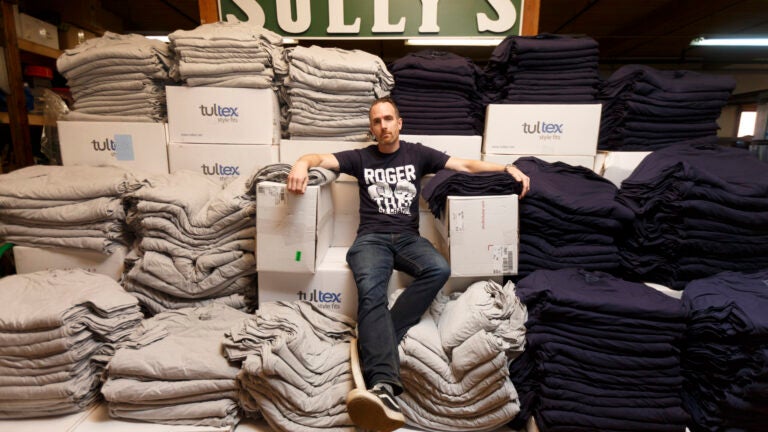 Target's initial attempts at "local cool" in the Boston area were a bit off the mark, and Chris Wrenn was one of their loudest critics.
Wrenn is the founder of Sully's Brand, the Peabody-based apparel company known for its quick-to-market T-shirts, such as the Roger Goodell tee Tom Brady displayed at the Patriots' 2017 Super Bowl parade and, more recently, their "Joe Kelly Fight Club" shirt.
"We've been there for every high and low point that the city has weathered through," he says of Sully's 18 years in business.
And now, Wrenn is trying to help Target re-establish some local credibility — at least as far as the provincial T-shirt industry goes.
The Minneapolis-based company could use it. The department store giant was infamously forced to pull Boston-specific T-shirts following high-profile miscues in recent years.
In 2015, Target ceased orders on a new "Green Monstah" shirt, after Wrenn pointed out that it was nearly identical to a shirt sold by Sully's since 2006. And in March 2017, it discontinued several Boston themed shirts, after local residents pointed out they were rife with spelling mistakes and geographical errors.
The shirts were part of a "Local Pride" line by New York-based designer Todd Snyder. Of course, their mangled neighborhood names ("West Roxberry") and borders (What happened to Allston?) didn't sit well with residents.
"My suggestion to them … was they need to have a local voice contributing to this, if not tapping a local designer to be involved," Wrenn told Boston.com back in 2015, after he published a full-page letter in the Boston Herald comparing the shirts to a local lobster dinner "shipped up to Boston from North Carolina."
Now, Wrenn is that local designer.
As a fan and customer of Target, he says they tried to be respectful in that 2015 letter.
"We made sure we weren't too critical," Wrenn said Thursday. "Just wanted to point out the error and present ourselves as a viable partner. Target HQ was very civil and heard us out."
While they agreed to disagree over the Local Pride line at the time, Wrenn says a Target "localization effort" representative tasked with curating local products for the store reached out to Sully's in 2017. Just weeks after Target received its second round of typo-related bad press, Wrenn's company began selling their shirts at 14 of the store's Boston-area locations, "mostly in smaller rotating sections like aisle endcaps."
According to Wrenn, they were told that sales from Sully's products were in the top three in the country in Target's localization program. The company flew him out to Minnesota to discuss further collaboration.
Now, Sully's is opening a 400-square-foot "showroom" this Friday inside of the Target store in Fenway.
The special cut-out will include a range of 60 different designs, including T-shirts, sweatshirts, glassware, and other Sully's apparel and novelties. Wrenn says there's no end-date for the collaboration and they're already working on plans for holiday-themed products as far out as next St. Patrick's Day. Kelly, the Red Sox reliever, will even be in attendance for the ribbon-cutting Friday.
"This is a 'started at the bottom now we're here' moment for us," Wrenn said in an email.
It's also sort of homecoming for Sully's.
According to Wrenn, the 18-year-old company was first located across the street from the location of Target's Fenway store in a building that has since been torn down to make way for condominiums. And as Sully's founder and graphic designer, Wrenn says he is taking extra measures to make sure the new partnership with Target won't be the subject of anymore hyperlocal blunders.
"I make sure a lot of eyes check out each design to make sure it's typo-free and accurate," he said.