Local News
It's halfway through July. Why aren't any recreational marijuana dispensaries open yet?
"The big hold up really is on the local level."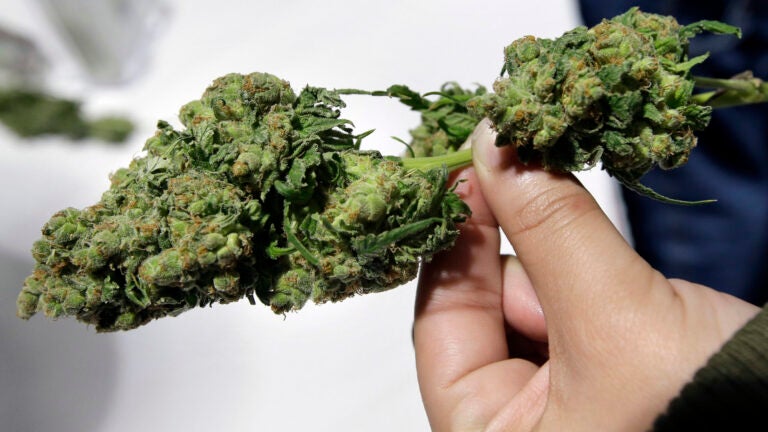 July 1 always symbolized the starting gun for recreational marijuana sales in Massachusetts, but that never meant the industry would be quick out of the gate.
Yet more than two weeks later, it's still uncertain when the state's first adult-use pot shop will actually open.
"I don't want to put a date on it," says Sam Barber, the president of Cultivate, a medical marijuana dispensary in Leicester that was issued the state's first retail license for recreational sales earlier this month.
Cultivate obtained another license last Thursday, allowing the company to grow marijuana for recreational purposes at its existing Route 9 facility, where it already grows and sells the substance for medicinal purposes. Barber told Boston.com that the cultivation license is "another step," but said it could be awhile until they open.
After initially giving an estimate of "a few weeks," Barber told reporters earlier this month that it would likely be September before they could begin retail operations. And while the company does need to pass a few final state-required inspections, the reason for the delay is mostly out of their control, which is why Barber is now reluctant to give any estimate on an opening date.
"At this point, we're just focusing on making sure we've done everything that they've asked from us," he said.
For one, even once Cultivate does have that final go-ahead, all recreational marijuana products still must first be tested by an independent laboratory — and no such labs have been licensed yet by the state's Cannabis Control Commission.
Steve Hoffman, the commission's chairman, told reporters Thursday that the agency had received its first completed license application from a testing facility. Hoffman said the commission could vote to issue the lab a provisional license as early as its next meeting on July 26. With three labs already operating with the state's medical marijuana program, Hoffman has said that once they get their licenses they should be "pretty much ready to go."
But that still means it likely won't be until at least August that any marijuana sales can begin.
What's up with the overall delay?
As of Thursday, the commission had issued a total of five licenses to two companies, Cultivate and Sira Naturals, a Milford-based cultivation facility. They are in the process of reviewing 29 other applications and had 39 awaiting review. Hoffman says the commission is working as quickly as they can to approve licenses, but there's a simple reason Cultivate still stands alone as the only provisionally licensed retail business in the state.
"[The commission] can't act on applications that they don't have," said Jim Borghesani, the former spokesman for the 2016 legalization campaign and a cannabis industry consultant.
Nearly 200 communities in Massachusetts continue to have either outright bans or moratoriums on recreational marijuana businesses within their borders. Attorney General Maura Healey recently ruled that temporary moratoriums — designed to give towns time to set up local regulations, such as zoning — could be extended through June 2019.
And even cities and towns that do allow recreational marijuana shops are dragging their feet, according to Borghesani.
"The big hold up really is on the local level," he said.
Prospective adult-use pot businesses — even ones already operating as medical marijuana companies — have to obtain a "host community agreement" form signed off on by local officials. And, under state law, communities aren't held to any timetable for reviewing the permits, which Borghesani says has resulted in unreasonable delays in the licensing process.
Municipalities can also require so-called impact fees from prospective businesses, which are supposed to be "reasonably related to the costs imposed" by a marijuana establishment operating in town.
Two state senators recently wrote to state regulators concurring with Borghesani's concern about the "widespread" practice of towns using the host community agreements, including excessive impact fees, as a "form of prohibition."
The Massachusetts Municipal Association, which represents the state's cities and towns, has pushed back against those criticisms, arguing that municipalities are trying to do their "due diligence" on how to approach a new industry that still conflicts with federal law. Borghesani thinks they've had more than enough time.
"As soon as this was passed in 2016, towns should have started the process of figuring out where they were going to zone," he said, noting that zoning for controlled substances has been something local communities have governed "for decades."
Massachusetts also experienced lags in the rollout of its medical marijuana industry, which now has a total of 36 registered dispensaries. And though for different reasons, those delays may now be having somewhat of a carryover effect, even when shops do begin getting online.
"It's not like Colorado where they already had a hundred medical dispensaries," Barber said. "Massachusetts is still growing into that medical market."
Industry experts have said they expect a supply shortage in the early months of the state's nascent recreational market, in part due to its relatively underdeveloped medical marijuana industry.
Barber is aware of the increasingly pent-up demand.
For that reason, he says his company is just focusing on ramping up their production for once the the labs and licensing are finally straightened out. And sorry eager pot-smokers, even when pressed, Barber still wouldn't say when exactly that could be.
"I can't give you the date," he reiterated.