Local
It's the summer of dockless bicycles for the Boston suburbs — for better or worse
Station-less bike-sharing companies are flooding the Boston suburbs. Some residents haven't taken too kindly to them.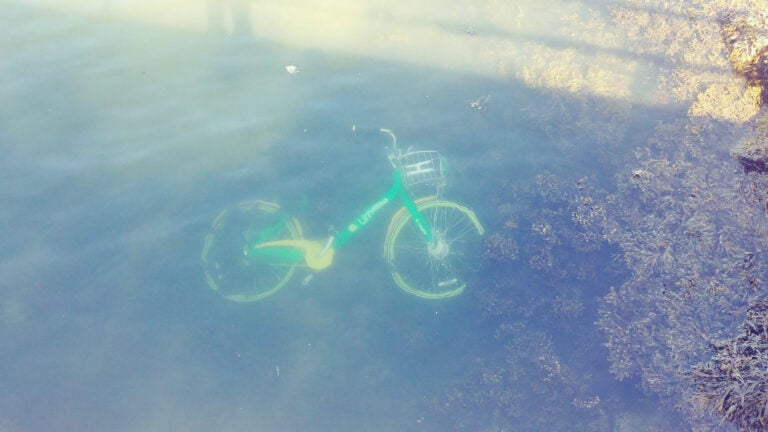 Dockless bike-sharing companies say their recent expansion into the Boston area is going great — even if a few "bad actors" keep grabbing the headlines.
After launching in other cities across the country, companies such as Lime, Spin, and Ofo have brought thousands of their station-less "smartbikes" — which users can unlock and ride for as little as $1 using a smartphone app — to Boston's suburbs this summer. Border wars notwithstanding, Boston, Brookline, Cambridge, and Somerville still firmly remain the territory of Blue Bikes, the bike-sharing system formerly known as Hubway. However, those station-based bikes are increasingly finding themselves surrounded by their dockless counterparts.
Lime and Spin, both California-based startups, began operating this summer in 15 communities around Boston: Arlington, Bedford, Belmont, Chelsea, Everett, Malden, Medford, Melrose, Milton, Needham, Newton, Revere, Waltham, Watertown, and Winthrop. Ofo, the Beijing-based bike-share giant, launched their dockless yellow bikes this spring in Lynn and Quincy.
Company officials say the first weeks of their programs have proved exceptionally popular, and local officials have heralded the expansion of "healthy and affordable" transportation alternatives. But not all residents have been as welcoming.
Late last month, Quincy police pulled two seaweed-covered Ofo bikes out of the Atlantic Ocean waters at the Houghs Neck Martime Center.
Our Marine Unit recently recovered two #Ofo bikes from the waters at Houghs Neck Maritime Center.

One was corroded beyond repair. The other was cleaned off and put back in service. Within a short period of time, it was scanned and ridden away ?‍♂️ by a local youth! pic.twitter.com/7ZOndubXpc

— Quincy Police (@quincymapolice) June 28, 2018
Police said one bike was "corroded beyond repair," while the other was cleaned off, put back in service, and, shortly thereafter, "ridden away by a local youth." The Boston Globe reported at the time that Quincy residents had also reported discarded Ofo bikes in trash cans, dumpsters, and other random places.
Lime bikes have also fallen victim to acts of vandalism. Last Thursday morning, an East Boston resident noticed one of the brightly colored bikes just below the water's surface on the banks of the harbor.
.@limebike locations are just everywhere in #EastBoston! pic.twitter.com/NRYhZuKzZ7

— ? Steve Holt ? (@TheBostonWriter) July 12, 2018
Later that same day, another Lime bike was spotted in an Arlington pond near Alewife Station, according to a post in a Facebook group of town residents. Another group member replied that they also saw one "totally busted" near Hill's Hill playground. Other commenters on the post expressed either distinct disgust or amusement at the act of vandalism.
Jordan Levine, a spokesman for Ofo, says that vandalism is "certainly a concern," albeit not completely unexpected.
"It's something that we built into our business model and are actively working to address," he said over the phone Monday.
Even though such instances are a small fraction of overall use, the company is looking at ways to make their bikes more secure and durable. They're also working with local partners — municipalities, police, cycling groups — to educate residents about the nature of the program in the hopes that residents take a degree of ownership of the bikes and report their misuse.
"Once you get buy-in, it creates a culture of protecting the bikes," Levine said.
Kasia Hart, a transportation policy associate for the Massachusetts Area Planning Council, said Monday that they originally facilitated the 15-community system with Lime and Spin after hearing from local communities interested in piloting a bike-share service. Since procuring the agreement (at no costs to the cities or towns), Hart said the municipalities have taken the lead on educating residents — both riders and non-riders — about the initiative.
For example, Arlington officials have repeatedly posted about how to responsibly park and ride Lime bikes, while Belmont police reminded the public that the "lime green bikes popping up around town" are not cause for alarm.
Bikesharing? Please be sure to park and ride responsibly. Park on the sidewalk (don't ride on it) and never block the public ways. Check out this great Bikeshare Parking 101 that @limebike compiled and be a good #ArlingtonMA neighbor. pic.twitter.com/IduSeqyh0C

— Town of Arlington MA (@arlingtonmagov) July 9, 2018
The lime green bikes popping up around town belong to a bike share company. Please do not dial 911 to report a @limebike in your neighborhood. Please click on the link below for more information on the program. https://t.co/rVr3U2isnp pic.twitter.com/vqDilCrdxJ

— Belmont, MA Police (@BelmontPD) July 11, 2018
As part of the procurement process, Lime and Spin had to agree to requirements for picking up misused or misplaced bikes in a "timely manner," according to Hart. Lime spokesman Evan Thies says the company has "dedicated operations personnel" tracking their bikes through GPS, who are prepared to deal with bikes that are misused and can typically get to the bikes within 30 to 60 minutes.
According to Thies, the rate of vandalism in Boston is not unlike what they've seen in the other cities they operate in across the country. Otherwise, he says the bikes have been "very, very popular"; according to Hart, there have been 70,000 total rides by 20,000 unique users across the 15 communities since the program launched this spring.
"There are hundreds of LimeBikes in use, and only a few have been vandalized, which is consistent with the low rate of vandalism and theft – less than 1 percent – we experience nationwide," Thies said of the recent incidents.
Indeed, Boston-area residents are hardly the first to subject dockless bikes to abuse, whether it be above or below water. In cities like Seattle and Dallas, where dockless bike shares have a larger presence, cases of vandalism are not hard to find. Washington, D.C., has reportedly seen a combined total of 326 bikes stolen or vandalized since a dockless bike share launched in the district less than a year ago.  Within days of launching this past May in Yonkers, New York, Lime saw one of its bikes in a local river. Even across the Pacific, vandalism is a problem with which the companies have to contend (not to mention "bike graveyards" due to oversupply, an entirely separate issue).
"The reality is you see it everywhere," Levine said of the recent vandalism. "There are a couple of bad actors."