Local News
Want a job in Massachusetts's marijuana industry? Here's what to know.
"There's opportunity for everyone regardless of your background."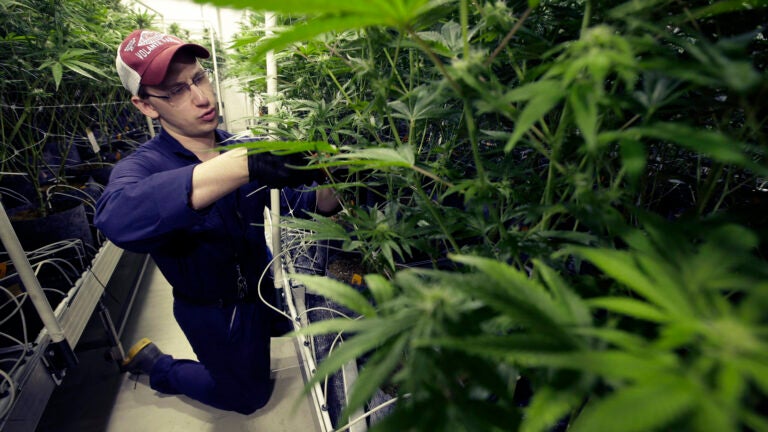 Even with the slow start of Massachusetts's recreational marijuana industry, advocates and employers say if you're looking to get into the cannabis business, there are jobs — and businesses are searching to get more employees on the books.
Over 200 jobs will be up for grabs from 14 cannabis companies at a July 25 marijuana industry employment fair — organized by several industry business associations and advocacy groups — at Roxbury Community College.
"We're really trying to destigmatize this industry and [have] folks understand this is no different than any other industry," said Jay Youmans, a founding member of the Massachusetts Cannabis Business Association, the group that spearheaded organizing the event. "We create jobs. We hire local people. We're regulated very heavily, and we take this job really seriously."
Thinking of dusting off your resume and entering the market? Here are a few things to keep in mind that fair participants told Boston.com:
The industry will rely on a diverse range of professionals, employees
There's much more to the business than growing marijuana.
For instance, creating cannabis-infused baked goods and sweet concoctions means there will be openings for people with culinary expertise, said Beth Waterfall, founder and executive director of Elevate New England, a nonprofit aimed at educating the public on all factors of the commonwealth's newest industry.
The state's requirement for product testing calls for scientists and chemists in the industry, and, since the federal government still considers marijuana illegal, there will be plenty of need for attorneys and legal experts, she said.
"The big thing I try to hammer home is there's opportunity for everyone regardless of your background," said Waterfall, a marketing consultant who switched gears to focus solely on clients in the marijuana industry in 2015.
As the state's cannabis industry continues to grow, there will be opportunities for several other industries to pick up some business, too, according to Michael Dundas, president and CEO of Sira Naturals Inc., the first company to receive a license to grow recreational marijuana in Massachusetts.
In an interview, Dundas pointed to what he said will be an enormous amount of construction and design needed for new businesses, from building cultivation facilities to creating and designing new equipment and computer software.
"It's one of the great things about watching a brand new industry: … It's got all of these tentacles that reach out to so many others," he said.
Youmans said many of the cultivation and dispensary jobs likely on display at next week's job fair could pay between $15 and $20 an hour.
"A lot of people don't realize that these marijuana jobs are advanced manufacturing jobs," he said. "We talk a lot on Beacon Hill about how to bring advanced manufacturing jobs back to Massachusetts, and, frankly, this is it."
State law emphasizes communities impacted by the 'war on drugs'
Under state law, certain past drug-related convictions cannot disqualify cannabis job candidates, according to Pauline Quirion, of Greater Boston Legal Services.
Quirion said the legislation's intent is to promote employment in the industry in communities most impacted by policies put in place by the war on drugs — laws that disproportionately incarcerated people of color.
But it's hard to say how often those with criminal drug offenses will be hired in the growing industry, according to Quirion.
"There's some instrumentation type of things that you're going to have to wait and see how it's going to play out," she said Monday.
Some crimes are automatic disqualifiers for candidates under state law, including felony convictions, the failure to register as a sex offender, or a conviction or a continuance without finding for distributing drugs to minors.
The Cannabis Control Commission has put in place mechanisms to open other opportunities in the market, such as prioritizing "economic empowerment" applicants, or those applying for licenses from areas of the state that have been greatly impacted by marijuana laws, according to MassLive.
The state is also in the process of creating a "social equity" program to assist people with previous convictions get a start in the business, MassLive reports.
Still, Quirion recommends that job applicants with a criminal record have their criminal offender record information, or CORI, documents sealed — making them off-limits to prospective employers — and ultimately have their records expunged or erased.
"I think (CORI sealing) should be helpful for folks," said Quirion, director of the CORI and Re-Entry Project for the legal services organization. "It's like applying for any other jobs: It's helpful to seal your records, not to leave it open."
Expect more cannabis jobs, as many as 20,000, to come in time
While the recreational side of the cannabis industry has seen a delayed rollout, job opportunities are anticipated to grow in the coming year.
Youmans said the local cannabis industry is expected to rake in an estimated $1.5 billion in sales annually. At the industry's full force, he expects there to be 20,000 jobs in or related to the market.
Dundas, whose company currently grows medical marijuana at its Milford facility for distribution at Cambridge, Somerville, and Needham dispensaries, said Sira Naturals has about 130 employees. Within the next year, the company will be looking to build its workforce to over 200 employees, he said.
"It's an exciting time for new entrants into the cannabis space," Dundas said.
In the meantime, there will likely be some initial competition for jobs, according to Waterfall.
"There's going to be more applicants than there are jobs I would imagine for the foreseeable future because there's so much interest in this," she said.
The Boston job fair coming up
"Equity and Opportunity: A Jobs Fair and CORI Sealing Clinic for a New Economy" is scheduled for Wednesday, July 25, from 5 to 8 p.m. at Roxbury Community College's Reggie Lewis Track and Athletic Center in Roxbury.
The free event, hosted by the Massachusetts Cannabis Business Association and several other cannabis-related organizations, is set to connect prospective job applicants to a variety of cannabis businesses, both medical and recreational.
"This is the first jobs fair for the industry at this scale in Boston," Youmans said. "There's been some smaller ones … but this is the first totally open to the public, free jobs fair."
Greater Boston Legal Services will be on hand for a CORI sealing consultation clinic and as will other experts for employment tips, according to the event listing.
Marcus Johnson-Smith, a member of the cannabis business association, said organizers are working to help make the industry inclusive and diverse.
There's also an ongoing effort to make certain that the fair will be the beginning of similar events to come, he said.
"We're excited," said Kamani Jefferson, president of the Massachusetts Recreational Consumer Council, one of the fair's co-hosts. "We really just want people to know what's going on, what economic opportunities are going on in the industry."