Local
'I didn't want to be labeled as someone who had a drug problem': Meet the man who writes about addiction for a Maine newspaper
Seth Blais spent a decade struggling with drug dependence. Now he hopes sharing his own story will help others shed the stigma of addiction.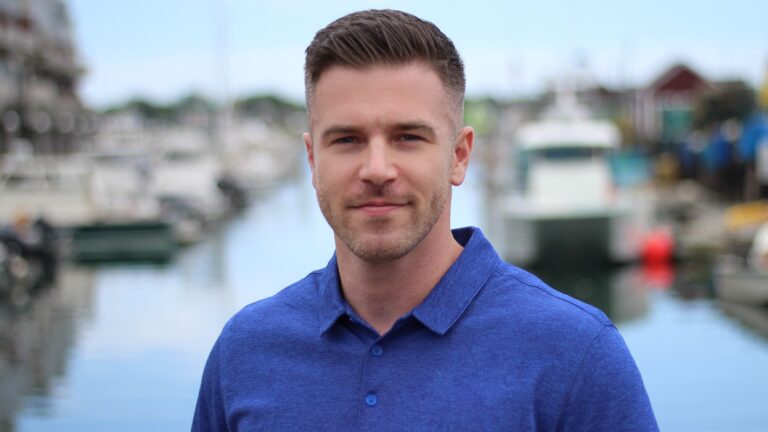 Everything about Seth Blais's life would have looked fine at first glance.
He played sports growing up in Bangor, Maine, and he had a good group of friends.
His dad suffered from alcoholism, but, otherwise, everything was "pretty normal" being raised by his mother, he says.
He got married. He had a steady income — things were going well for him both business and career-wise.
But beneath the surface — behind the image he projected to friends and acquaintances on Facebook — "it was anything but," he told Boston.com.
He'd been introduced to opiates around the age of 19, and the now-30-year-old said he "quickly developed" a daily habit mixed with what he called "short bursts of sobriety."
His drug use would continue for the next decade, progressing in stages from prescription medication to IV heroin use in the fall of 2014.  
"There was a lot of chaos that happened over that time," Blais said. "But through all of that I managed to hold down decent careers, made decent money, did a lot of different things as far as business and career-wise, ended up getting married. All the stuff that I thought was expected from me or wanted in life from the outside, I think, everything looked great."
Until things began to unravel.
In 2015, he and wife separated and later divorced.
He said he pawned anything of value he could find and would have been homeless if his mother hadn't allowed him to stay with her. He had to borrow money to get into a sober house.
"It all just kind of came crashing down and all caught up to me," Blais said. "I was, at the end of the day, completely broke and in debt and divorced with no friends and no belongings."
Blais, who has been in recovery since November 2016, now uses his own experience to try to break down the stigma those struggling with drug dependency face by writing a column about addiction for the Portland Press Herald.
The columns range from addressing public policy tackling the opioid crisis in Maine, which is among the states with the highest rate of opioid overdose-related deaths, to Blais delving into his own emotions and history.
Press Herald Managing Editor Steve Greenlee told Boston.com in an email that Blais's column on addiction has given the newspaper "another tool for telling the story of this public health crisis."
The 30-year-old had already established a blog with the Bangor Daily News when he reached out to the Press Herald.
"I reviewed some of his earlier pieces and quickly realized he has a strong voice and a nice, conversational style," Greenlee said. "More importantly, he writes about addiction from a very personal perspective that seems to connect with readers."
In a bleakly honest column last month, Blais recalled using a dirty syringe when he was in active addiction.
He described in detail how late one night he found the needle, rinsed it with bleach, and "said a prayer" before using it.
"Unless you have been there, you're wondering why I would do something like this," Blais wrote. "You can't rationalize irrational behavior. Once addicted, the brain perceives the need for the drug on the same level of importance as survival behaviors like eating food and drinking water."
Blais, who now lives in Portland, said when he was in active addiction only a few of his close friends knew what he was going through.
Even though some of them were facing the same struggle, he said he was "terrified" of talking about it.
"It was very much trying to avoid that stigma," he said. "I didn't want to be labeled as someone who had a drug problem. I didn't want to be labeled as someone who was in recovery. And even the brief time that I would be abstinent from drugs and alcohol, if I was on a business trip where there was drinking, I would make up an excuse as to why I wasn't drinking."
For years, the veneer of his life still appeared Facebook-perfect.
Blais said that even when he was literally picking needles up off the ground, you wouldn't have known it looking at him.
"I never got into legal trouble," he said. "My face wasn't in the paper, so I really had no reason to come out and talk about it."
But one day, after he had moved into a sober house, he overheard a man and woman talking about heroin and addiction at a table over from in Panera.
He felt compelled to stop and talk to them on his way out of the restaurant.
"I thought to myself, 'Maybe this is some sort of sign. I don't want to regret not talking to these people,'" he said. "So for whatever reason I stopped and introduced myself. I said, 'Hey, I just heard some of your conversation, I'm a person in recovery, I just wanted to say hi.'"
That conversation led to Blais becoming involved with a recovery coach program. He was invited to speak at a press conference, and, so, just three or four months into his recovery, he found himself speaking about his struggles on television.
Telling his story that day was a kind of catalyst. He began to open up more and more about his personal struggle, finding that feeling of helping others in turn helped keep him healthy and sober.
It was also freeing.
"Before this, I would walk into a room, and, whether anybody knew or not about my story, I would feel like there was eyeballs on me or whispers," Blais said. "I had this paranoia of lacking that self-confidence or having shame around the fact that I knew the things that I had done and the things that I had been through. Talking about it helps break down not only the shame for myself but hopefully for other people as well. Feeling these things, doing these things, it's not something that you have to be ashamed about. We go through it. It's important that we talk about it to help break those walls down, and then help more people ask for help and find more solutions to the overall problem."
Writing was another outlet for Blais. And on the encouragement from some friends he eventually submitted his writing to the Bangor Daily News, getting his own blog and later the column with the Press Herald. He said he doesn't get paid for his columns.
Since sharing his story, Blais said he's heard from friends and strangers alike who have reached out to share their own experiences.
"There's just tons of people out there who have these important stories that need to be told," he said. "But I'm just lucky, in a sense, that I feel comfortable doing so because I don't fear losing my job because of it or I'm happy with where I'm at in life, with the relationships and the people I have around me that support me, so it's easier for me to withstand that criticism."
The one thing Blais said he hopes everyone takes away from his writing is that recovery from addiction is possible. But he emphasized, his column is not meant to be a "how to" for getting sober.
Rather, he hopes to break down the stigma of addiction and create more understanding through empathy. So many people, he said, face shame from the outside world and even friends.
"I think if I can get people to relate to what I write about and see me and be really raw and exposed, if somebody sees that and they have a connection with me, then down the road if they have a brother or a cousin or a friend or even if they run into somebody on the street who is struggling with addiction, maybe they'll have a little more empathy for that person because they'll see a little bit of me in that person," Blais said.
Sharing his experience isn't always easy. Certain topics, like writing about his father, are emotionally draining to delve into. But once the piece publishes, he said he experiences a sense of relief and feels he can move on, having processed the emotions, and "get better."
Above all, what he keeps in mind is that his story isn't unique.
"That story about me using that syringe is not uncommon," Blais said. "It happens every single day. I'm just fortunate enough that I can share that and get that out there, even if it's uncomfortable, we can talk about it."